Rogue Compression Socks
Shipping Deals
Gear Specs
| | |
| --- | --- |
| Brand | Rogue |
| Socks | Compression Socks |
| Compression Gear | Socks, Abrasion Protection |
| Made In USA | Yes |
| Free Shipping | No |
| 3 Ships Free | Yes |
FAQs
The PERFORMANCE line of compression socks are made in America and designed to be the best socks you will ever wear - GUARANTEED.
To deliver top Performance we use Olefin fibers to produce a fast drying, lightweight sock with superb abrasion resistance and long-lasting durability. As a fiber, Olefin retains less than .01% of its weight in moisture and resists deterioration from chemicals and perspiration. The combination of nylon and spandex with the Olefin antimicrobial fiber helps create a softer, more comfortable sock with incredible breath-ability for everyday wear.

Olefin, the only Nobel Prize-winning fiber, has a great story. Its production leaves very little waste; therefore, it has less environmental impact than most polymers and is easier to recycle. Olefin also has the lightest specific gravity of any other fabric. This is why our socks will float in water.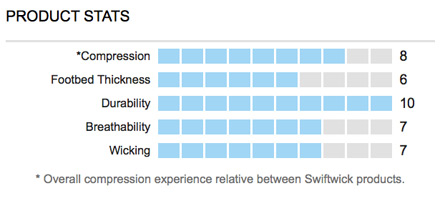 Reviews
Very good.
Review by
lswieckitay
Quality
I needed a GREAT sock that had compression and good wicking. I have shin splints and every workout I come out drenched in sweat. These have good overall compression (though I dont recommend them specifically for shin splints) and kept my feet pretty dry though I think its impossible to be 100% dry because I sweat SO FREAKIN MUCH. Overall I am very happy with them and I think for anyone looking for a good "dry and compressing" sock then these are them. They do stop just shy of the top of my gastrocnemius look at the pics they clearly dont go all the way over. Im sporting size large and have 16" gastrocnemius.
| Review for:
Rogue Compression Socks
Rogue Compression Sock overall fit
Review by
DitDah
Quality
Somehow...I thought these were full calf covering. May be my mistake...probably is. The socks feel awesome... Love that compression feel. I have chronic calf pull issues when I do certain excersises so I wanted a full calf covering sock for the compression as well as protection when I do box jumps and clean/jerk presses. HOWEVER...these socks only cover half of my calf. I pulled and pulled...can't get them up any further. Maybe I have larger than normal calves? The foot part fits perfectly and as said...these feel great. Considered returning and getting the XL...to get the full calf covered, but then the foot part would be oversized. Guess you can't win them all.
| Review for:
Rogue Compression Socks
Disappointed in the Large but Medium worked great for women
Review by
kw80108
Quality
I am 5'10" average build with size 11 shoe and the Large sock, while very tight, did not stay up at all. Even just walking and it would slip down around my ankles. Seems like a well built sock so I am guessing that at least the Large, is running one size too small because it did not really come up as far above my calf as you would expect from this sort of sock.

On the Positive side: I did buy a Medium for a woman and she loves it, said it fit perfectly.
| Review for:
Rogue Compression Socks
Other Customers Also Viewed