Graham Holmberg Shirt
Shipping Deals
Gear Specs
| | |
| --- | --- |
| Athlete | Graham Holmberg |
| Shirt Color | Olive Drab |
| Shirt Type | Men's/Unisex T-Shirts, Rogue Athlete T-Shirt |
| Brand | Rogue |
| SKU | HW0005 |
| Made In USA | Yes |
| Free Shipping | No |
| 3 Ships Free | Yes |
FAQs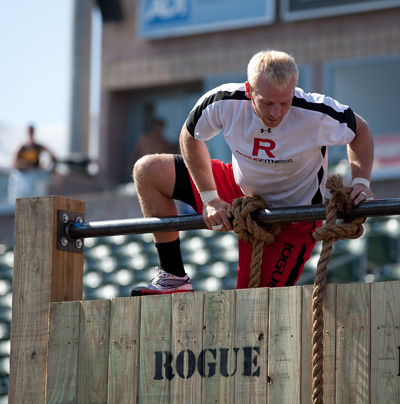 Nothing has changed in a year. Graham Holmberg is the dark horse and he still has everything to prove. The Graham Holmberg shirt commemorates his silent but effective approach to competition. When it comes to competing, Graham lets his action speak the loudest. And this shirt is for those who see competition the same way he does. Graham Holmberg is the reigning CrossFit Games Champion.
Check out Graham Holmberg's Athlete page.
Printed on American Apparel's 100% Cotton construction.
Reviews
Nice shirt except the fit
Review by
37
Quality
I was so stoked to get this shirt in the mail. Washed it with the other shirts I had ordered. Unfortunately when I tried it on the sleeves where just too small; it looks goofy. I love the design but the large shirt looks more like a kids small. The other shirts I have ordered are great; this one is just a "different". I wont wear this shirt because of the small sleeves/fit.
| Review for:
Graham Holmberg Shirt
Cool shirt, different color.
Review by
PMN
Quality
A nice shirt. The color is more green than in the pictures. Not sure if this is a recent change or just a lighting thing.
| Review for:
Graham Holmberg Shirt
Awesome shirt
Review by
GCR
Quality
Great color. Looks and fits great!
| Review for:
Graham Holmberg Shirt
Good quality, BUT fit is not
Review by
JMB
Quality
Great shirt and quality, but the fit doesn't seem proportional (or I've got giant arms - and that's not the case). Ordered a large (as most of my shirts are), the fit is mostly pretty good, but the sleeves are so damn small and tight that I'd swear I was wearing a medium or small. Probably won't wear it for just that reason.
| Review for:
Graham Holmberg Shirt
great fit and awesome quality
Review by
bennaccio
Quality
I only got the Tee a few days ago and its awesome pic doesnt do it justice. Sizing was accurate too.
| Review for:
Graham Holmberg Shirt
Other Customers Also Viewed