HG Rogue Bumpers
Gear Specs
| | |
| --- | --- |
| Brand | Rogue |
| Bumpers | Multipurpose |
| Free Shipping | No |
| Made In USA | No |
| 3 Ships Free | No |
| Bumper Diameter | 450mm |
| 10lb Plate Width | 1" |
| 15lb Plate Width | 1 3/8" |
| 25lb Plate Width | 2" |
| 35lb Plate Width | 2 3/4" |
| 45lb Plate Width | 3 1/4" |
| 55lb Plate Width | 3 3/4" |
FAQs
HG Rogue Bumpers
Rogue's HG Bumpers deliver durability and quality at a budget price. The HG Bumper Plates are the standard IWF 450mm in diameter and have a thinner width so more weight can be loaded onto the bar. These bumpers have a dead bounce and are designed with durable stainless steel inserts and a distinctive smooth finish.
Battle-tested at the CrossFit Games and Regionals, HG Bumper Plates provide an economical weightlifting alternative for a home gym or large-scale strength training facility. To get a better sense of how they stack up over the long haul, click the Reviews tab above for in-depth feedback from athletes currently using HG Bumpers in their workouts.
HG Rogue Bumpers Specifications:
Diameter: 450mm / 17.72 inches (IWF Standard)
Collar Opening: 50.40mm / 1.98 inches
Stainless Steel Inserts
Weight Tolerance: +/- 10 grams of claimed weight
Minimal Bounce
Imported from China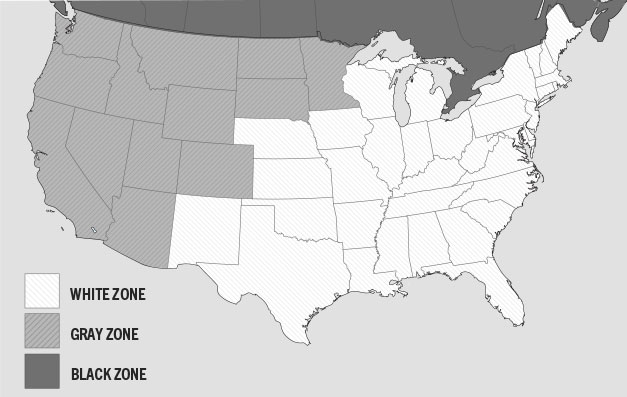 Warranty: 10-15LB variant plates are warrantied for 90 days. The 25-45 LBS variants are warrantied for 3 years.
Reviews
Great Product
Review by
DJ
Quality
If you're looking for heavy things to lift, these are heavy. Also they have grenades on them. What more could you want?
| Review for:
HG Rogue Bumpers
High Quality at a low cost.
Review by
DJ Neal Money
Quality
Just can't say enough good things about the HG plates. They're easy to pick up up when lying flat on the floor, no odor, nice finish, great price and quick shipping. Also add good customer service to the list because I had a problem with one of the plates and emailed Rogue some pictures of the problem and they promptly replaced it.
Thanks Rogue.
| Review for:
HG Rogue Bumpers
Garage gym must have
Review by
Christian
Quality
These were my first purchase for my garage gym. I rent and was worried about bumpers with too much bounce damaging the walls if I had to ditch a lift. These bumpers are perfect with minimal bounce. The are sturdy and have not shown any wear over the past year and a half. Plus you can't beat having a hand grenade on the sides, they impress everyone who enters my garage gym.
| Review for:
HG Rogue Bumpers
Perfect
Review by
Marc
Quality
I was looking for a bumper set to go with my R4 rack and it was boiled down to Hi-temps and these HGs. What made me go with the HGs were their standard sized diameter and their slightly thinner thickness. A bonus I realized upon arrival was these rubber bumpers had no odor unlike other brands out there! Highly recommended for their looks, size and quality.
| Review for:
HG Rogue Bumpers
awesome
Review by
Don
Quality
Seven calendar days from Columbus to Vancouver Island. Thanks guys!
| Review for:
HG Rogue Bumpers
Excellent investment
Review by
Scott
Quality
The low down: Fast Delivery, Top quality, great price, FREE delivery.

Just got a set delivered after using a HG 45's for about 6 months. So far So good with no expected issues being that ROGUE never fails to impress. Subtle bounce, solid drop and grenades on the side. Buy them, Load'em up, Lift 'em and drop 'em....
| Review for:
HG Rogue Bumpers
Awesome
Review by
Jimmy Headwound
Quality
Just got a set of 15s and 25s and I am beating the shit out of them. I love em and am ready to get more!!!
| Review for:
HG Rogue Bumpers
Best all around bumper for the $
Review by
Stitz
Quality
Started with a pair of 10s and 15s to see how they held up. Have had for over a year now and they look the same as they were when first used. If a pair of 10s and 15s have no durability problems, you can be assured 25s 35s and 45s will have no problems. I just added a pair of 25s and 45s from regionals and they are just as great. Having turned a small bedroom into a workout room the little to no bounce has saved my walls and my shins. I will dig through stacks of bumpers at my gym to find dead blow bumpers. No cracking around the rings or loose rings that occur on other brand bumpers. The only downside (not that big of deal) is that the 45s are fairly thick at almost 4". If doing deadlift maxyou may want to buy a pair or two of their comp bumpers to free up some space. Best all around bumper and affordable. Very similar to the pendlay econ v2 bumpers but less $. Can't go wrong with these.
| Review for:
HG Rogue Bumpers
Top Quality Product
Review by
dogman
Quality
Low bounce, very nice finish, steel inserts seem sturdy. These should last forever. Rogue had the best price and shipping. Arrived promptly. Thanks Rogue
| Review for:
HG Rogue Bumpers
Love them
Review by
mrbrutaltruth
Quality
Check my other reviews. I don't pull any punches. I love these things. I love the way they look. They seem very well manufactured. A very pleasant surprise is how easy they are to handle. I was concerned that without having any holes in them, it could be awkward. Don't worry, the ridges on the side are more than sufficient to enable safe handling. I had planned on purchasing the Pendlay brand. I am glad that I did not. These are just exactly what i wanted. Oh, and they don't smell.
| Review for:
HG Rogue Bumpers
Other Customers Also Viewed