HG Rogue Bumpers
Gear Specs
| | |
| --- | --- |
| Brand | Rogue |
| Bumpers | Multipurpose |
| Free Shipping | No |
| Made In USA | No |
| 3 Ships Free | No |
| Bumper Diameter | 450mm |
| 10lb Plate Width | 1" |
| 15lb Plate Width | 1 3/8" |
| 25lb Plate Width | 2" |
| 35lb Plate Width | 2 3/4" |
| 45lb Plate Width | 3 1/4" |
| 55lb Plate Width | 3 3/4" |
FAQs
HG Rogue Bumpers
Rogue's HG Bumpers deliver durability and quality at a budget price. The HG Bumper Plates are the standard IWF 450mm in diameter and have a thinner width so more weight can be loaded onto the bar. These bumpers have a dead bounce and are designed with durable stainless steel inserts and a distinctive smooth finish.
Battle-tested at the CrossFit Games and Regionals, HG Bumper Plates provide an economical weightlifting alternative for a home gym or large-scale strength training facility. To get a better sense of how they stack up over the long haul, click the Reviews tab above for in-depth feedback from athletes currently using HG Bumpers in their workouts.
HG Rogue Bumpers Specifications:
Diameter: 450mm / 17.72 inches (IWF Standard)
Collar Opening: 50.40mm / 1.98 inches
Stainless Steel Inserts
Weight Tolerance: +/- 10 grams of claimed weight
Minimal Bounce
Imported from China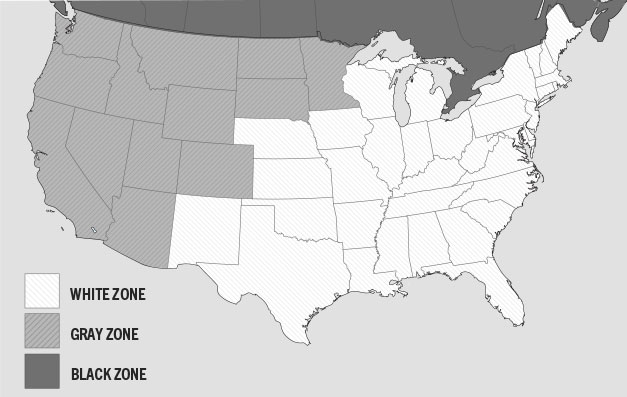 Warranty: 10-15LB variant plates are warrantied for 90 days. The 25-45 LBS variants are warrantied for 3 years.
Reviews
Great price point
Review by
bbqski
Quality
These are an excellent value for bumpers -- they do what they are supposed to do and look great. However, the sleeves are not perfectly aligned on some of the plates I have, and can be a little bulky on the bar. If you have the money, I would highly recommend the Rogue training bumpers with the metal insert.
| Review for:
HG Rogue Bumpers
Great price for awesome quality
Review by
Dave
I bought the 10, 15, and 25's for my wife to start a set, and have been very pleased. Previously we'd used mostly the hi-temps and were wondering what to expect with the "dead blow" and less bounce. Well it's great not having them bounce all over the garage, and the best part about it is the strength of the lighter plates. Unlike the hi-temps these are more rigid, so you don't get the 10's bent in half when you drop the bar from overhead.
| Review for:
HG Rogue Bumpers
Great Quality Plates
Review by
Ryan
Quality
I ordered these plates by mistake when I ordered the "SoCal Econ" package, thinking that I was getting the Hi-Temp plates. But after several uses, I've been more than pleased with these bumpers. They have a very clean, nice-looking finish with very little bounce, and are extremely solid without taking up a ton of space on the bar. Great quality and great price... too bad all mistakes can't turn out this way!
| Review for:
HG Rogue Bumpers
Great Bumpers!
Review by
Bobby
Quality
I've had these bumpers for over two years now and they work great. Me and my workout partners kill these things in powerlifting and crossfit. There not as wide as pendlays so you can put more weight on the bar. Guys are always asking how much and where. Great price. If I had something bad to say that the fit on the bar is just a little lose than im used to however i am very satisfied. thanks rogue
| Review for:
HG Rogue Bumpers
Quality, cost effective, and good looks
Review by
Jared
Quality
I have been using these bumpers for about a month now along with my set of wright bumpers. The rogue hg's seem to have more of a dead blow when dropped, which is nice since they wont go chasing your shins on a bounce! Cost effective also which is great while starting my new gym, plus they look pretty bad a$$ with the grenades on the sides.
| Review for:
HG Rogue Bumpers
Other Customers Also Viewed