GH-1 Rogue Abram GHD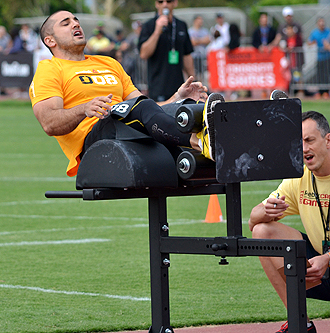 Jason Khalipa on the Rogue GHD at the 2011 CrossFit Games

Gear Specs
Brand
Rogue
Product Weight
200 lbs.
Foot Print
70" x 40"
Steel Notes
2 x 3 steel construction
Upholstery
Vinyl │ Urethane Topcoat
Foam Type
Closed Cell Foam
Other Product Specs
Capacity: 500+ lbs.
Height
Foot Plates: 48.25"
Glute Pads: 41.5"
Free Shipping
No
Made In USA
Yes
3 Ships Free
No
FAQs
The Rogue Abram GHD, built like a tank.
Every feature that an athlete looks for in a Glute Ham Developer has been built into the new ROGUE Abram GHD. Fully adjustable and equipped to remain steady while generating peak power output, the ROGUE Abram GHD is the premier tool used to strengthen the hamstring and gluteus in way that is functionally transferable to an athlete's sport. The split pad is horizontally adjustable and the vertical position is in the ideal angle for peak muscle recruitment that will benefit any athlete who is training core-to-extremity power and strength. The most durable GHD on the Market.
Features:
Choice of Foam Roller Foot Pad or Upholstered Roller Foot Pad
2x3" steel construction
Wheels and handles for easy mobility
Split pad design with heavy duty moisture wicking upholstery
Upholstered ankle pads 1" adjustable increments on the foot pads
Holes for band pegs
Oversized laser cut 3/16" steel foot plate
Foot print: 70x40"
Band Pegs not included
Reviews
Solid
Review by
ben
Quality
Definitely the most solid GHD made... bar none. Worth the extra money
| Review for:
GH-1 Rogue Abram GHD
Great!
Review by
Scott
Quality
This GHD is so solid! I weigh 230 and this thing does not budge when im on it. I have used others from elite and york and they all had that wobble to them. Not the Abram. Like everything from Rogue it is top of the line, affordable, and made in the USA!
| Review for:
GH-1 Rogue Abram GHD
Good
Review by
Gene
Quality
We have these at my home gym. They are quite durable and easy to use. They are heavy and handle the abuse of a busy gym. The 2 part construction, however, is the only flaw. The connecting bolts come loose and they can start to wobble. If you don't mind an occasional tightening job, this is the machine for you.
| Review for:
GH-1 Rogue Abram GHD
Solid is an understatement.
Review by
Brothermike
Quality
This GHD is the best, yes...the best! No matter how hard you hit it, it wont budge. Because its so solid you can concentrate on form and power rather than trying not to fall off. All of that AND its made in the USA....WHAT! Yes please! Save your duckets and Buy it!
| Review for:
GH-1 Rogue Abram GHD
Rock Solid
Review by
Teddy7844
Quality
Ordered my Abram Sunday before thanksgiving and received it in about 4 business days, which again goes to show the incredible customer service from Rogue. This thing is rock solid. Much easier to adjust than the sorinex, and a much more solid feel. Some reviews mention that it is difficult to adjust and i am not seeing that at all. I found the setup a bit lower than the sorinex which i found to be better for doing crossfit style situps on. All and all still looking for something negative about it. Awesome design, padding is solid and foot plate is larger than the sorinex so perfect for glute ham raises. Knocked it out of the park on this one!
| Review for:
GH-1 Rogue Abram GHD
Absolute Beast
Review by
Rainy
Quality
Despite similar difficulties with adjusting the nuts (WD-40 didn't do the job, either), the design and the utility far exceeds the minor externalities. There is nothing else on the market that beats the Rogue when it comes to quality, durability, prompt/ helpful service, and most importantly, The Abram GHD is made in the USA!!!
| Review for:
GH-1 Rogue Abram GHD
Solid
Review by
Don
Quality
I am giving this four out of five stars because the unit is exceptionally difficult to adjust. If you have the same problems buy some powdered graphite and then it will slide more easily. Other then this fault, the unit is top notch. It feels bulletproof and there is no doubt as to you being locked in regardless of how aggressively you move. If it adjusted easier or if it shipped with a small container of lubricant like powdered graphite I would definitely give it five stars.
| Review for:
GH-1 Rogue Abram GHD
Sturdiest and most solid GHD
Review by
Albert
Quality
Bought this GHD used at the games. It is heavy and solid. Have done a couple of WODS with GHD situps on it and the thing does not budge. You feel supported and only have to worry about moving your own body. Ive tried the sorinex and the york ghd and none felt as solid as this one for GHD situps. I was worried that no foot adjustment would be a problem for setup of things like glute ham raises but the few I have tried have worked out well and I didnt really need foot adjustment. The length adjustment is a bit more difficult than other ghd's probably because it isnt chromed and the foot holding apparatus is heavier than other GHDs. This is also probably why you feel more locked in when doing your movements compared to other GHD's. I wish I could attach my single plate holders to the bottom uprights. The padding and upholstery have a good solid feel and dont compress a lot leaving with impression that they are made to last.
| Review for:
GH-1 Rogue Abram GHD
Awesome Design
Review by
Miranda00
Quality
Got to jump on one of these at the Games and LOVED it. The design is genius!
| Review for:
GH-1 Rogue Abram GHD
Other Customers Also Viewed