Rogue Bumper Plates by Hi-Temp
The ultimate heavy duty bumper plates. Only from ROGUE.
Will ship in 3-5 business days.
Gear Specs
| | |
| --- | --- |
| Brand | Rogue |
| Bumpers | Multipurpose |
| Free Shipping | No |
| Made In USA | Yes |
| 3 Ships Free | No |
| Bumper Diameter | 17.5" |
| 10lb Plate Width | 1 3/8" |
| 15lb Plate Width | 1 7/8" |
| 25lb Plate Width | 2 1/4" |
| 35lb Plate Width | 3 1/8" |
| 45lb Plate Width | 3 3/4" |
FAQs
The most durable bumper plate of them all.
Made for more than a decade at the Hi-Temp plant in Tuscumbia, Alabama, these ultra heavy-duty Rogue bumper plates remain the only American-made bumpers on the market. By no coincidence, they also rank among the very best—vouched for by gym owners, competitive weightlifters, and strength training specialists, alike.
Finding a happy medium between the dangerous clang of old-school iron plates and the springy bounce of some imported bumpers, Hi-Temps are built from a nearly indestructible marriage of recycled, vulcanized rubber and a 2" stainless steel insert. Better still, the collar on Hi-Temp bumpers is inset from the plane of the plate, allowing for better protection when multiple plates are on the bar, and reducing the risk of inserts getting impacted or popping out.
These are not your father's dispensable bumper plates. Tough enough to handle the punishment of intense daily use (be it in a high school weight room, an Olympic training center, or your own home gym), your Rogue Hi-Temp bumpers are guaranteed to last for the long haul. Measuring 17.5" in diameter, they're available in weights of 10, 25, 35, and 45 pounds, with five different bumper set packages to choose from.
With Rogue and Hi-Temp, you're buying American, and you're buying the best. Be sure to check out the Reviews sections to see what recent customers had to say about their experience with Rogue Bumper Plates by Hi-Temp. And feel free to contact us if you have any questions about your bumper set ordering options.
MADE IN THE USA & GUARANTEED FOR ONE YEAR AFTER PURCHASE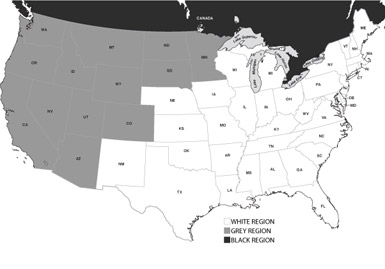 Set Descriptions:
160lb Set includes a pair each of 10, 25, and 45lb bumpers.
190lb Set includes a pair each of 10,15, 25, and 45lb bumpers.
210lb Set includes a pair each of 25,35 and 45lb bumpers.
230lb Set includes a pair each of 10, 25, 35, and 45lb bumpers.
260lb Set includes a pair each of 10, 15, 25, 35, and 45lb bumpers.
Shipping is included on the sets!
Reviews
Cannot beat the value
Review by
Eastside Gym
Quality
Amazing, bomb proof, irreplaceable, beautiful, I could go on and on......
| Review for:
Rogue Bumper Plates by Hi-Temp
Must have for Garage Gym
Review by
Vinhsanity
Quality
These bumpers are a must have for you garage gym. They'll take a beating. Upon opening the box, the bumpers were a little odious, but that's expected from rubber bumpers. The odor went away after a few days.

One reviewer said he got really high bounce from his bumpers, and I've dropped mine from shoulder height, the first bounce was maybe 6-8 inches, but it deadens really fast. I have NO complaints!!
| Review for:
Rogue Bumper Plates by Hi-Temp
Great Product, Better Service
Review by
Ron
Quality
Product only arrived a week ago but looking at the product it is going to last! My experience with customer service was excellent. I experienced a problem with shipping and a warranty issue. Rogue customer service is the best I have ever worked with hands down. If you have a problem they will fix it fast, and correct the first time. Their promptness with contacting me and fixing my problem is the reason I have chosen to write my first review on anything I have ever bought. Whatever fitness item you need, buy Rogue because if their products are like their customer service its going to be impressive! A loyal customer for life.
| Review for:
Rogue Bumper Plates by Hi-Temp
Foundation of a Garage Gym
Review by
Tyler
Quality
I've been using these things for over 2 years now and they are awesome. Super tough. No way I'm going back to a regular gym with these and my horse-stall mats. It lets me go all out. Clear the area for the bounce though. I've broken a few plastic containers on accident when the bar bounced into them. Extremely happy with this product and it's durability.
| Review for:
Rogue Bumper Plates by Hi-Temp
Awesome product!
Review by
Lewis O.
Quality
I received my bumpers about a month ago and I have to say that I just love them. These plates are very durable. I will definitely will be ordering more for my gym.
| Review for:
Rogue Bumper Plates by Hi-Temp
American beauty
Review by
Ivan
Quality
The main reason I got these weights is because they are made in the United States. I did not want to get the HG because they were made in China. I love how Rogue is employing Americans as much as possible and these bumpers are the exact quality that you would expect from an American made product. These will outlast you (just like any other Rogue product) and you will not be disappointed.
| Review for:
Rogue Bumper Plates by Hi-Temp
Quality
Review by
Jeff
Quality
I'm very happy with the bumper plates that I got from rogue, they work great. The customer service was also excellent!
| Review for:
Rogue Bumper Plates by Hi-Temp
Quality
Review by
Stephanie
Quality
I had been using these bumpers at my old crossfit gym and saw how much of a beating they could take, so when it was time to buy some for my garage gym I was not hesitant to buy some for myself. I am very pleased with them and extremely impressed by the customer service from rogue.
| Review for:
Rogue Bumper Plates by Hi-Temp
Great product and good customer service
Review by
nunezsteph
Quality
I just received my bumpers about one week ago. The crossfit gym I was going to used the same ones and they took quite a beating at the gym. So when it came time to purchase some for my home gym I was not hesitant at all. The quality is excellent and the customer service was amazing. I am very pleased with this company.
| Review for:
Rogue Bumper Plates by Hi-Temp
Lifelong investment
Review by
Christian
Quality
I bought these plates after purchasing the gorilla plates. I also own the HG plates and these bumpers are slightly smaller in diameter than the HG plates. So I purchased them so I could use them in combination with the gorrilas and all the plates would be in contact with the ground. They do have more bounce than the HG plates but that is an advance for certain workouts when you want to touch and go. These plates are extremely durable and great for taking the workout outside.
| Review for:
Rogue Bumper Plates by Hi-Temp
Other Customers Also Viewed