Rogue Compression Socks
Shipping Deals
Gear Specs
| | |
| --- | --- |
| Brand | Rogue |
| SKU | SW0001 |
| Socks | Compression Socks |
| Compression Gear | Socks, Abrasion Protection |
| Made In USA | Yes |
| Free Shipping | No |
| 3 Ships Free | Yes |
FAQs
The PERFORMANCE line of compression socks are made in America and designed to be the best socks you will ever wear - GUARANTEED.
To deliver top Performance we use Olefin fibers to produce a fast drying, lightweight sock with superb abrasion resistance and long-lasting durability. As a fiber, Olefin retains less than .01% of its weight in moisture and resists deterioration from chemicals and perspiration. The combination of nylon and spandex with the Olefin antimicrobial fiber helps create a softer, more comfortable sock with incredible breath-ability for everyday wear.

Olefin, the only Nobel Prize-winning fiber, has a great story. Its production leaves very little waste; therefore, it has less environmental impact than most polymers and is easier to recycle. Olefin also has the lightest specific gravity of any other fabric. This is why our socks will float in water.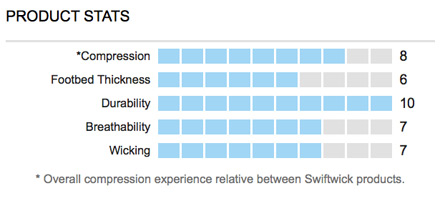 Reviews
Awesome socks
Review by
Alex
Quality
I bought these to wear while competing in the highland games. They did an awesome job and kept me comfortable all day. I put them on at 8am and didn't take them off until 11:30pm and they were still comfortable and supportive. The socks breathe a little better than I thought they would and were a little chilly at 45 degrees, but once it warmed up a little, they were comfortable from 50 degrees to the mid 70s. The image on the back of the socks is a weight lifter, for those who can't tell (I had no idea what it was until I got them).
| Review for:
Rogue Compression Socks
Lives up to the hype
Review by
Ryan
Quality
I know that the idea of spending $35 on a pair of socks can seem excessive to some, but I took a chance and I have to say, I am a believer. They are extremely soft, but offer a solid amount of compression at the same time. Nice amount of padding on the sole with well vented fabric on the top of the foot. The compression level is medium, but unlike some compression socks (Zensah) they go on very easily and you are not left struggling for 10 minutes trying to get them past your heel. Try them once and you will be sold. I'm already saving up for my next pair!
| Review for:
Rogue Compression Socks
Does Work!
Review by
tagamasid
Quality
Bought a pair for my wife who works as a Physical Therapist. She loves these socks for keeping her gastrocs, soleus, and plantar fascia feeling fresh at the end of the day. Will be getting a few more pairs!
| Review for:
Rogue Compression Socks
Great
Review by
brod
Quality
Socks give very good support. I bought them for deadlift and they do well for that. The compression also help with overall workouts especially with any running.
| Review for:
Rogue Compression Socks
True compression socks
Review by
Abe
Quality
Offers true compression of your feet, calves, and ankles. Well made and with a bold design. Wear them to bed and wake up feeling awesome.
| Review for:
Rogue Compression Socks
Great
Review by
StevO
Quality
They are awesome! I will be buying another pair for sure.
| Review for:
Rogue Compression Socks
Great socks
Review by
Legolas941
Quality
These socks are very comfy, and I will be getting a couple more pairs. Love the design on them - very flashy! Everyone at my box was admiring my awesome new socks!
| Review for:
Rogue Compression Socks
Other Customers Also Viewed