Rogue Power Bar
Availability: In stock
Price
Qty
Gear Specs
| | |
| --- | --- |
| Brand | Rogue |
| Bar Type | Men's Bars |
| Bar Use | Weightlifting, Olympic Weightlifting, Powerlifting, Multipurpose |
| KG | 20KG |
| Diameter | 28.5MM |
| Knurl | Powerlifting |
| Center Knurl | Center Knurl |
| Knurl Marks | Powerlifting |
| Shaft Coating | Black Zinc |
| Sleeve Coating | Black Zinc |
| Sleeve Construction | Press |
| Sleeve Design | Snap Ring |
| Bushing/Bearing | Bushing |
| Tensile Strength | 155K |
| Guarantee/Warranty | Lifetime Use Warranty |
| Free Shipping | No |
| Made In USA | Yes |
| 3 Ships Free | No |
FAQs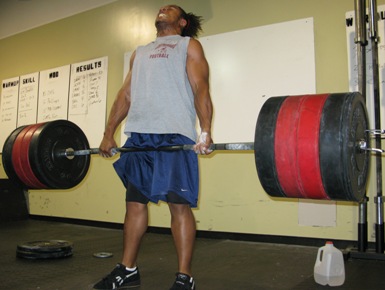 The Rogue Power Bar is a polished 28.5 mm bar with center knurling and single powerlifting knurling marks. This bar has the same great hybrid knurling that has made Rogue bars famous.
The steel shaft is carefully coated with bright zinc then hit with a second black zinc coating that gives the bar a old school feel. There are no other bars like this on the market.
Black zinc sleeves with snap ring design.
**Warranty against bending does not cover any bar which has been damaged due to negligent or faulty use, alteration, maintenance, storage or handling by the user. Negligent or faulty use includes abusive dropping of the bar (i.e., dropping the bar on a box, bench, spotter arms or pins in a power rack, excessive dropping with insufficient or damaged bumpers, or excessive dropping with iron plates, and similar usage). Any specific issues regarding a Rogue product with which a customer is not satisfied will be reviewed on a case-by-case basis. Rogue has a replacement rate of less than 0.0002% on bars. We have found that most problems with bars we replace are related to abusive use rather than manufacturing or materials issues.
Reviews
Kickass Bar
Review by
Geopap
Quality
Had a cheap bar that fell apart then I bought this one. What a difference - Just like everything else from Rogue this is top quality. Just perfect - period! Also being made in America is important too. If you think this bar is expensive its not just have a "cheap" one fall apart on you and you'll know why!
| Review for:
Rogue Power Bar
Best bar ever
Review by
Wild Man
Quality
Been using this bar for about 2 months now. Knurl feels awesome. I love everything about it. Wouldnt trade it for anything.
| Review for:
Rogue Power Bar
Great bar
Review by
Jimmy
Quality
Great look, great feel.. overall a very solid bar.
| Review for:
Rogue Power Bar
Other Customers Also Viewed