Rogue Gymnastic Rings
is rated out of
5
by
21
.
Rated

5

out of

5
by
DaneS
from
Fantastic product
I own Rogue wooden rings which are also great but I prefer the grip of these. The powder coat feels better to me and it holds chalk beautifully.
Date published: 2015-08-27
Rated

5

out of

5
by
KKralka
from
Awesome!
I have had these rings for about 10 months and I love them! The color is awesome and the quality of the rings and straps are top notch!
Date published: 2015-08-05
Rated

5

out of

5
by
russ
from
russ Monroe
I bought these little gems 5 year's ago and the garage mount bar. Still works every time plus the gmb also does a great job of supporting a 100 pound punching bag
Date published: 2014-08-10
Rated

5

out of

5
by
Ryan Rogers
from
GoForWood
I bought the metal rings thinking they would be more heavy duty. While there is nothing wrong with them I recommend you buy the wood ones. As soon as I start sweating my grip slips unless I'm on the wood rings.
Date published: 2014-05-01
Rated

5

out of

5
by
ROBERT VERAMENDI
from
ANTHONY
THEY ARE FANTASTIC AND THE GRIP IS GREAT. I FEEL SAFE WHEN I DO IT.
Date published: 2014-02-27
Rated

5

out of

5
by
Keith Sanchez
from
AMAZING
I got these rings today, and I have only used them so far for one workout. And they are absolutely unreal. I was contemplating getting wooden rings but I felt that these would last longer and may be just a little more solid. They work amazing. no flex at all very sturdy and the straps make them so simple to set up.
Date published: 2013-06-20
Rated

5

out of

5
by
Jared Rose
from
Simple Strong
Simple, yet masterful, design. The rings are smooth and solid, no weak points. The straps are capable of holding; your anchor will give out before the straps do. The different colors on the straps allow for a box to customize the look of their box.
Date published: 2013-04-27
Rated

5

out of

5
by
DAVID BEIQUE
from
Quality Rings
I use these rings pretty much everyday and love them. The straps hold strong, and the rings are solid. A bit of advice to those that purchase a set with the straps: make sure you feed the strap through the buckle properly. It wasn't very clear on the instructions as to how (I understand things better with pictures) but I made the mistake of running the straps through the buckle from the wrong direction, and the straps kept slipping. Now I have them installed correctly and they do not budge at all. I also purchased the Rogue Ring Hanger with these to hang them from my garage ceiling and they are perfect together. Definitely recommend!
Date published: 2013-04-26
Rogue Gymnastic Rings
is rated out of
5
by
21
.
Rated

5

out of

5
by
Rommell Mendoza
from
Awesome Product
I've got these rings installed in my garage now. Doing exercises like muscle up, ring dips, ring push up, and hopefully HSPU. Straps don't move and easy to adjust.
Date published: 2013-03-04
Rated

5

out of

5
by
Artem Klimenko
from
Rings
I've ordered the Rogue rings on November,25 and today, January 11 I've got them here in Chelyabinsk, Russia. Great rings! The best I saw ever. Thanks Rogue.
Date published: 2013-01-11
Rated

5

out of

5
by
Rob Giddens
from
Hardcore
Purchased a set of the rings and I must say the quality is superb! The straps and buckle are also of awesome quality! Definitely USA made. Thanks Rogue Fitness! I'll definitely be back to purchase more items.
Date published: 2013-01-06
Rated

5

out of

5
by
CFTD
from
Nothing beats Neon
My boyfriend bought these for me as a gift. They are super well made, have a great grip, and are a great addition to my box. The only thing better would be glow in the dark. (;
Date published: 2012-09-10
Rated

5

out of

5
by
Coach_Z
from
Decent quality
Rogue Rings system is probably the best in the market so far. Very functional and durable. The metal coating surface of the rings is beautiful.
Date published: 2012-08-24
Rated

5

out of

5
by
Anton
from
Solid Rings and EASY setup - get the pullup bar also
I got these for Christmas a long time ago. I use them almost always when I travel with the family. I can find a tree or a goal post, or whatever and get a workout when we have a little spare time when we visit family, etc. I much prefer to workout outdoors so whenever the weather's good I try to use the rings, and my KB outdoors. I have used the parks around my home, the woods, playgrounds at off hours, etc. I LOVE that I can get a good workout almost anywhere, at almost any hour when my life and the gym hours don't quite coincide. The surface of the rings is great, not too rough but enough where even if you're sweaty you'll be able to grip them . I got the metal ones so I could really workout outside and have no worries. These are VERY easy to setup. I use them at my gym as well as outdoors depending on my WOD.
Date published: 2012-08-03
Rated

5

out of

5
by
Paul McBride
from
Rings have changed my workouts
First ever use of rings and they have completely changed how I strength train and #wod. Would recommend to anyone.
Date published: 2012-07-02
Rated

5

out of

5
by
Rob R.
from
Great construction
These are my first set of rings and will likely be the only set; they seem industructable. Straps are easy to adjust and don't slip at all!
Date published: 2012-04-10
Rated

5

out of

5
by
ihadmail
from
First rings
This is my first set of rings. They're exactly what I expected them to be. The straps are very easy to set up and adjust. I give Rogue an additional 5* for having amazing, personal, customer service.
Date published: 2012-02-23
Rated

5

out of

5
by
DCM
from
USA made quality
Love these rings. Should last me a lifetime and made in the USA.
Date published: 2012-02-16
Rated

5

out of

5
by
Brad
from
Perfect Grip
Bought this instead of a pull-up system because of its versatility (pull-ups, dips, push-ups, and eventually some muscle-ups). The grip is just right...easy to hold onto, but still leaves some skin on the palms.
Date published: 2012-01-08
Rated

5

out of

5
by
Anonymous
from
Great equipment
I love the rings I keep them outside the coated buckles for the strap was a great touch
Date published: 2011-12-03
Rated

5

out of

5
by
andrew wood
from
great product
another item to my home gym, so many uses and amazing quality.
Date published: 2011-09-29
Product Safety Information
At Rogue we want to make sure that we deploy the safest products possible and provide our users with the best safety protocols we have available. Gymnastic ring straps are wear and tear items so inspection and disposal are imperative. We would like to offer the following safety protocols:
Pre Rigging Inspection:
1) All rigging must be checked prior to each use - Not doing these safety checks can lead to serious bodily injury or death
Check for frayed strap material or visible abrasion, such as fused fibers or cut strands

Check to make sure that buckle sets firmly on strap and there is no visible damage to the springs or excessively worn teeth in mechanism

Check all stitching points for frayed or broken stitching. Look for discolorations, "glazed" sections, or stiff sections

Do not leave straps in direct sunlight, exposed to weather, and always store straps in a clean and dry environment
2) All anchoring points for rigging must not have an abrasive surface or edge - Not doing these safety checks can lead to serious bodily injury or death
Make sure the surface you are putting the strap over or through is smooth - if the surface is abrasive it will break the straps

Make sure the contact point for the strap is a large surface with radius – avoid shearing surfaces and sharp edges

Make sure the anchoring point is strong enough to support both static and dynamic loads
3) Make sure you are rigging the competition ring straps per the instructions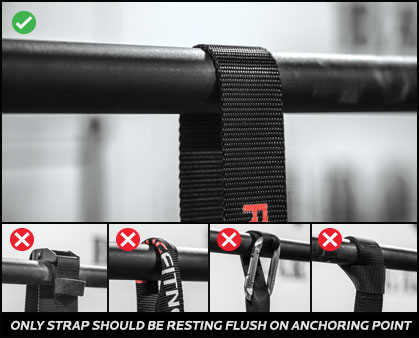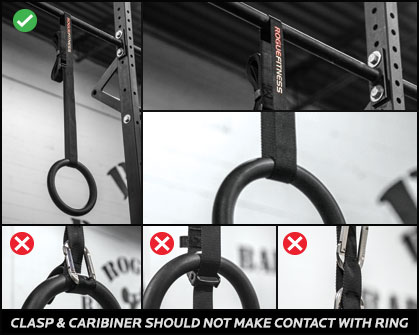 4) Do not use gymnastic straps or rings for purposes not intended for. Straps should ONLY be anchored to or through an appropriate anchoring point.
Gymnastic ring straps are wear and tear items, they must be inspected the same way any other rigging equipment would be done.
WARNING: some aspects of ring and gymnastic training are potentially hazardous and dangerous. Anyone using Rogue's equipment is personally responsible for learning proper techniques and exercising sound judgment, and assumes and accepts full and complete responsibility for any and all damages, injury of any kind, or death which may result from the use of any equipment purchased from Rogue. There is no substitute for personal instruction by a qualified coach or trainer. Train hard, not foolhardy.
Coming Soon
Notify me when in-stock.