Rogue Gymnastic Rings
Gear Specs
| | |
| --- | --- |
| Brand | Rogue |
| Color | Black |
| Product Weight | 7 lbs. |
| Diameter | 1.25" |
| Steel Notes | 1.25" 14 Gauge |
| Made In USA | Yes |
| Free Shipping | No |
| 3 Ships Free | No |
FAQs
Rogue Gymnastic Rings
The Product That Started It All
As the very first Rogue manufactured product back in 2006, Rogue Rings set the standard for the level of excellence our customers have come to expect from the Rogue brand. The idea was that when a customer pulled a set of rings out of the box, they would touch and feel something special that had been handmade for them. The welds would be perfect, the texture would be perfect, and you would know that you just purchased a quality piece of American-made equipment.
Today, Rogue's heavy-gauge steel gymnastic rings are still manufactured in Columbus, Ohio, and backed by a lifetime warranty against breaking. Designed as a 21st century take on a classic strength training staple, these rings can endure everything from CrossFit ring exercises to the daily pull-ups, ring dips, front levers, and muscle-ups of an Olympic gymnast's regimen.
Rogue Rings feature 1.25", 14-gauge steel tubing, fully TIG welded by hand and powder-coated in a multi-step process with a zinc phosphate plating underneath and a firm but grip-friendly exterior coat. The provided ring straps and buckle system are ultra-durable, easily adjustable, and environmentally versatile. Whether you integrate a ring station into a custom home gym or swing the straps over a sturdy tree branch for an outdoor workout, there are very few limitations on where a set of gym rings can go.
Related Options:
Specifications:
Made in Columbus, OH, USA
Sold in sets of 2
1.25" 14-gauge steel tube
Tough, easy-grip, black powder coating (will hold chalk)
Includes (2) 1.5" Heavy Duty Black Nylon Straps with Buckle*
16' Strap features VELCRO® brand fasteners to keep excess strap in one place
All Rogue Metal rings have a lifetime warranty against breaking. Ring Straps are a consumable product and are warrantied for 1 year from date of purchase.
*Ring straps are also available in desert tan and ranger green.
Reviews
First rings
Review by
ihadmail
Quality
This is my first set of rings. They're exactly what I expected them to be. The straps are very easy to set up and adjust.

I give Rogue an additional 5* for having amazing, personal, customer service.
| Review for:
Rogue Gymnastic Rings
USA made quality
Review by
DCM
Quality
Love these rings. Should last me a lifetime and made in the USA.
| Review for:
Rogue Gymnastic Rings
Perfect Grip
Review by
Brad
Quality
Bought this instead of a pull-up system because of its versatility (pull-ups, dips, push-ups, and eventually some muscle-ups). The grip is just right...easy to hold onto, but still leaves some skin on the palms.
| Review for:
Rogue Gymnastic Rings
Great equipment
Review by
Jason
Quality
I love the rings I keep them outside the coated buckles for the strap was a great touch
| Review for:
Rogue Gymnastic Rings
great product
Review by
andrew
Quality
another item to my home gym, so many uses and amazing quality.
| Review for:
Rogue Gymnastic Rings
Another Great Product From Rogue!
Review by
Bobby
Quality
What can I say....They work
thanks rogue
| Review for:
Rogue Gymnastic Rings
Solid rings, but alot of hand pain
Review by
JrHernandez
Quality
I like how the straps are thicker, but I have to say that the rings HURT YOUR HANDS after long periods of time.

Maybe I just have to get used to them. I just hope that the pain I wake up in the morning in my hands isnt going to create future problems. With hard plastic rings, it doesnt happen
| Review for:
Rogue Gymnastic Rings
Heavy Duty Rings
Review by
Patrick
Quality
These rings seem pretty indestructible. The coating so far is impervious to wear or chipping.

I recently tried wood rings for the first time, and the feel isn't quite as comfortable as wood, but still great.

Highly recommend.

Oh, and MADE IN THE USA!
| Review for:
Rogue Gymnastic Rings
Ridiculously Nice Rings
Review by
kjo
Quality
I purchased Rogue Rings a year ago, and I'm certain they'll be a lifetime pair for me. The metal ring holds chalk well and is indestructible (something which many of my gym mates have endeavored to test). The straps are very nice and have held up well while being thrown over pipes, boarding, trees, jungle gyms, etc. I have no complaints.
| Review for:
Rogue Gymnastic Rings
Awesome rings
Review by
CVD
Quality
I have two sets of these rings and I love them, work awesome and have a great grip
| Review for:
Rogue Gymnastic Rings
Other Customers Also Viewed
Product Safety Information
At Rogue we want to make sure that we deploy the safest products possible and provide our users with the best safety protocols we have available. Gymnastic ring straps are wear and tear items so inspection and disposal are imperative. We would like to offer the following safety protocols:
Pre Rigging Inspection:
1) All rigging must be checked prior to each use - Not doing these safety checks can lead to serious bodily injury or death
Check for frayed strap material or visible abrasion, such as fused fibers or cut strands

Check to make sure that buckle sets firmly on strap and there is no visible damage to the springs or excessively worn teeth in mechanism

Check all stitching points for frayed or broken stitching. Look for discolorations, "glazed" sections, or stiff sections

Do not leave straps in direct sunlight, exposed to weather, and always store straps in a clean and dry environment
2) All anchoring points for rigging must not have an abrasive surface or edge - Not doing these safety checks can lead to serious bodily injury or death
Make sure the surface you are putting the strap over or through is smooth - if the surface is abrasive it will break the straps

Make sure the contact point for the strap is a large surface with radius – avoid shearing surfaces and sharp edges

Make sure the anchoring point is strong enough to support both static and dynamic loads
3) Make sure you are rigging the competition ring straps per the instructions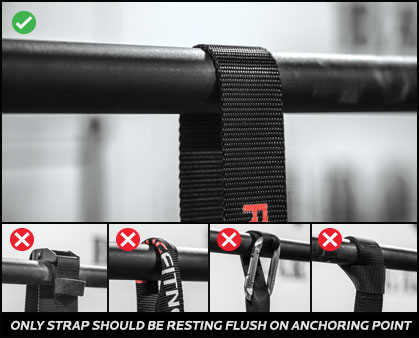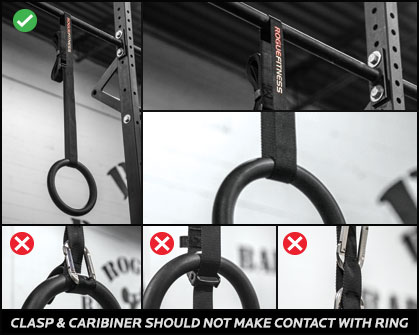 4) Do not use gymnastic straps or rings for purposes not intended for. Straps should ONLY be anchored to or through an appropriate anchoring point.
Gymnastic ring straps are wear and tear items, they must be inspected the same way any other rigging equipment would be done.
WARNING: some aspects of ring and gymnastic training are potentially hazardous and dangerous. Anyone using Rogue's equipment is personally responsible for learning proper techniques and exercising sound judgment, and assumes and accepts full and complete responsibility for any and all damages, injury of any kind, or death which may result from the use of any equipment purchased from Rogue. There is no substitute for personal instruction by a qualified coach or trainer. Train hard, not foolhardy.