Rogue Weightlifting Shoes - 3/4"
Shoe Type: Men's
Shipping Deals
Gear Specs
| | |
| --- | --- |
| Brand | Rogue |
| Shoe Color | Black |
| Shoe Type | Men's |
| Effective Heel Height | .75" |
| Made In USA | No |
| Free Shipping | Yes |
| 3 Ships Free | No |
FAQs
CAUTION: THESE WILL BUILD INSANE INTENSITY INTO YOUR LIFTS!
This is the shoe that started the revolution!

If it's not broke don't fix it. The Rogue Do-Win has a new colorway but retains the same great characteristics that have made it a classic.
These offer better breathability by using mesh inserts and greater stability from two shorter hook and loop fastening tarsal straps and a 3/4" heel.
---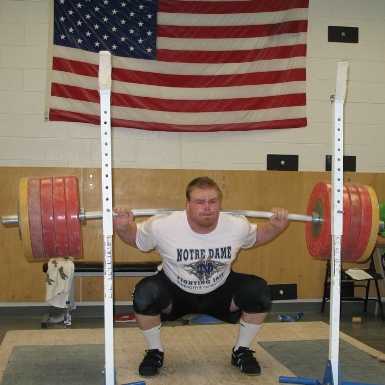 Here is what Casey Burgener has to say about the Rogues:
"The new Rogue weightlifting shoe is a huge improvement to the older style of Do-Win's. The heel height, increased ventilation, and overall comfort make them a top choice for weightlifters of all skill levels. This is a great set of weightlifting shoes."
Thanks Casey!
Rogue Weightlifting shoes are warrantied for 30 days. These shoes are made for weightlifting only because of the soles rigid design. Doing movements such as box jumps, sprints, jump roping, and anything else that will cause extreme flex to the sole will compromise the integrity of the shoes.
The Rogue Shoes have a .75" Heel Height.
Heavy Duty strap system.
Men: Sizing seems to run normal so order your normal shoe size
Women: Suggest Dropping down 1.5 sizes from posted Men's Size
If these shoes do not fit, just send them back and we will send you a new pair!
Reviews
Great shoes
Review by
Smitty
Quality
My first pair of weightlifting shoes. I wear size 4e in width which usually limits me to New Balance shoes. I was glad to see that the Do-Wins fit me perfectly. I used them today for squats, overhead presses and deadlifts. They felt solid and stable. Good as advertised!
| Review for:
Rogue Weightlifting Shoes - 3/4"
Love these shoes.
Review by
Carl Johnson
Quality
I have the black 3/4 inch heel in a size 13. My true shoe size is a 12.5 4E. These are the widest lifting shoe I have found and they fit perfectly! If you have a wide foot, throw your money at Rogue and be amazed. My son has the Red 1/2 inch heel in his normal tennis shoe size and fit great. Now we use these for starting strength style workouts, they are meant for heavy lifts where your feet are motionless like squats OHP, or where there is a slight jump in place like power cleans. If you try to where these shoes to run, jump, do push ups or even walk into and out of the gym or any other crazy crossfit stuff they will not last, they are not made for that, get some new balance minimal and take both pairs along.
| Review for:
Rogue Weightlifting Shoes - 3/4"
Great Shoe, Better Company
Review by
Ek
Quality
I really hope people know how great Rogue's customer service is. My shoes were at my house two days after I ordered them. Quickly figured out that they were a half size too big (you may want to order a half size under for men!) The exchange was quick and easy. They're really good quality shoes and if you have ankle mobility issues, they will help a ton. Thank you Rogue for being a superb company.
| Review for:
Rogue Weightlifting Shoes - 3/4"
Game Changer for my Form - Really
Review by
Kelly
Quality
My crossfit coach told me I would quickly develop knee pain if I continued to roll my weight onto my toes when I lifted heavy. He suggested a more stable shoe with a big heel, but I was skeptical and hesitant to try because of my hard-to-fit wide feet. After reading positive reviews about this shoe from others with wide feet, I purchased the 3/4" heel in a half size too small. Rogue facilitated an exchange with no issues and I've been very happy with my shoes ever since. It turns out my 9.5 4E fit just fine in a 9.5. They are supposed to be snug to faciliatate efficient transfer of force, but not to the point of feeling pressure points like climbing shoes. By the first workout, they became a game-changer for my form. If I think about my feet, I am stable. If I don't think about my feet, my bad habits take over. The difference is my running shoes gave me no chance due to their tendency to roll forward and other shoes would have pinched my wide feet. I've been so happy, I just purchased a backup pair.
| Review for:
Rogue Weightlifting Shoes - 3/4"
Issue with Sole
Review by
Joe
Quality
These absolutely do everything you ask of them, feel more stable in the olympic movements, solid in the squat and improved balanced. Grounded is a great way to describe how you will feel in them. They do not however, handle the abuse of a split jerk well if you get up on the toes of your rear foot. After the warranty expired the sole began to peel back, I contacted customer service but was well out of the warranty period. They were helpful enough to make a recommendation of using gorilla glue or an powerful shoe glue which I have applied from time to time to keep them together.
| Review for:
Rogue Weightlifting Shoes - 3/4"
Best pair of shoes I have purchased.
Review by
Samson
Quality
I have worn Chucks and Metal Squat shoes for powerlifting because I thought flat shoes were best. The Metal Squat shoes were more stable and had better grip than the Chucks but my only complaint about them was that the high-top design restricted ankle mobility. It probably makes more of a difference since my knees track slightly past my toes when squatting. The Do-Wins have solved this problem. I can't believe I didn't order them sooner. I feel so much more stable not only because of the improved ankle mobility and grippy soles, but because the elevated soles have helped me to keep a more upright posture during the bottom of my squat which places less stress on my lower back. I feel that my technique is more solid when I squat at a higher intensity whereas before I would feel my hips rise too fast or my chest would more likely cave in. These shoes also feel so much better to bench in than Chucks because the improved grip allows for easier and more consistent use of leg drive. I use these for squat and bench and the Chucks for deadlift. Awesome shoes at a great price!
| Review for:
Rogue Weightlifting Shoes - 3/4"
Highly Disappointed with Durability
Review by
Jake
Quality
I bought these shoes in October. It is now December, and the sole is already peeling away from both the heel and toe. I loved the shoes - my squats went up - but 2 months, and perhaps 15 wears, should not see these issues arising.

More disappointing, however, is Rogue's customer service and return policy on these. I contacted a Customer Service rep who informed me they have a 30 day guarantee. Outside of that, neither a refund nor an exchange is allowed.

Not even an exchange?

I bought these because they're far easier on the wallet than Adidas or Nike's, but I wish I'd paid the $80 extra to not have $120 go down the drain.
| Review for:
Rogue Weightlifting Shoes - 3/4"
Outstanding product and service
Review by
Drew
Quality
I purchased these shoes after months of research and shopping around. I am a minimalist and the thought of going back to rigid heeled shoes was a bit counter to my footwear philosophy. However, I spoke to some folks who made some good points; you should have the right tool for the job. So, I think this is a good choice for the price and frequency that most of us would use these shoes.
On a Rogue service note, I bought these shoes at my running shoe size--10 ½--and they were a bit too big. I run between a 10 and 10 1/2. So, be warned, I would go smaller if I was in that category. Rogue processed my exchange online and sent my shoes out immediately, although I had to pay return shipping--the only downside.
In all, I would order these shoes over some of the more expensive brands. Great quality for the money and after a few test workouts they have proven their function and worth. I can see the benefits of these shoes already.

| Review for:
Rogue Weightlifting Shoes - 3/4"
Should have bought these shoes much earlier
Review by
Rev
Quality
These are the first pair of lifting shoes I've ever owned, so I can't compare them to anything else, but they are a drastic improvement on cross-training shoes that I used to lift in.

I did a lot of research before buying these shoes and didn't really appreciate how much they help lifting stability and technique until I actually started lifting in them. It makes a huge difference in feeling solid through the floor and getting into a better position for all lifts, which improves your confidence in lifting more weight.

I ordered the shoes from Australia and I was concerned that proper sizing would be an issue (particularly due to the cost of returning them if they didn't fit). I ordered half a size down from my normal shoe size (as per the other reviews) and they fit perfectly (good for people with a wide foot). Thanks to Rogue for prompt delivery.

Don't put off buying these shoes like I did - just get them! They are reasonably priced compared to the other lifting shoes, and I'm told they should last a long time if you treat them right.
| Review for:
Rogue Weightlifting Shoes - 3/4"
Everything You Want In An Oly Shoe
Review by
Cory
Quality
Did a lot of research before I bought these and I'm glad I did. I have been doing oly lifts in my Nano 2.0s and I have been needing more stability in my snatch and c&j. They make a WORLD of difference. PR'd my snatch 10# the first night I tried them out. If you're contemplating about purchasing an oly shoe and want to lift more, this shoe is for you. Squatting is the same thing; you're stable as can be with your ATG squats. These shoes just make you want to get even stronger because you feel so secure in them. The laces are a little long, but that is something stupid to complain about if you have complaints about this shoe. Super fast shipping and great customer service from Rogue again. Highly recommend these shoes for any CrossFitter or weight lifter.
| Review for:
Rogue Weightlifting Shoes - 3/4"
Other Customers Also Viewed