Rogue Weightlifting Shoes - 3/4"
Shoe Type: Men's
Shipping Deals
Gear Specs
| | |
| --- | --- |
| Brand | Rogue |
| Shoe Color | Black |
| Shoe Type | Men's |
| Effective Heel Height | .75" |
| Made In USA | No |
| Free Shipping | Yes |
| 3 Ships Free | No |
FAQs
CAUTION: THESE WILL BUILD INSANE INTENSITY INTO YOUR LIFTS!
This is the shoe that started the revolution!

If it's not broke don't fix it. The Rogue Do-Win has a new colorway but retains the same great characteristics that have made it a classic.
These offer better breathability by using mesh inserts and greater stability from two shorter hook and loop fastening tarsal straps and a 3/4" heel.
---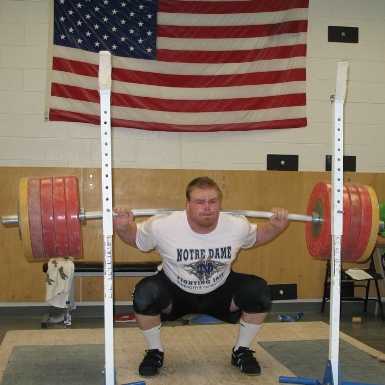 Here is what Casey Burgener has to say about the Rogues:
"The new Rogue weightlifting shoe is a huge improvement to the older style of Do-Win's. The heel height, increased ventilation, and overall comfort make them a top choice for weightlifters of all skill levels. This is a great set of weightlifting shoes."
Thanks Casey!
Rogue Weightlifting shoes are warrantied for 30 days. These shoes are made for weightlifting only because of the soles rigid design. Doing movements such as box jumps, sprints, jump roping, and anything else that will cause extreme flex to the sole will compromise the integrity of the shoes.
The Rogue Shoes have a .75" Heel Height.
Heavy Duty strap system.
Men: Sizing seems to run normal so order your normal shoe size
Women: Suggest Dropping down 1.5 sizes from posted Men's Size
If these shoes do not fit, just send them back and we will send you a new pair!
Reviews
Didn't know what I was missing out on
Review by
Josh M
Quality
I bought these last week. Just used them last night for the first time for squats. Wow! This is the first pair of true weightlifting shoes that I have owned. I was amazed at the difference in stability during squats. I am used to squatting in Chucks, so this was a big difference to me. I look forward to using them. As far as the feel of the shoe, it is very comfortable. I ordered a half size down from my regular shoe and the fit was great. The shoe is just a basic design, so no real style points, but I am using them to lift in, not get on the cover of GQ. If you are on the fence about buying the shoes, get off the fence and make the investment.
| Review for:
Rogue Weightlifting Shoes - 3/4"
Solid build, excellent gains
Review by
Dennis Leong
Quality
I've had these shoes since mid-April and they have proved very durable. I used to squat in Vibram FiveFingers but the heel lift in this shoe definitely helps. It also feels very strong and supportive when I'm pushing hard at the bottom of my squat, trying to spread the ground with my feet. Power cleans have been more solid too. If in doubt, go small because I usually wear an 8 or 8.5 for regular shoe sizes and went with an 8 for the Rogue. It fits like a glove.
| Review for:
Rogue Weightlifting Shoes - 3/4"
love these shoes
Review by
mel
Quality
I am an amateur female power lifter and I love these shoes. I read some reviews that said that girls may find the toe of this shoe too large and boxy, but if you are used to wearing chucks you will find that these are no different. I normally wear a ladies size 8 and I got these in a 6.5 and they fit great. I love them for squats, and I must confess I have been wearing them for bench (for the extra height and leverage) and for seated shoulder press for the great grip they give me on the floor!
If you are a female lifter and you aren't sure if this shoe will work for you - it will!!
| Review for:
Rogue Weightlifting Shoes - 3/4"
Feels great!
Review by
Mac
Quality
These are my first pair of weight lifting shoes and I really notice the difference in the bottom of my squat.
| Review for:
Rogue Weightlifting Shoes - 3/4"
Who needs steroids?
Review by
Estrebillo
Quality
These shoes are sincerely the best purchase I've ever made as far as my lifting goes. I am able to hit depths on my squats that have the guys at my gym scared to watch me lift.

They've also helped me improve my deadlift. The heel keeps the weight where it should be and my knees happy. I squat heavy 6 days a week in these bad boys and all is well.
| Review for:
Rogue Weightlifting Shoes - 3/4"
So far....awesome
Review by
Phill M.
Quality
I've had these for a month and can directly attribute a more sound approach to the bar b/c of these shoes. The heel rise isn't drastic but enough to maintain a solid 'rooting' to the floor. Love the suede, this makes the upper more approachable and supple, avoiding much of the break in time needed with other shoes. Ordered mine on size and the fit is awesome, but could see if you had a narrower foot the fit may require a smaller shoe.

Only down side is the tongue tends to fold/crease a bit causing the fit to become uncomfortable when tightening down the straps.

Great shoe/quality product!
| Review for:
Rogue Weightlifting Shoes - 3/4"
Great shoe! I got blown away!!
Review by
Joseph
Quality
I've been lifting for a little over 5 years. From the first time I started lifting I loved squats and olympic lifting. Don't do what I did in those 5 years. I didn't buy these shoes. I would've made bigger gains earlier and would've eluded injuries. This shoe is great. I have no idea why I waited so long to get these shoes. I feel great in these shoes. If we're talking about stability then yes! This shoe is amazing. Never felt so stable while lifting. Builds confidence under the bar. I say don't wait any longer, just make the investment. You won't regret it.

Oh! Long laces and long straps are kinda a downer but you know? It's alright for first shoe. Also order a half size down from your regular shoe size. I usually wear a 10 for casual and running shoes. I ordered a 9.5 and it fits perfectly!

Happy lifting everyone!
| Review for:
Rogue Weightlifting Shoes - 3/4"
Why did I wait so long?!
Review by
Pedro
Quality
After almost 4 years of Crossfit I finally decided to drop some money on a pair of lifting shoes. All I can say is I should listened and done this a LONG time ago. The Rogue Do-Wins are comfortable, stable, solid, and look great. As other reviewers have mentioned, the laces/straps are unusually long (but they don't get in the way) and you will most likely want to go with a 1/2 size smaller than your running shoes. I wear an 11.5 running shoe and the 11 fits perfectly..
| Review for:
Rogue Weightlifting Shoes - 3/4"
As good, maybe even better, than advertised
Review by
Clint
Quality
I honestly did not think that switching from standard crossfit shoes to the Do-Wins would make that much of a difference in my olympic lifts. Let's be honest I'm not breaking any records or winning any medals anytime soon. These shoes though immediately added power to my lifts. I feel the ground more and I feel the firmness in the heel more than I do in my Nanos and Inov8s. These really allow me to feel more stable as I push off the floor especially when I'm driving out of the hole in my squats. Shoot even my pistols got better from the first time I put them on. Awesome shoes!
| Review for:
Rogue Weightlifting Shoes - 3/4"
Great lifting shoe!
Review by
Pete
Quality
Quality of the shoe is an easy 5. Lifting with them has changed confidence under the bar. The only issue I had was with sizing. I wear a 12 in New Balance, Brooks, and Asics. I ordered a 12 and they were pretty big. They have a great return policy and exchanged them. I made the mistake of getting 11 the next time. They are just a bit snug but wasn't going to pay for shipping a third time. I would recommend a .5 size smaller than the above running shoes.
| Review for:
Rogue Weightlifting Shoes - 3/4"
Other Customers Also Viewed