Rogue S-25 Fat Boy Sled
Gear Specs
| | |
| --- | --- |
| Brand | Rogue |
| Color | Black |
| Product Weight | 38lbs |
| Length | Folded- 28.75", Unfolded - 24" |
| Width | 16" |
| Height | Folded - 3", Unfolded - 17.25" |
| Foot Print | 21.5" x 16" |
| Steel Notes | ¼" Bent Steel Plate |
| Other Product Specs | Loadable Weight: 500lbs+, Includes 16' Rogue Sled Strap |
| Made In USA | Yes |
| Free Shipping | No |
| 3 Ships Free | No |
FAQs
S-25 "Fat Boy" Sled
Max Durability from an Extra-Wide Weight Sled
Equipped with a 16-inch wide, precision bent steel deck, the S-25 "Fat Boy" Sled has been battle-tested on concrete, grass, track, and just about any other terrain you'd want to throw at it. And we didn't need to sacrifice speed or portability in the process. Like the standard Rogue E-Sled, the Fat Boy is built in Columbus, OH, and features a collapsible, fold-flat design inspired by military entrenching tools. That means you can toss the weight sled in your back seat, drive to a training space, stack up to 500 pounds in plates, and get an essential general physical preparedness, speed and agility workout.
The S-25 Fat Boy Sled comes standard with a 16-foot sled strap, which can be looped over the shoulders or through a belt for a wide range of sled training movements—from shoulder raise dragging and ankle dragging to walking lat pulls, chest presses, and pull-throughs. Customers also have the option of adding a heavy-duty Spud Inc sled strap to their order. This was the same strap used during the Individual Iditarod competition during the 2013 CrossFit Games.
S-25 Fat Boy Sled Specifications:
Made in the USA
Footprint: 16"x21.5"
0.25" Bent Steel Rails to protect your plates
16-5/8" Fold-Flat Weight Post can stack steel plates or bumpers
16-foot Sled Strap and Carabiner included
Spud Inc. Strap available to add to order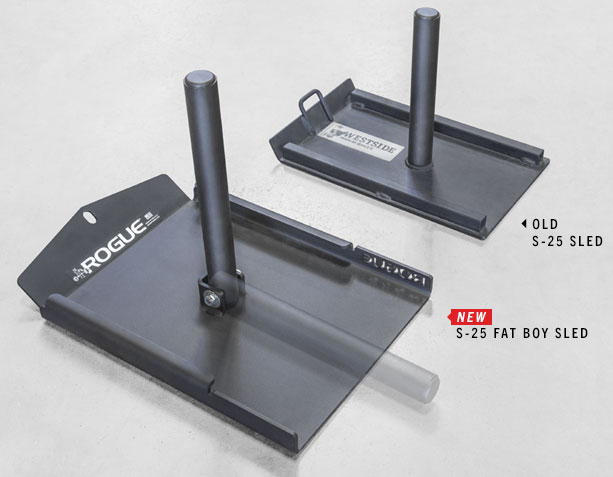 Try lightweight sled training for developing sprinting speed and metabolic conditioning. And add more weight to concentrate on endurance and building a strong posterior chain.
See Also: The Full Line of Rogue Sleds and Yokes
Note: Owners of the S-25 should note that occasional scuffs, scratches, and other damages may occur to the sled and/or some surfaces it's used on. Rogue is not liable for any such damages.
Reviews
Great addition to the arsenal
Review by
Dylyn v
Quality
This product is extremely and durable! Very well made. The only thing I didnt like about it is the hinge that holds the pole in place. Wish it was a bit stiffer so when laying it down for travel it didnt hit the platform. Overall quality is great and worth the money
| Review for:
Rogue S-25 Fat Boy Sled
Will better your soul
Review by
Don A.
Quality
Stop questioning yourself whether you want to purchase this sled, you NEED to purchase this sled and make it a part of your daily routine. You will become a better man, woman, or child because of this. This thing is built like a friggin tank and will take a beating. It's the best Rogue purchase I've made thus far. Great job on this one fellas! Keep 'em coming!
| Review for:
Rogue S-25 Fat Boy Sled
Best Budget Friendly Training Tool
Review by
JGonz
Quality
Being a college student I was looking for a training tool to have at home that would be within my low budget. This sled is so versatile with what you can program. Throw any type of plates on this bad boy and it will not disappoint! Favorite tool ever!
| Review for:
Rogue S-25 Fat Boy Sled
Great Rehab tool
Review by
JP
Quality
I bought my sled because I haven't been able to squat or deadlift due to a hip injury (I'm hoping to avoid chicken legs). It works really well to keep the legs strong in some slower heavier pulls as well as leaving you floored after sprints. The S-25 is great for all ages and abilities, surprisingly useful for more elderly and injured clients. A great all around tool and a must have for your Affiliate or home gym.
| Review for:
Rogue S-25 Fat Boy Sled
best workout ever
Review by
Des
Quality
Used my sled the first day I recieved it.My little sister sat down on it and I did 50 yard sprints.Felt great and could really feel the effects the next day.A couple days later I included some upper body variations and really felt more powerful after using it.Thanks for making such a great sled at a great price.
| Review for:
Rogue S-25 Fat Boy Sled
small but does the job
Review by
KF
Quality
wont comment on the effectiveness of sled in general - you should know that sled for GPP or anything else really is hard to beat..
this little thing, with its large footprint will give you lots of resistance without loading too much plates. i use it indoors in a rubber like floor and this thing sticks.

fits in the back of my car nicely and can easily be carried.

only improvement i can suggest is having a waist harness for pulling.

good job on a reasonably priced sled thats well made and looks cool too.
| Review for:
Rogue S-25 Fat Boy Sled
will crush your soul
Review by
Panther
Quality
just throw one plate on and start doing 300-400m pulls. This will humble any athlete. I bought mine before the rack...it is that important.
| Review for:
Rogue S-25 Fat Boy Sled
Outstanding
Review by
Mark
Quality
This is the first item I have ever bought from Rogue and it is amazing. The sled is a tank and the strap that comes with it has two loops that can be used for dragging or looped through a belt for walking/running. This product also costs about half the price of several other sleds I looked at and came about three days after I ordered it. I have dragged it around the block and was much quieter than my Prowler on concrete. Just an all-around amazing product.
| Review for:
Rogue S-25 Fat Boy Sled
Other Customers Also Viewed