The Ohio Bar
Gear Specs
| | |
| --- | --- |
| Brand | Rogue |
| Bar Type | Men's Bars |
| Bar Use | Weightlifting, Olympic Weightlifting, Powerlifting, Multipurpose |
| KG | 20KG |
| Diameter | 28.5MM |
| Knurl | Multi |
| Center Knurl | No Center Knurl |
| Knurl Marks | Dual |
| Shaft Coating | Varies |
| Sleeve Coating | Varies |
| Bushing/Bearing | Bushing |
| Tensile Strength | 190,000 PSI |
| Guarantee/Warranty | Lifetime Use Warranty |
| Free Shipping | No |
| Made In USA | Yes |
| 3 Ships Free | No |
FAQs
Columbus Craftsmanship, World Class Quality
The Ohio Bar isn't just one of Rogue's most durable and versatile weightlifting bars, it's also a direct reflection of the proud professionals who build it. From the 190,000 PSI steel to the distinctive dual knurl marks and four separate coating options, every detail of the Ohio Bar is held to the absolute highest standard—as you can see in the step-by-step process below.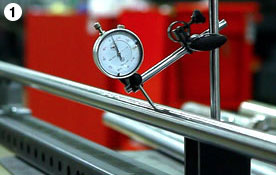 This steel is manufactured in the US and has proven to be one of the best steel variants for a multi-purpose barbell.
Each barbell shaft is ground and polished prior to machining which allows the bar to have a very smooth finish post any black oxide, zinc or chrome finish.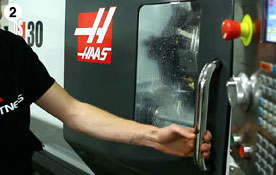 Each bar shaft is machined on new Haas machines that are built in the US. A great deal of pride is built into each bar as the knurling process is an art. We spent months working on the knurl we believe to be the best for the Ohio Bar.
To test the knurl it is more a beer tasting process than exact measurement. There is a look and feel that go into testing every bar.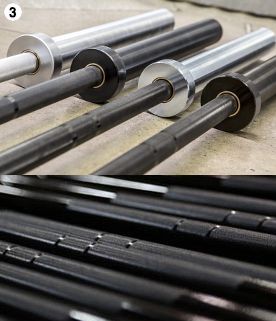 The Ohio Bar is available with 4 different finishes. Each finish offers a different level of oxidization protecion and has a direct effect on the feel of the knurl.
Black Oxide is a mild oxidization protectant process. This type of steel treatment will still require some maintenance but will give the best knurl feel, more like a naked bar.
Bright Zinc and Black Zinc is a medium oxidization protectant process. This type of steel treatment requires minimal maintenance and is used on The Rogue and Bella Bars.
Satin Hard Chrome is a high oxidization protectant process. The feel of this bar is similar to brushed steel.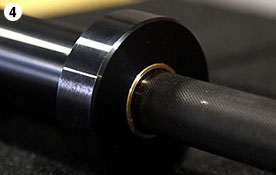 The Ohio Bar is assembled with bronze bushings which act as bearing surfaces between the bar sleeve and bar shaft. This is a very robust way of building a barbell.
Each bar will come with an Ohio Bar card that has the initials of the Rogue team member that built the bar.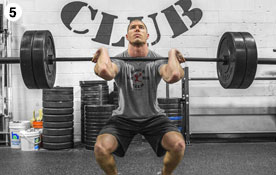 This bar will have normal "whip" during Olympic weightlifting and enough stiffness to hold for heavy powerlifting. The steel in this bar is proven as an excellent choice for weightlifters.
Each Rogue Ohio Bar is machined and assembled in Columbus, Ohio, and includes a lifetime guarantee against bending**.
The bushing sleeves on the Ohio Bar promise a reliable spin, and their snap ring design maintains optimal stability throughout any type of weightlifting regimen-- from basic high school or collegiate strength training programs to intense Crossfit workouts.
Ohio Bar Coating Options You can select one of the following available coatings from the sidebar:
Standard Black Oxide Treatment
Black Zinc Plating with Bright Zinc Sleeves - Same zinc combination as the Rogue Bar
Black Zinc Plating with Black Zinc Sleeves – Murdered out
Satin Hard Chrome – Top of the line finish with more of a matte look than standard chrome

Versions:
Version 1.1 - This is the first version of the Ohio Bar manufactured by Rogue
Version 1.2 - We upgraded the steel used in the shaft to 190,000 PSI tensile strenght steel.
Whichever coating you choose, Rogue has provided some helpful tips for long term Bar Care & Maintenance.
**Warranty against bending does not cover any bar which has been damaged due to negligent or faulty use, alteration, maintenance, storage or handling by the user. Negligent or faulty use includes abusive dropping of the bar (i.e., dropping the bar on a box, bench, spotter arms or pins in a power rack, excessive dropping with insufficient or damaged bumpers, or excessive dropping with iron plates, and similar usage). Any specific issues regarding a Rogue product with which a customer is not satisfied will be reviewed on a case-by-case basis. Rogue has a replacement rate of less than 0.0002 on bars. We have found that most problems with bars we replace are related to abusive use rather than manufacturing or materials issues.
Reviews
Well Worth The Extra $$
Review by
Cory
Quality
I was on the hunt for a new bar for a while, and I was at a toss up between quite a few based on the price (since I will only be using it in my home gym). I was debating between this bar, the beater bar, and a few other bars from other companies. Never having used this before, and loving the black on black oxide look I bought it, and I couldn't be happier. Having worked in multiple gyms, exercise physiology labs, and friends having other rogue bars, I am glad I got this one, it beats them all. The grip is great, the sleeves move so fluid, I instantly noticed my lifts feeling better (paired them with some new bumpers by rogue and it even looks amazing, and makes you want to lift more!) Amazing bar by Rogue, worth the extra $$ if you can swing it.
| Review for:
The Ohio Bar
Worth it for grip alone
Review by
Peter
Quality
I work out at a crossfit gym full of cheap bars, where about half of them are bent, and a good bit of them have shark tooth grip that chews my hands up. This is my first bar, and I can only compare it to the cheap ones my gym has. First off, the grip has to be felt to be believed. I got the Black Oxide finish after much back and forth in my head, but it feels awesome! Your hand just sticks to the bar without being too rough. Anyone who has laid hands on it at the gym love the grip as well. The finish looks great as well. I enjoy having my own bar for consistency, so I know how it's going to feel every time.
| Review for:
The Ohio Bar
WOW!
Review by
D-Train
Quality
I was deployed when i ordered this bar. I couldnt wait to get home and use this bar. I have to say the quality of this bar compared to what ive used in the past is AMAZING!!! I am happy with my purchase and look forward to more workouts with this bar.
| Review for:
The Ohio Bar
Great!
Review by
M D
Quality
The feel on the oxide finish is a step up from the Rogue Bar, which I didn't think possible. Great job Rogue, you've done it again!
| Review for:
The Ohio Bar
Perfection
Review by
Scott
Quality
I was a little unsure on how I would like the oxide finish, but as soon as I picked this bar up I was sold. Operates beautifully, looks aggressive and the feel is 2nd to none.
| Review for:
The Ohio Bar
SOLID!
Review by
Brian
Quality
I have had my bar for almost a month now and have loved every minute I've spent with it. Everyone in the box wants to take a spin with it. Cleans and snatches are effortless. I was able to PR my hang snatch by 15 pounds when I switched. It's a must have.
| Review for:
The Ohio Bar
Awesome. Day 1.
Review by
Bear
Quality
Just got my Ohio bar in the mail today. Did an Inaugural Bear Complex workout to break it in, and couldn't be happier. Highly suggest this bar to anyone looking for a brutal look and quality build.
| Review for:
The Ohio Bar
Black Beauty
Review by
Willard
Quality
I had some shipping problems with another bar I ordered. Pretty much UPS fault. I had to ship the bar back twice because of damage in shipping. Rogue takes customer satisfaction seriously. This bar came out and I had to have it. I love everything about this bar, it is as close to raw steel as you can get so the grip is really firm. The knurl is just aggressive enough. I use a manta ray to squat with, so no center knurl is pretty much what I needed. Like the oxidized finish the best. Bar doesn't flex too much, just enough. Everyone who has seen the bar loves it.
| Review for:
The Ohio Bar
SMOOTH
Review by
DWILLZ
Quality
The "Ohio Bar" is the best and smoothest bar I've ever used or owned and I have been working out for 16 years!!! :) You will not be disappointed and it's well worth the $!!! Love the "Murdered Out" Look as well...Can't go wrong!!! ;)
| Review for:
The Ohio Bar
Love it
Review by
Mat
Quality
I love my bar , I use it 6 days a week I squat and dead lift in the 500 LB range and it has been dropped many times , I even drop it from over head with 225 or even more , Thanks for offering great products at good prices , I think I'm going to order a bar in pink next.
| Review for:
The Ohio Bar
Other Customers Also Viewed