The Rogue Bar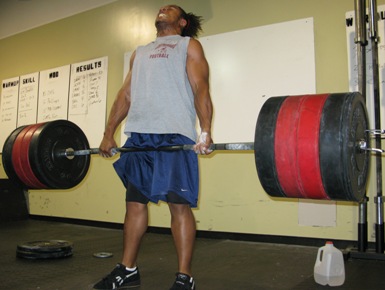 Availability: In stock
Price
Qty
Gear Specs
| | |
| --- | --- |
| Brand | Rogue |
| Bar Type | Men's Bars |
| Bar Use | Weightlifting, Olympic Weightlifting, Powerlifting, Multipurpose |
| KG | 20KG |
| Diameter | 28.5MM |
| Knurl | Olympic |
| Center Knurl | No Center Knurl |
| Knurl Marks | Dual |
| Shaft Coating | Black Zinc |
| Sleeve Coating | Bright Zinc |
| Sleeve Construction | Press |
| Sleeve Design | Snap Ring |
| Bushing/Bearing | Bushing |
| Tensile Strength | 155K |
| Guarantee/Warranty | Lifetime Use Warranty |
| Free Shipping | No |
| Made In USA | Yes |
| 3 Ships Free | No |
FAQs
The Rogue Bar
The Barbell That Launched a Revolution.
The Rogue Bar was one of the original products we built our reputation on, and it remains a proud centerpiece of the Rogue brand.
Used in the past four CrossFit Games, this weightlifting bar features Rogue's trademark, dual knurl marks for both Olympic and powerlifting, a hybrid knurling pattern, and no center knurl.
The polished shaft of The Rogue Bar is finished with a unique combination of bright zinc and black zinc coatings, giving it a classic, old school look and feel. Additional refinements include high quality bronze bushings for a consistent spin and a snap ring sleeve design guaranteed to keep the sleeves in place for the life of the bar. The Rogue Bar has a moderate amount of whip for use in weightlifting movements, and is built strong enough to come with a lifetime warranty against bending.
To get a better sense of what sets a quality, American-made barbell apart from the competition, check out some of the recent Rogue Bar reviews shared by customers under the "Reviews" tab on this page.
Rogue Bar Specifications:
Made in the USA
Diameter: 28.5mm
Weight: 20 KG
Dual Knurl Marks for Powerlifts and Olympic Lifts
No Center Knurl
Coatings: Bright Zinc, Black Zinc
To see more barbell options, visit the Men's Weightlifting Bars menu page.
**Warranty against bending does not cover any bar which has been damaged due to negligent or faulty use, alteration, maintenance, storage or handling by the user. Negligent or faulty use includes abusive dropping of the bar (i.e., dropping the bar on a box, bench, spotter arms or pins in a power rack, excessive dropping with insufficient or damaged bumpers, or excessive dropping with iron plates, and similar usage). Any specific issues regarding a Rogue product with which a customer is not satisfied will be reviewed on a case-by-case basis. Rogue has a replacement rate of less than 0.0002% on bars. We have found that most problems with bars we replace are related to abusive use rather than manufacturing or materials issues.
Reviews
Best all around bar
Review by
Chris
Quality
I use bar mainly for olympic lifting and I love the knurling on the bar. It is a quality barbell at a more than reasonable price. I have had the bar for about 2 months.
| Review for:
The Rogue Bar
Best bar i've used!
Review by
charlie
Quality
This Bar is awesome.... it takes a serious beating and performs like a fine tuned machine every day!!!! Rogue hit the nail on the head with it !!!! Thanks alot guys !!
| Review for:
The Rogue Bar
good stuff
Review by
Speal
Quality
Really great bar. Love the knurling and haven't had any issues with bending. It takes a beating in the gym and has held up great. For a lifter with my abilities it's a go to for me every day.
| Review for:
The Rogue Bar
A Great All-Around Barbell
Review by
Nicholas
Quality
For general use, to include O lifts, you can't beat this bar.
| Review for:
The Rogue Bar
My First Bar...
Review by
William
Quality
With that being said, I do love this bar. I have been to many gyms (globo) and have another cheap-o bar and this one puts all the ones that I have used to shame.
| Review for:
The Rogue Bar
Awesome all-araound bar!
Review by
Jake
Quality
I love this bar. Have had it for about 6 months now and have been extremely satisfied! Thanks Rogue!
| Review for:
The Rogue Bar
Other Customers Also Viewed