Rogue V2 Gun Rack
Gear Specs
| | |
| --- | --- |
| Brand | Rogue |
| Color | Black |
| Length | 5" |
| Width | 1.75" |
| Height | 31.75" |
| Steel Notes | 7 Gauge Steel |
| Storage | Bar Storage |
| Made In USA | Yes |
| Free Shipping | No |
| 3 Ships Free | No |
FAQs
Rogue V2 Gun Rack
Horizontal Barbell Holder + UHMW Plastic Liners
This is a variation on the standard Rogue Gun Rack, storing up to six barbells with the added option of laser-cut UHMW plastic inserts for greater protection.
The V2 Gun Rack features precision-bent, 7-gauge steel brackets and a unique rung design that will support either the sleeve or the shaft of any standard weight bar. Athletes and gym owners who elect to include the protective plastic liners with their order will also receive the necessary hardware for joining the inserts to the rack. Mounting hardware for the overall unit is not included.
IMPORTANT: In order to better protect the integrity of the finish and steel of your barbell, the width of the brackets should be set to catch the shaft only when plastic is in use. Without plastic, we recommend setting the brackets wide enough to hold the sleeves.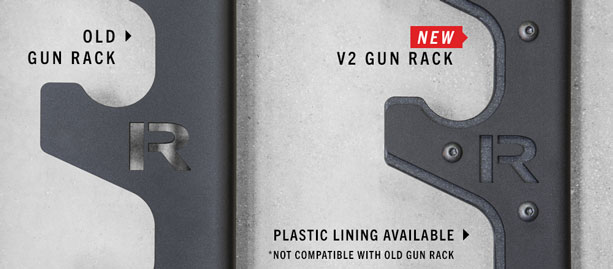 Specifications:
Made in America
7-gauge steel brackets
Height: 31.75"
Weight: 15 lbs
Mounting Hardware Not Included
Single Set Barbell Rack Holds 6 Bars; Also Available as 5-Pack (holds 30 bars)
Optional UHMW Plastic Inserts available with hardware for attachment
Note: This rack is designed for horizontal bar storage only. See more of Rogue's Plate and Barbell Storage Options here.
Reviews
Worth every penny.
Review by
Tucker
Quality
Bought this to keep my garage gym organized and with the plastic inserts I have no worry about damaging the knurling when I place it on the rack. I have no skill when it comes to assembling things but this rack was a breeze to mount on the wall.
| Review for:
Rogue V2 Gun Rack
100% satisfies
Review by
alexthaman
Quality
I ordered this piece from rogue and four days later it was at my door, even if I live in Canada! The rogue gun rack is rock solid! Nothing can break it! I have a home gym with a few beautiful pieces of equipment but this simple piece looks just as amazing as any other one! Great construction and design! I absolutely recommend this gun rack to anybody who has a few barbells and can't see them on the floor any longer.

Thanks Rogue for all of your great equipment!
| Review for:
Rogue V2 Gun Rack
Very well designed.
Review by
Satisfied
Quality
Received this a couple of weeks ago. Love the satin like finish. Quality stuff right there.

I recently dumped a pile of coin on a home gym setup, with very modern equipment, but the gun rack still manages to stick out. Esthetically pleasing for sure.

My only issue at this point is that it is only half full :p
| Review for:
Rogue V2 Gun Rack
Simple but excellent product
Review by
Kyle
Quality
purchased 2 of these for our CF box. Was a little hesitant at first b/c of the weight of the racks loaded with bars when mounted to 2X4 studs. But have not had any problems at all. Racks keep the bars/weight close to the wall and with no issues. Easy to mount, sleek design and keeps the bars out of the way. Looks tough as hell to!
| Review for:
Rogue V2 Gun Rack
Great Product!
Review by
Josh
Quality
Mounts with no trouble. SOLID craftsmanship. Gets the bars up and out of the way. A+
| Review for:
Rogue V2 Gun Rack
Other Customers Also Viewed