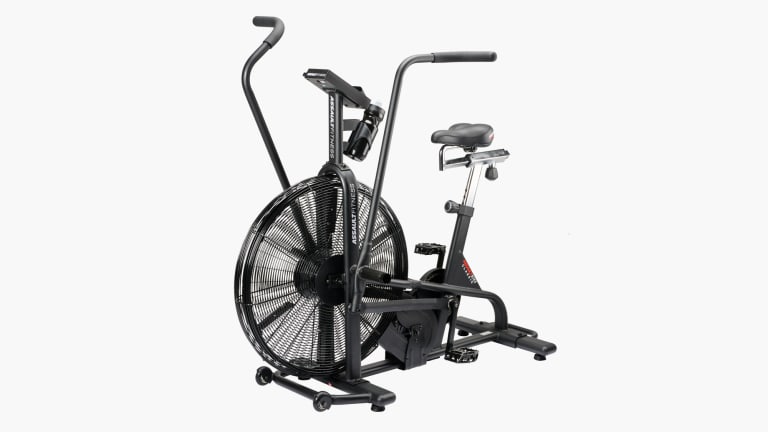 Does not qualify for free shipping
Gear Specs

Brand
Assault Fitness
Color
Black
Made In USA
No
Product Weight
98.1LB
Length
50.9"
Width
23.3"
Height
48.4"
Diameter
25" diameter steel fan
The great thing about the Assault AirBike is that it can work for a beginner, a rehabbing athlete, or a seasoned pro training at the highest levels of competition—no matter their sport, body type, or ambition. While fanbikes have existed for nearly half a century, modern advances in their design and function have made them increasingly in-demand among military personnel, pro and college sports teams, competitive cyclists and sprinters, and high performance athletes from the cross-training ranks. The key: you set your own pace. The resistance adapts to your own output, and the bike's multiple, custom seat adjustments make for a more comfortable, customized ride.
Advanced Tech and LCD Display
In the age of smartphones and tablets, an old-fashioned, clunky fitness bike monitor simply doesn't cut it. The Assault AirBike's state-of-the-art LCD display console is still easy to navigate at the push of a button, but your customization options—from on-board programs to instant, multi-faceted monitor feedback—is almost limitless. Athletes can simultaneously track their heart rate, speed, RPM, time, calories burned, and more. Even watts can be monitored with precision accuracy, thanks to the AirBike's 20-horsepower electric motor and carefully calibrated torque measurement meter. You won't just feel the effects of a good workout, you'll be able to see the science behind it in real time.
Quality Construction, Max Durability
LifeCORE threw out many of the old stationary bike manufacturing methods and focused on a powerful new 21st century bike that could handle daily abuse at the best gyms in the world. Each bike is equipped with a thick-gauge chro-moly steel frame, with at least 1-2 sealed cartridge bearings in EVERY single pivot—from the flywheels and pedals to the bottom bracket and linkage arms. There are over 20 bearings in all, unmatched by most fitness bikes in the industry. The goal isn't just reliability—it's zero wobble and zero maintenance required over thousands of hours of use.
Part of a Complete Workout
Whether you train out of a garage gym or run your own large-scale facility, the AirBike's quiet ride and versatility make it a great companion piece to some of the other top endurance machines in the industry, as well as essential Rogue conditioning products like Rogue Medballs, the SR-1 Speed Rope, and the Wise-Crack AbMat.
Step-by-Step Guided Assembly
The Assault AirBike ships with everything you need for a quick, one-and-done assembly. This includes an instruction manual with clear-cut guidelines to get you up and running. We've also provided this step-by-step instructional video above to give you an even easier way to visualize and follow the set-up process.
Reviews
Love this bike! Great workout!
Very nice , smooth ride - the harder you go the better the workout! The bike went together quicker than I thought it would. Heavy duty construction, well made. If there was one thing..maybe the seat and seat mount could be better? Still a great bike addition to our gym, so 5 stars!
Yes, I recommend this product
Seat is disassembled
I bought the bike and cannot wait to use it , however the seat is completely disassembled on the bottom and I'm not sure how to get the seat on, please help
Yes, I recommend this product
Response from Rogue Fitness:
August 10
We apologize for any trouble here, and have sent over the necessary assemble instructions and videos.
My first trouble with the assault bike
I got 4 assault bike in my gym and normally they work fine but recently I bought two new ones and one of them have and issue with the screw that connect the handle with the pedals. The screw broke I'm going to attach the photos. I wanna know how this happen and what can I do to fixed
Response from Rogue Fitness:
August 2
Thank you for bringing this to our attention, and we're very sorry to see this! The team is working with you now to get this resolved.
The bike works as recommended to me.
The seat is terrible!!!!. It lacks adjustment for tilt. I am looking for someone to craft an adjustable seat post.
Do Not Reccomend
I am extremely dissatisfied with the bike I purchased, considering the high price tag. Right from the start, I encountered several issues that have left me feeling greatly disappointed. While the assembly process was not overly complicated, I quickly noticed that there were missing and bent screws/clamps on the fan cage. Unfortunately, despite my attempts, I have been unable to properly reinstall them in order to achieve the correct positioning of the cage. Furthermore, the sensor on the bike fails to function, even after multiple attempts at repositioning and verifying the connection. Additionally, the bike emits a loud rattling noise, which I am also attempting to address on my own. Upon reaching out to customer service and expressing my concerns, their proposed solution is to send me replacement parts. While I have generally been satisfied with the products carried by Rogue, I must say that this particular bike is of very poor quality.
Response from Rogue Fitness:
July 6
We're very sorry to hear of all the issues with your Assault Bike upon assembly. Our team is working to get these rectified for you as soon as possible.
Air Bike
The devils tricycle…..A self propelled torture device…Great workout bike that will take your soul and everything you hold dear to you. Good luck walking when/if you can get off this bike. All serious it's a great bike that has alot of features to get you in great shape. 10/10 recommend
Yes, I recommend this product
Great Bike!
Bought the bike a couple months ago and came well packaged. The assembly was pretty easy and everything works just like at my Crossfit gym. The quality of the bike was great and very sturdy. Works very well and I've been working in the bike in my workouts at home. If you need a solid bike, the Classic works well.
Yes, I recommend this product
The perfect balance of what a fitness bike is ~
We purchased our bike about 6 weeks ago for our Anytime Fitness location. From the minute it was assembled, people use it non-stop, The bike represents a great balance between cardio and endurance training. The functionality of the bike is what makes it so desirable. The unit is built like a tank and we expect long years of use from it.
Yes, I recommend this product
#RYOUROGUE
Tag your photos on Instagram and Twitter with #RYOUROGUE for a chance to be featured in our gallery
View Full Gallery