Rogue Chan Bar - Cerakote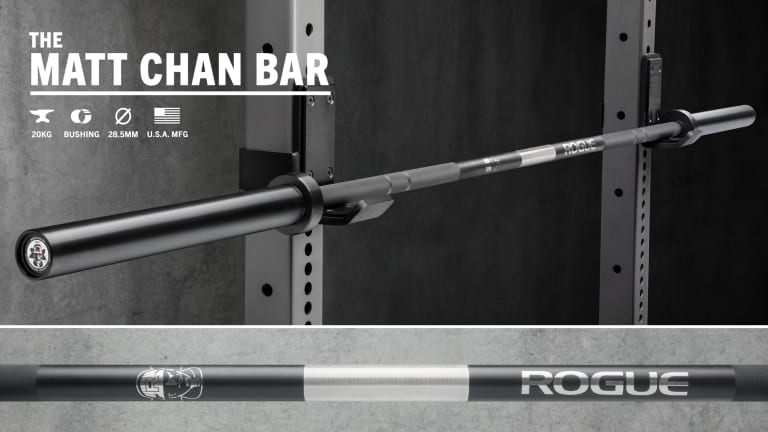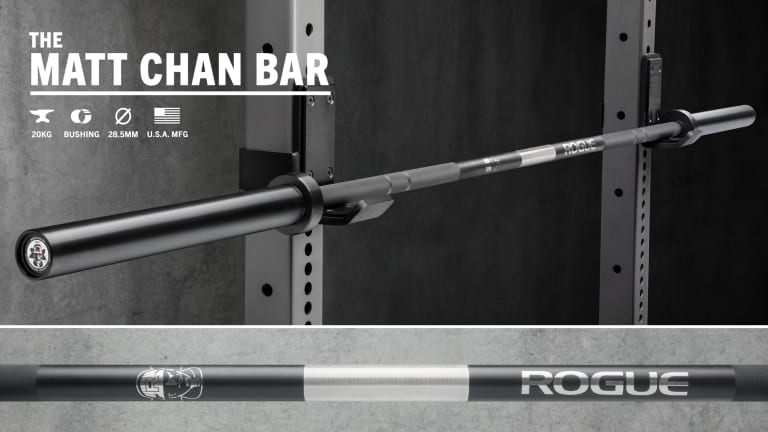 Rogue Chan Bar - Cerakote
Cerakote Options (1)*Cerakote Black / Proprietary Matte Black
Product Description
The Cerakote version of the Matt Chan Bar takes the key elements from the original design and introduces an assortment of new features, each selected with input from the CrossFit legend himself.
Read More
MATT CHAN BAR
The Cerakote version of the Matt Chan Bar takes the key elements from the original design and introduces an assortment of new features, each selected with input from the CrossFit legend himself.
These changes include:
A new stainless steel shaft with a higher tensile strength of 200,000 PSI
Ultra-durable Cerakote color shaft finish with photo-negative style Rogue and Chan logos
The Cerakote Chan Bar is manufactured in Columbus, Ohio, USA, and features black composite bushings, 16.40" of loadable sleeve length, and dual Powerlifting and Olympic knurl marks. As part of Matt's customization, a center knurl is included for athletes who prefer a little extra "stick" when in the front rack position or back squatting. This center knurling is non-cerakoted stainless steel and passive in texture, so it gives a "true" feel without shredding the skin like more aggressive center knurls might.
*Please Note: The optional Proprietary Matte Black metal treatment process also hardens the steel, which can cause some additional friction with plates that have a chamfer.
Gear Specs
Specifications
Machined and Assembled in Columbus, OH, USA
Lifetime Guarantee Against Bending*
Diameter: 28.5MM
NEW Cerakote finish with "negative" Rogue and Chan logos on shaft
NEW Stainless Steel Shaft: 200 KSI tensile strength
NEW Proprietary Matte Black Sleeve finish option
Dual Knurl Marks for O-Lifts and Power Lifts
Standard Knurl with Passive Center Knurl (non-cerakoted)
Outer Knurling slightly more aggressive for easier hold during high rep barbell work, & spaced far enough apart for wide stances on cleans and deadlifts (without scrapes and bruises)
Black Composite Bushings
F Rating: F10-R



Shipping
ROGUE FAST SHIPPING
The Rogue Shipping System allows you to track your order from the time you place it to the time it hits your day. Order today, track today.
Gear Specs

Brand
Rogue Fitness
Guarantee/Warranty
Lifetime Warranty*
Made In USA
Yes
Loadable Sleeve Length
16.40"
Bar Length
86.75"
Diameter
28.5MM
F Rating™
F10-R
Bar Type
Men's Bars
Bar Use
Multipurpose
Bushing/Bearing
Bushing
Bar Weight
20KG
Knurl
Multi
Center Knurl
Yes
Knurl Mark
Dual
Shaft Coating
Cerakote over Stainless Steel
Sleeve Coating
Proprietary Matte Black Finish
Tensile Strength
200,000 PSI
Rogue Chan Bar - Cerakote Features
Co-Developed With Matt Chan
As a former firefighter and four-time Top 10 finisher at the CrossFit Games, Matt Chan is a man whose opinions tend to carry weight around here. We took great pride in bringing his original vision for a custom barbell to life several years ago, and we've gladly welcomed him back to Columbus to work on our design for this new Cerakote version, which we think is one of the coolest bars we've built to date.
The shaft of the Chan Bar is now finished using a polymer-ceramic composite coating called Cerakote, which has been popular for years in the gun industry for its remarkable durability in thin applications. This advanced finish can deliver superb abrasion/wear/corrosion resistance over time—100X that of standard black zinc—while also enabling much greater flexibility in color choices and design. Available here in a gun-metal grey, the finish creates a very unique look in combination with the stainless steel shaft. Customers can also opt for our new Proprietary Matte Black sleeves, created through a process that effectively transforms the surface of the steel rather than coating it, greatly increasing the sleeves' long-term corrosion resistance and color endurance (a chrome sleeve finish is also available).
Rogue Machining and Assembly
Every bar shaft is machined in Columbus, Ohio, with painstaking attention to detail. We assemble the Chan Bar with a snap ring design and quality composite bushings, which act as bearing surfaces between the bar sleeve and bar shaft, producing normal "whip" during Oly weightlifting but enough stiffness to hold for heavy powerlifting.
New Stainless Steel Shaft
By changing to a stainless steel shaft with this model, we've increased its tensile strength to 200,000 PSI, while also opening up a great new aesthetic dynamic with the Cerakote coating. Rogue and Matt Chan logos are now featured directly on the shaft in a photo-negative effect. These logos are placed on each side of the center knurl.
F SCALE™
The F Scale™ is a durability scale for barbells based on functional testing at stresses similar to what barbells experience when being dropped from overhead. Bars that have been treated with Rogue Work Hardening (RWH™) are designated by having an R in their F Rating™. For more information on F Scale™ click here.
OXIDATION RATE
The resistance of a barbell to oxidation depends on the type of steel and the coating. Barbells at the lower end of the spectrum will require more care and maintenance to preserve their appearance than barbells at the upper end of the spectrum.
*Warranty against bending does not cover any bar which has been damaged due to negligent or faulty use, alteration, maintenance, storage or handling by the user. Negligent or faulty use includes abusive dropping of the bar (i.e., dropping the bar on a box, bench, spotter arms or pins in a power rack, excessive dropping with insufficient or damaged bumpers, or excessive dropping with iron plates, and similar usage). Any specific issues regarding a Rogue product with which a customer is not satisfied will be reviewed on a case-by-case basis. We have found that most problems with bars we replace are related to abusive use rather than manufacturing or materials issues.

Cleaning: The recommended maintenance is to use a plastic bristle brush and mild detergent to clean the knurl. Next, wipe the bar down with 3-in-1 oil. Finish by removing any excess oil with a dry towel. See more: Rogue Barbell Cleaning Kit.
Reviews
My daily driver, but could be better
I do love this bar. It took a while to grow on me, partially because I did quite a few movements where my hand would have been inside the knurl, and the spin is literally the worst of any Rogue bar I've had by far (so it's not great for Oly movements, as advertised). What it is great for though is pulling (duh) and, as it turns out, every other powerlifting movement I do. I find myself reaching for it over my stainless OPB for a variety of reasons: 1. On pulls, even though I prefer the OPB knurl (mostly because of the cerakote), the diameter of this is better - and I often use straps anyway. 2. On bench/press - my OHP grip is now the same as my bench grip which has my index fingers exactly where this knurl starts, so lining it up is easier and more comfortable. 3. On Squats - I've switch to high bar and I've found the slightly smaller diameter feels more comfortable and stays more secure in my musculature. Additionally, again, my grip is exactly where the knurl starts so it's easier to line up. 4. The warnings about the sleeves getting ruined quickly has been a total non issue for me. The sleeves look 95% as good as when I bought this thing, which is true for my other bars' sleeves. If I'm really looking, I can find scratches in the coating, but I rarely notice. All that said, it's not perfect. I really wish: 1. The center knurl had more bite. Passive is a complete understatement. If this had the same knurl as the Ohio bar as a center knurl it would still be fine on front squats and be easier to feel on back squats. 2. The shaft were just stainless steel with no logos. Sorry. The logos are distracting. I don't want stickers on my barbell. And the cerakote just dulls what would the perfect in between knurl (Ohio and OPB) 3. The sleeves had the same spin as the Ohio Bar. It's supposed to be a hybrid bar but it's really built for slow movements. Again, the spin on this thing is really subpar. Which is fine, and even good, for powerlifts, but makes power snatching and power cleaning (things I wanted to do with it) not worth it. I do think it's worth taking a star off for the above. As plenty of others have said, it makes no sense to cover SS with Cerakote, therefore making consumers pay SS costs with the inferior feel of Cerakote just so you can stick some ugly logos on there.
Fantastic bar
Been using pretty much everyday for the past month. Mostly squats and power cleans: bar has good feel, easy spin - but not over the top, perfect stipling (grippy, but doesn't rip your hands) Overall this is perfect for my needs.
Yes, I recommend this product
Best Products
Best products on the market. Quality is top notch!
Yes, I recommend this product
Great all around bar
I bought the Chan Bar about a year ago and I absolutely love everything about it, and it looks great (I have the black sleeves). All Bars are not created equal and once you use this bar you won't want to lift with anything else.
Yes, I recommend this product
Although it's a nice barbell...
I have been using this barbell for about 5 months. I use this barbell primarily for squats and deadlifts. It's a fantastic barbell, but the left and right play of the sleeve is too much. The Rogue barbell's composite bushing has more noise and play compared to the bronze bushing. The difference is evident when using Ohio Power bar's bronze bushings. Whip, grip, and knurling gap are all satisfactory.
Best Versatile Barbell
great multi purpose barbell...... Good for front squats.
Perfection
I've never even seen what true quality barbell until I got this. It's honestly my favorite bar.
Yes, I recommend this product
Good bar and better customer support
Did I buy this for the lifetime warranty and cerakote paint on steel for lack of maintenance, quality, and more importantly, looks? Yes. Did I see a finish blemish when I received it and reach out to customer support? Yes. Did I get a fast response within 1 day, and Trey at customer support gave me a good way forward and followed up on his word? Yes. Did I give this 5 stars because there isn't any alternative way to rate customer support, and that support also says a lot about a company when you need to reach out to them because every company makes small mistakes? Yes. Is the cerakoted knurl more aggressive than regular cerakote, in this case a separate Bella bar? Yes. Did they keep a customer by having great customer support? Yes. Will I ever actually get swole enough to actually test the tensile strength of the bar and impress all the dudes and gals? No.
Yes, I recommend this product
#RYOUROGUE
Tag your photos on Instagram and Twitter with #RYOUROGUE for a chance to be featured in our gallery
View Full Gallery