Jerry Pritchett
Return to the Arnold Strongman Classic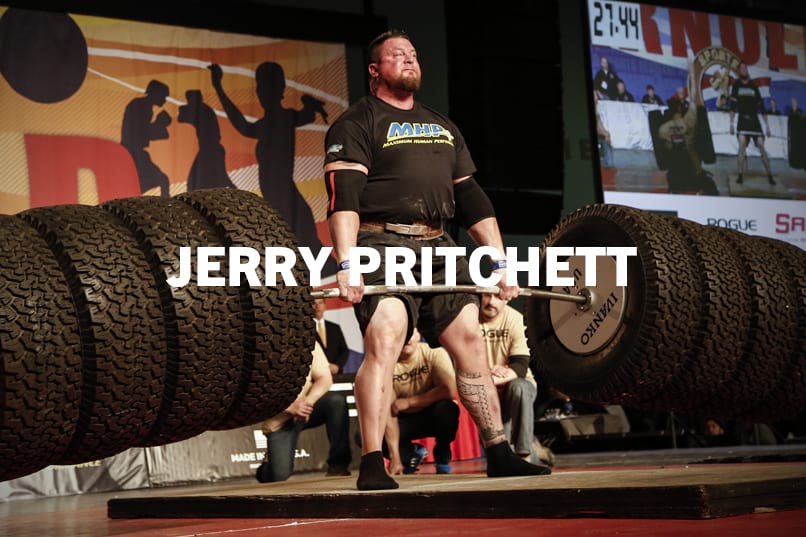 Bio
Second Arnold Strongman Classic Appearance
Hometown: Phoenix, AZ
Profession: Metal Fabricator
Family: Wife, Kasey; Daughter, Abigail (age 6) and son, James (age 2)
Jerry has always been interested in Strongman and implemented several Strongman movements into his training to help with Powerlifting. In 2008 he found a local Strongman contest in Phoenix, Arizona and took second place, thus sparking his drive to continue and pursue Strongman. Prior to competing in strongman, Jerry raced as a sprint car driver.
Stats
Age: 34
Height: 193 cm/6'4''
Weight: 154 kg/340 lbs.
Measurements:
Chest: 140 cm/55 inches
Biceps: 53 cm/21 inches
Career
Contest History & Records:
Sixth Place Arnold Strongman Classic, 2016
First Place, Mr. Olympia International MAS Wrestling, 2014
Ninth Place, World's Strongest Man, 2014
First Place, LA Fit Expo All American Strongman Challenge, 2014
Seventh Place Arnold Strongman Classic, 2013
Fifth Place Arnold Strongman Classic Brazil, 2013
First Place MET-Rx All American Strongman Challenge, 2013
2012 MET-Rx World's Strongest Man 4th place in his heat
2012 Giants Live Poland 6th Place
2012 Sin City III Strongman Challenge 1st Place
2012 MET-Rx All American Strongman Challenge 6th Place
2011 Sin City II Strongman Challenge 1st Place
2011 MHP Liberty Classic 8th Place
2011 Sin City Strongman Challenge 4th Place
2011 MET-Rx All American Strongman Challenge 6th Place
2010 ASC Platinum Plus 2nd Place