Krzysztof Radzikowski
Return to the Arnold Strongman Classic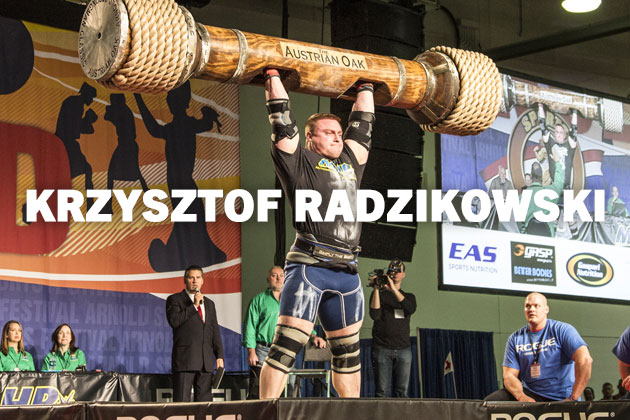 Bio
Third Arnold Strongman Classic Appearance
Hometown: Glowno, Poland
Profession: Teacher and Professional Strongman
Over the past eighteen months, Poland's Krzysztof Radzikowski emerged as one of the top strongmen in the world finishing fourth at the 2013 Arnold Strongman Classic, third at the inaugural Arnold Strongman Classic Brazil, and second at the Arnold Strongman Classic Europe in 2012. Radzikowski began training at age sixteen and like many young men idolized Poland's great champion Mariusz Pudzianowski, who worked with Radzikowski in the early stages of his career. Like his idol, Krzysztof is also unusually lean for a strongman competitor and known for his athleticism and endurance. He recently told a reporter, "My dream is to be considered the strongest man in the world … that is the dream of all strongmen. I know I am not as large as some of the top men, but I love to train—and even though this is a very hard sport, with very hard training you can succeed." His hobbies include fast motorcycles, extreme sports, and swimming.
Stats
Age: 33
Height: 187 cm/6'1''
Weight: 145 kg/320 lbs.
Measurements:
Chest: 148 cm/58 inches
Biceps: 58 cm/23 inches
Career
Contest History & Records
Fourth Place, Arnold Strongman Classic, 2013
Third Place Arnold Strongman Classic Brazil, 2013
Second Place Arnold Strongman Classic Europe, 2012
Sixth Place TWI World's Strongest Man Contest, 2012
First Place, Poland's Strongest Man, 2012