Michael Burke
Return to the Arnold Strongman Classic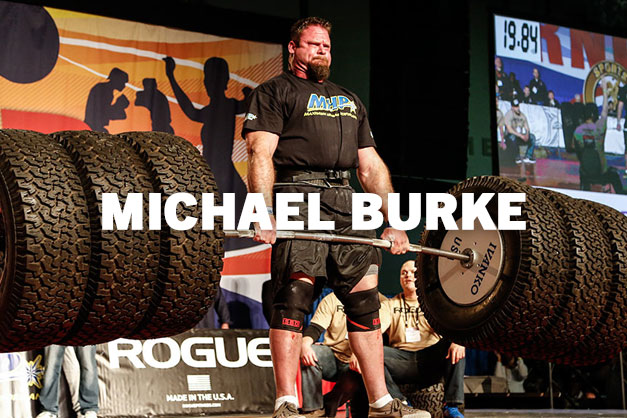 Bio
Third Arnold Strongman Classic Appearance
Hometown: Aurora, Colorado
Profession: Framing contractor
Family: Wife's name Maree Burke; Son, Michael; Daughter, Isabella
Coloradan Mike Burke has emerged in only four years as one of the top strongmen in the world. Burke only began training in 2010 but has been a top five finisher over the past year in every major strongman contest he entered. Mike credits Brian Shaw as a source of as a great influence on his growth as a strongman and often trains with him in Colorado. Burke, who runs a construction firm in Aurora, Colorado, is also known for his prodigious grip strength won the Visegrip Viking Competition at the LA Fit Expo in January of 2013.
Stats
Age: 39
Height: 195 cm / 6'6"
Weight: 150 kg/ 340 lbs.
Measurements:
Chest: 54inches/135cm
Thigh: 29 inches/72.5cm
Biceps: 19.5 inches/47.5cm
Calf: 19.5 inches/48.75cm
Neck: 19 inches/47.5cm
Family: Wife's name Maree Burke; Son, Michael; Daughter, Isabella
Profession: Framing contractor
Career
Contest History & Records:
Third Place (tied with Vytautas Lalas) at Arnold Strongman Classic 2014
Fourth Place, World's Strongest Man Contest, 2014
Fifth Place Arnold Strongman Classic 2013
Fifth Place TWI World's Strongest Man, 2013
Second Place Strongman Champion's League Finals, 2013
Fourth Place Arnold Strongman Classic Brazil, 2013
Fourth Place Arnold Strongman Classic Europe, 2012
First Place La Fitness Expo's All-American Strongman Challenge, 2012
First Place America's Strongest Man, 2012
Third Place Giants Live, 2012
First Place MHP Olympia's Strongest Man, 2011