Rogue OSO Barbell Collars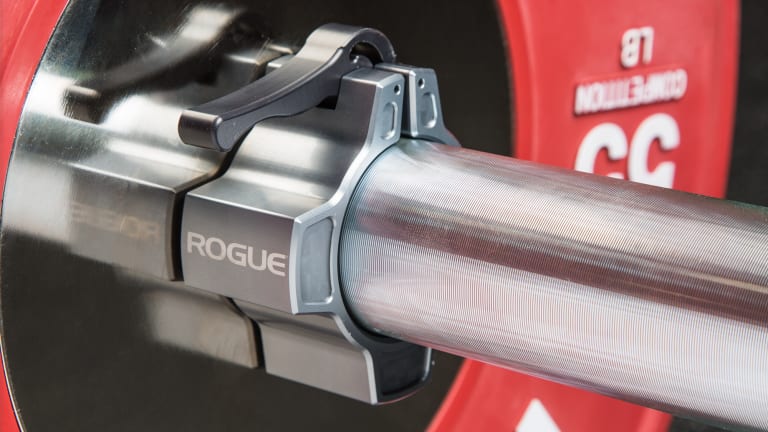 Rogue OSO Barbell Collars

3 Ships Free Item
Buy 3 or More Items Marked "3 Ships Free" And They All Ship for Free
Gear Specs

Brand
OSO
Made In USA
Yes
Width
1.5"
Material Type
6061 Billet Aircraft Grade Aluminum
Product Description
This is the exclusive, Rogue-branded version of the OSO Barbell Collar—an innovative, aircraft-grade aluminum clamp designed are manufactured in Columbus, Ohio.
Read More
Rogue OSO Barbell Collars
This is the exclusive, Rogue-branded version of the OSO Barbell Collar—an innovative, aircraft-grade aluminum clamp designed are manufactured in Columbus, Ohio.
Sold in pairs and equipped with a rubberized interior lining to protect the bar, OSO Collars deliver a secure, stable hold through repeated, high-impact drops, and allow easy adjustments or removal with a simple lever and lock/unlock mechanism. It's the OSOs unique look, though, that generates the most attention. With this design, that means an industrial gear-style shape in gunmetal gray with the Rogue logo down the side.
Rogue fitness will warranty this product from defects in material, functionality and workmanship for a period of 2 years from the date of purchase of the product. The warranty applies only to the original purchaser of the product for so long as the original purchaser owns the product, and is non-transferable. Warranty may be voided for any product which has been damaged due to negligent or faulty use, alteration, maintenance, storage or handling by the user. Any specific issues regarding a Rogue product with which a customer is not satisfied will be reviewed on a case-by-case basis.Note: Rogue will continue to honor warranties on products purchased directly from OSO prior to Rogue's acquisition of OSO Barbell Collars on these same terms and conditions.
Patented
Gear Specs
Specifications
Sold in Pairs
Made in the USA
Designed to be used on 50MM Olympic Bar Sleeves
6061 Billet Aircraft Grade Aluminum
Width: 1.5"
Black Rubberized interior lining to protect bar
Locking clamp mechanism for secure hold
Color: Gunmetal Gray w/ Rogue branding
2 Year Warranty*
Patented
Shipping
Rogue Fast Shipping
The Rogue Shipping System allows you to track your order from the time you place it to the time it hits your door. Order today, track today.
Frequently Bought Together
Rogue OSO Barbell Collars
Rogue Barbell Cleaning Kit
Reviews
Broke on Second use!
Bought these collars for my birthday and the clasp snapped off on my second use! I'm meticulous with my things. I do not recommend these collars unless you plan on only using them once!
Response from Rogue Fitness:
1 week ago
We apologize for the issue with your OSO Collars and have reached out to get these operational again.
Rubber grip gasket
OSO Collars have a rubber gasket on the inside for fit and grip. The fit and grip are great, but when they arrived the rubber gaskets were already coming undone - before attempting to use.
Response from Rogue Fitness:
October 30
We're sorry to hear your OSO Collars arrived like this and have sent out a replacement pair.
Bought in April, dead by September…
Bought these collars in April so I would always have great collars at the gym…I was wrong. I dropped a deadlift as usual and one of the collars blew out….see photos. Not impressed with the quality. Avoid.
Response from Rogue Fitness:
October 4
We're sorry for any issues with your OSO Collars. The team is working with you now to get these fixed.
Doesn't fit!
I bought these collars for powerlifting and when they came in I tried them out on 3 standard power bars and it fit none of them.
Response from Rogue Fitness:
September 27
The OSO collars use a locking clamp mechanism to ensure a solid hold. The lever will need pushed all the way back in order to get the collars on and off your barbell's sleeves.
Set aside some cash for a repair kit later
I purchased two pairs of these collars for use with my loadable dumbbells. They've been lightly used (maybe 10 times), since I like my original (pre-Rogue) OSO collars better (these newer collars have slipped on me, so I don't trust them with much weight). Unfortunately my 2-year warranty just expired and the levers are now cracking. So, I get to buy a "repair kit" from Rogue and pay full shipping and handling. Not impressed.
Perfect clamps
Best clamps for the everything I replaced the snapped clamps with these and ill never buy another brand again
Yes, I recommend this product
Expected better from Rogue
The collar itself feels like good quality but the lever is made out of plastic which is prone to breaking like other review mentioned and the inner rubber part has fallen off after 6 months of light use.
Originally posted on roguecanada.ca
Response from Rogue Fitness:
April 21
We're sorry to see this issue with your OSO Collars so quickly. We will reach out to get these replaced.
Please
Please list the Repair Kit for these on the Website. I have several I would like to Refurbish. Other than the Lever, these are great collars. Thank you.
Response from Rogue Fitness:
March 24
We're sorry to hear of any issues you've had with your collars. Our team is reaching out now to assist.
#RYOUROGUE
Tag your photos on Instagram and Twitter with #RYOUROGUE for a chance to be featured in our gallery
View Full Gallery