Rogue RML-3WC Fold Back Wall Mount Rack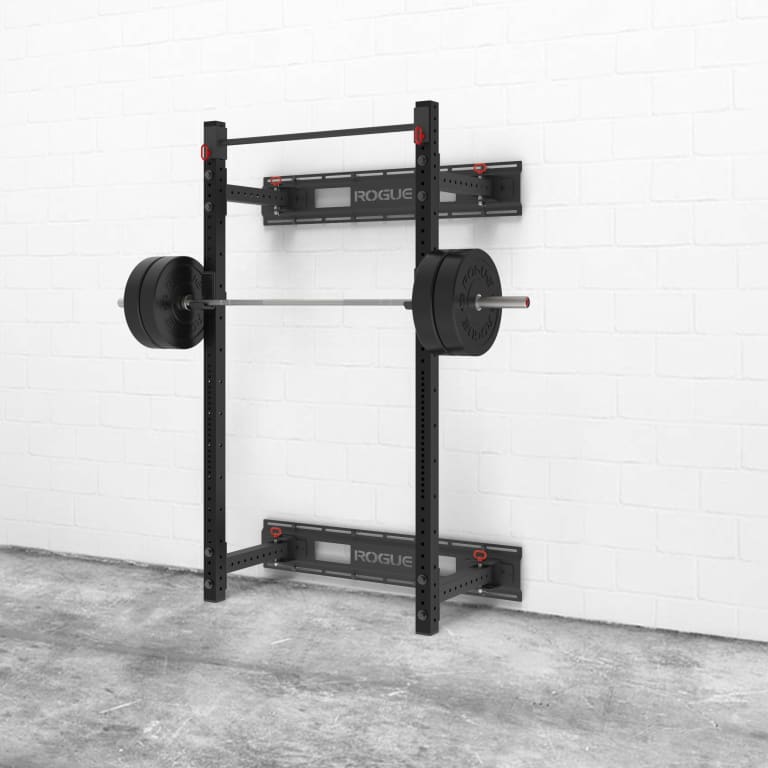 Rogue RML-3WC Fold Back Wall Mount Rack
Rig Color (11)*Satin Black
Product Description
Space Saving Power Rack, Made in the USA
The Rogue Custom Color Fold Back Rack includes all the features of our original retractable Monster Lite RML-3W Power Rack, with the added ability to select your own color finish for the unit's 90.375" uprights.
Read More
ROGUE RML-3WC FOLD BACK WALL MOUNT RACK
Space Saving Power Rack, Made in the USA
The Rogue Custom Color Fold Back Rack includes all the features of our original retractable Monster Lite RML-3W Power Rack, with the added ability to select your own color finish for the unit's 90.375" uprights.
The central design challenge with the Fold Back Rack was to come up with a wall-mount unit that could be folded inward or outward for optimal space efficiency, yet still offer the sturdiness of our standard Monster Lite power racks. To achieve this, our engineering team developed a unique hinge-and-pin system that is both easy to install and rock solid. In use as a squat stand, pull up rig, or power rack, the feel is miles beyond lighter fold-back setups that use thinner steel.
The RML-3WC Fold-Back Rack is manufactured in Columbus, Ohio, and includes two laser-cut, 3x3" 11 gauge steel uprights, with Westside hole spacing through the bench/pull area and 2"-on-center spacing above and below. All steel is powder coated in the Rogue factory for a durable finish, with 11 custom color options to choose from.
Optional Stringers
For optimal support, Rogue recommends adding a pair of stringers to your Fold Back Rack order via the menu on this page. Our custom-compatible stringers are made from laser-cut and formed 11-gauge steel and finished in our texture black powder coat. They measure 59" long x 10-1/8" tall, and extend 13/16" off the mounting surface when installed. One stringer is used to mount the top hinge brackets and the other for the bottom hinge brackets. You can learn more about our Fold Back Rack Stringers in the Key Features section below.
ATTN: Spotter Arm Use: How and what the rack is secured to on the wall should be checked by a contractor. Depending on the wall type and how it was secured will depend on if the wall can take that stress.
Gear Specs
Specifications
Made in the USA
Fully Retractable Power Rack
Uprights: 3x3" 11 gauge steel, 90.375" height
Inside Depth: Inside depth: 9" / 21.5" / 41.5"
(1) Set of Monster Lite J-Cups
(4) Mounting Brackets
(4) 5/8" x 5" Detent Pins
(1) Quick-attach Pull-Up Bar
(2) 5/8" x 4" Hitchpins w/ Lanyard for locking in Pull-Up Bar
(2) UHMW Plastic Caps to protect floor
Standard Stringer Pair: Laser-Cut 11-gauge steel, 59" long x 10-1/8" tall, 13/16" extension off the mounting surface
Shipping
Rogue Fast Shipping
The Rogue Shipping System allows you to track your order from the time you place it to the time it hits your door. Order today, track today.
Gear Specs

Brand
Rogue Fitness
Color
Various Colors
Made In USA
Yes
Product Weight
143LB / 163LB / 190LB
Length
13.5" / 25" / 44"
Width
56" Overall (On Wall)
59" (with Stringer)
49" Outside Uprights
43" Inside Uprights
Height
90.375"
Steel Notes
3x3" 11 gauge steel
Other Product Specs
Inside depth: 9" / 21.5" / 41.5"
Monster Lite Compatible
Yes
Heavy Gauge American Steel & Hardware
The RML-3W uses heavy-duty 11 gauge 3x3" 11 gauge steel uprights with 5/8" diameter SAE grade 5 bolt hardware. Laser cut holes and heavy duty hardware maintain maximum strength. The RML-3W rack is compatible with most of our exclusive ML accessories and add-ons. Start with the Fold-Back as your base, and build your arsenal over time. The RML-3W is guaranteed by Rogue for Life.
The Fold Back Rack is available in two depths: 21.5" and 41.5". In the 21.5" version, the sides of the rack will position flush against the wall whether you swing them inward (towards each other) or outward. With the 41.5" depth rack, the sides can still fold in or out, but if both are moved inward, there will be a slight overlap—so to open up max space, you'd want to fold either both sides outward or one inward and one outward. For most setups the 21.5" is the best choice. Choose 41.5" if you need more space in the rack for gymnastic movements.
Customers can order the RML-3WC rack in a wide range of custom color finishes, available to choose from the order menu. Make a personal statement or tie in your power rack with a high school, college, or pro team's colors. The crossmembers, hinges, and pull-up bar on the Custom Color Fold Back Rack will retain a Rogue Signature textured black powder coat finish, no matter which upright color is selected.
The detent pins included with the Fold Back Rack conveniently lock the rack into either the open position (ready for use) or closed position (against the wall). When stowed away, the rack takes up less than 5" of space from the wall, meaning you can have a world-class power rack in your garage without having to park your car on the street at night. Maximize your space with our efficient Wall Storage options to save even more space.
Easy Installation + Stringers
Each unit comes standard with a Quick-Attach Pull-Up Bar, (4) mounting brackets for installation + all necessary hardware, a set of J-cups, and (4) detent pins. Having holes 2" on center allows for some choices in mounting the swing arms, which can be important if you need foundation clearance. Stringers are HIGHLY RECOMMENDED for securing the unit securely. These stringers feature pre-cut slots, allowing users to mount them to a standard wood stud wall (4 studs required for installation). All required hardware (16-3/8" x 2-1/2" black wood lags and washers) is included with the stringers, but any customers attempting to mount to a wall construction other than wood stud will be responsible for acquiring the correct hardware.
Important: Rogue does NOT recommend installing the Fold Back Rack on a wood, drywall, or metal stud wall without a stringer or additional support.
Reviews
Stringers are misleading
The information here is very misleading. One paragraph says that the set includes everything needed for install. Then they note that at the very end of a full page of detailed information that it's not recommended to install this on any surface without the stringer. And the stringers are not included in the purchase…. Why the heck would you not just include them in every purchase?! Your customers are spending a lot of money just to find out they are missing critical piece to a safe install.
Response from Rogue Fitness:
1 week ago
Thank you for your feedback and we will be sure to reach out to clear this up. The stringers offered on this page are our custom Rogue branded stringer. Customers can opt to purchase these in lieu of a traditional wood style stringer. Please check out the image above our "Space Efficiency" section for an example.
Lots of work...before you get to workout
The installation and set up requires extra planning and work necessary than expected. The height and foldability are the best parts. Overall, the smaller footprint is great!
Yes, I recommend this product
DOES NOT COME WITH THE BACK PLATES!!!
DOES NOT COME WITH THE BACK PLATES!!! They are call
Response from Rogue Fitness:
November 7
Stringers are currently an optional add-on. Please see the "Stringer Selection" dropdown under the size choice of the rack. We sincerely apologize for any confusion.
Nice Compact Wall Rack
This was the perfect addition to my very small gym space. The pieces were high quality. The assembly instruction were well documented. I would recommend this for anyone looking for a compact rack.
Yes, I recommend this product
Sturdy. Easy assembly.
Received my rack. Upon inspection. I noticed a few blemishes in the powder coat. Overall satisfied with product.
Yes, I recommend this product
Response from Rogue Fitness:
October 13
We're sorry to see the damage to your upright's powdercoat. Our team is reaching out now to make this right.
Sturdy, functional and what you need for a home gm
I couldn't be happier with this purchase. Granted, it is definitely a 3 person job, but it is straight forward to assemble and a welcome addition. It's strong and can hold more weight than I'll ever be able to put on it. the ability to fold it up is perfect if you need more space.
Yes, I recommend this product
Two year review
I was skeptical when I first purchased because I did not want to introduce weight to structural load points of my home…I WAS WRONG! After two years, no effects to the wall and I have put this folding rack through hell. Kipping pull ups, 500 lb squats (several failed reps and "forced racks" and it comes back for more!
Yes, I recommend this product
Great Build
Bought it around a month ago - way more stable than the cheap thing I had prior. I'm 320, benching around 300lbs, so I always thought my old one would buckle
Yes, I recommend this product
#RYOUROGUE
Tag your photos on Instagram and Twitter with #RYOUROGUE for a chance to be featured in our gallery
View Full Gallery