HG Rogue Bumpers
Availability: In stock
Price
Qty
Gear Specs
| | |
| --- | --- |
| Brand | Rogue |
| Bumpers | Multipurpose |
| Free Shipping | No |
| Made In USA | No |
| 3 Ships Free | No |
| Bumper Diameter | 450mm |
| 10lb Plate Width | 1" |
| 15lb Plate Width | 1 3/8" |
| 25lb Plate Width | 2" |
| 35lb Plate Width | 2 3/4" |
| 45lb Plate Width | 3 1/4" |
FAQs
HG Rogue Bumpers
Rogue's HG Bumpers deliver durability and quality at a budget price. The HG Bumper Plates are the standard IWF 450mm in diameter and have a thinner width so more weight can be loaded onto the bar. These bumpers have a dead bounce and are designed with durable stainless steel inserts and a distinctive smooth finish.
Battle-tested at the CrossFit Games and Regionals, HG Bumper Plates provide an economical weightlifting alternative for a home gym or large-scale strength training facility. To get a better sense of how they stack up over the long haul, click the Reviews tab above for in-depth feedback from athletes currently using HG Bumpers in their workouts.
HG Rogue Bumpers Specifications:
Diameter: 450mm / 17.72 inches (IWF Standard)
Collar Opening: 50.40mm / 1.98 inches
Stainless Steel Inserts
Weight Tolerance: +/- 10 grams of claimed weight
Minimal Bounce
Imported from China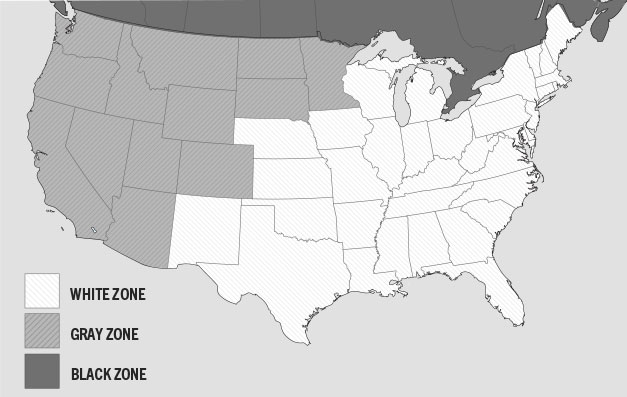 Warranty: 10-15LB variant plates are warrantied for 90 days. The 25-45 LBS variants are warrantied for 3 years.
Reviews
Whole new game!
Review by
JP
Quality
These bumpers are awesome! Never have had rubber bumpers before and was a little nervous about my weights bouncing around too much due to the confined space I work out in at home but these bumpers hardly move when I drop them. My confidence and strength have grown considerably! Thanks Rogue.
| Review for:
HG Rogue Bumpers
Home users note: these are great, but hi-temps are much quieter
Review by
Andrew
Quality
I've used the hi-temp bumpers in the past and expected these to be very similar. However the HGs bounce quite a bit less, and are quite a lot louder. In a home/apartment environment where you're mixing bumpers and iron plates, it can a bit too loud. Use the hi-temps in that case. Both plates are AWESOME though.
| Review for:
HG Rogue Bumpers
Solid bumpers BUT...
Review by
Dan L.
Quality
I love these bumpers. They get the job done and look badass while doing it. After about six months of use the 25lb bumpers have started to wear out and rubber has been coming off in large chunks. This has not affected the overall funtionality of the bumpers but the ring is slightly displaced I have noticed ( not enough to matter YET). Note this has only happened with the 25lb bumpers. The 45's and 10's I have are fine. The reasons above are why I am submitting a 4 star review. Other than that, they have a dead bounce when dropped from shoulder height which is nice in my opinion, but this makes for a louder noise as well.
| Review for:
HG Rogue Bumpers
HG>Hi-Temp
Review by
Thi
Quality
First time I bought bumper plates, I went with the Hi-Temp's. After half a year, I needed to get some new pairs of plates. I got 15ib HG ones, and some iron plates(10,5,2.5,1.25 ibs).

These are definitely better than the Hi-Temp's if you're looking for less bounce/bulk. They work and look well. These are definitely the better plates, annoyance wise.
| Review for:
HG Rogue Bumpers
Great Bumpers
Review by
Frank
Quality
I have some Rogue Hi-Temps and some HG's. Both versions are great. The HG's have a chemical order for a few days. The Hi-Temps had no odor. The weight tolerance on the HG's is +/- 10 grams. For the Hi-Temps it's about +/- 225 grams. If accurate weight is important to you get HG's. The Hi-Temps have more bounce. If you're in the market for bumpers either choice is a good one.
| Review for:
HG Rogue Bumpers
Unreal
Review by
Keith
Quality
I never thought that such great bumpers could be made. These are unbelievable. I already had high hopes for them and Rogue completed smashed them. Great Job, highly recommend. and very fast shipping.
| Review for:
HG Rogue Bumpers
Awesome
Review by
Gabe
Quality
wow. I ordered on Thursday noon and they arrived the next day at 1pm!! Unreal, didn't pay a dime for extra shipping or anything. Great bumpers, love the look. Props Rogue, props.
| Review for:
HG Rogue Bumpers
Good base bumper
Review by
PCC
Quality
Good quality and durability. Cost effective. If you have a little extra, I would recommend the Hi-Temp Bumpers. However, these bumpers do the job.
| Review for:
HG Rogue Bumpers
Rougue HG
Review by
Kevin
Quality
Hand Grenades...These things R f$cking Beast. They look awsome. TheyR bomb proof I don't know how you'd ever break em'. Get em. Don't Hesitate. I think they R cheap considering what you get and theyR gonna last forever. Shipping was insanely fast. Great product Rougue!
| Review for:
HG Rogue Bumpers
GREAT!!!! BUMPERS!!!
Review by
Patrick
Quality
These are GREAT bumpers! for the price, they work wonderfully, the look, the grenades, everything!!! they do have a weird rubber smell, but nothing a day or 2 outside wont fix, I love the no bounce action, makes drops easy to recover and get another rep quick. Plus they dont take up alot of room on the bar. I got a pair of 25s and theyare smaller then the Hi Temp 15s i have! Good stuff Rogue thank you.
| Review for:
HG Rogue Bumpers
Other Customers Also Viewed