Durometer Rating
Softer = More Bounce
Harder = Less Bounce
Rogue Echo Bumper Plates
A budget-friendly bumper plate.
Rogue Echo Bumper Plates have an IWF standard 450mm diameter (10LB Plate is 446mm), minimal surface imperfections, and a weight within 1% of its target. Combined with stainless steel inserts and quality virgin rubber, the Echos offer a dead bounce and durability rarely seen in an economical plate.
Echo Bumpers are available in pairs or as sets. Fully equip a new garage gym or save money supplying a school weight room or large training facility. If you're looking for plates that will be reliable workhorses at a reasonable price, the Echos will not disappoint.
See more: Plates available at Rogue.
Shipping Zone Map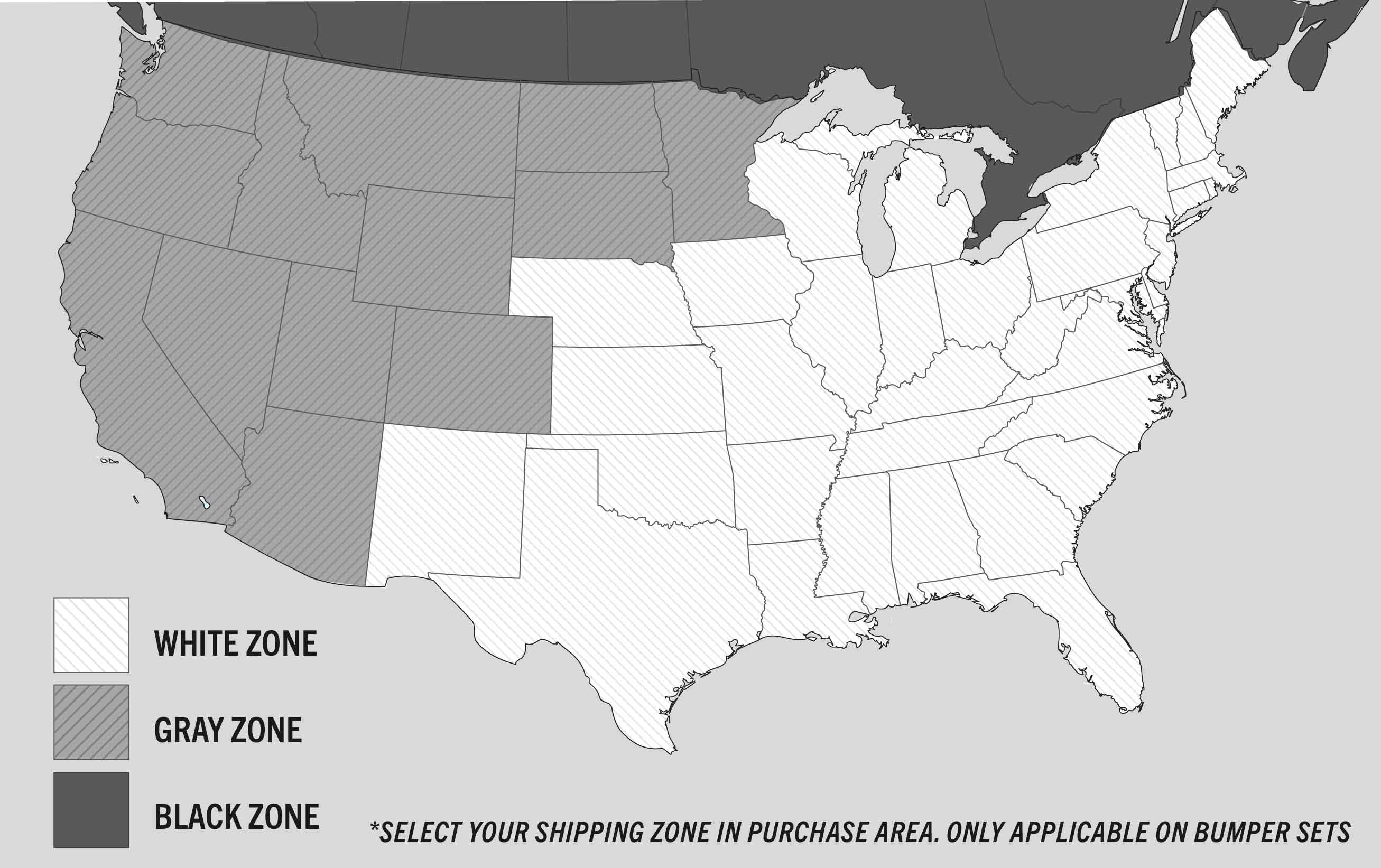 Specifications:
Diameter: 450mm (+/- 3mm) / 17.72 inches (IWF Standard). 10LB Plate is 446mm
Collar Opening: 50.40mm / 1.98 inches.
Stainless Steel Inserts
Weight Tolerance: +/- 1% of claimed weight
Minimal Bounce
Imported from China
Warranty: 10-15LB variant plates are warrantied for 90 days. The 25-45 LBS variants are warrantied for 3 years.
Add to Registry

Please choose the registry you want to add this product to:
Rogue Echo Bumper Plates
is rated out of
5
by
46
.
Rated

5

out of

5
by
Triguy
from
Solid Bumpers for Home Gym
Received the 230# set as a gift for my garage gym and have been very pleased. Unlike others have said, there has been no weird smells, nor did I have to wipe anything off of them before their first use. Yes they are loud when you drop them. They are weights, what do people expect? I have been using them with the Rogue 2.0 bar for a couple months now. The weights slide on and off the bar easily. The inner rings seem to fit nicely around the bar without too much play. My only recommendation would be to spend the extra bucks and get the 260# set that includes the 15's so you can make more weight combinations.
Date published: 2017-04-04
Rated

5

out of

5
by
Dalton
from
Great product, Right Price, Awesome Plates
I have been waiting to get my first set of bumper plates and I finally did, couldn't be happier. Great product and great price. I had no problem with smell like I have read from other people.
Date published: 2017-02-03
Rated

5

out of

5
by
Aesomatica
from
Simple, Cost-effective Bumper Plates
Purchased about a month ago, I have zero complaints about these plates. Good amount of friction on the inner rings, slide on and off easily when trying to get them off, stay put during exercise that doesn't require a collar (i.e. bench). No weird smells, good texture, no problems when setting it down hard. A little less bounce than you might expect from bumpers.
Date published: 2016-12-28
Rated

5

out of

5
by
Jeff Norman
from
Amazing Value!
I bought these plates a few weeks ago and they are awesome! I wanted Bumpers on a budget and I picked these to start with for my garage gym and they have not disappointed. As a matter of fact I am about to buy another set for more weight.
Date published: 2016-08-30
Rated

4

out of

5
by
Aaubrey
from
So Stinky
Great Value. Durable. Low bounce. Anyone who says they don't smell has got to have nose damage. It's a powerful smell and it took 6 months for the smell to diminish at all. That's with storing them outside in open air. Washed with pine-sol. coated with chalk. Just smelly. That being said, not surprising that they stink and I'm still glad I bought them.
Date published: 2016-08-24
Rated

5

out of

5
by
eVau
from
Solid plates for my garage gym!
I've been using theses plates for two months now and they are standing the test of time really well! Good build, not too much bounce. I haven't used them as training plates too much and I'm being careful not to throw them around when I don't have to.
Date published: 2016-08-07
Rated

5

out of

5
by
JPFLO
from
Great value.
Just got the 260lb set and have completed a few workouts with them. Quality is top-notch. Mine did not have the strong rubber smell that others have complained about. Low bounce, but they are a bit loud when dropping. Fortunately, I workout in a detached garage so not a big deal. Would definitely recommend to anyone kitting out a home/garage gym.
Date published: 2016-07-14
Rated

5

out of

5
by
0317 again
from
Ringer
Put them through the ringer today after opening them in the packaging. They performed very well on O-lifts. Id suggest getting these over the 2.0's or hi temp plates due to price being lower for packaged deals. But overall, they are similar to competitors virgin bumper plates. But I got them ultimately to add more to my bumper collection and free shipping on two bars I purchased.
Date published: 2016-07-07
Other Customers Also Viewed