Durometer Rating
Softer = More Bounce
Harder = Less Bounce
Rogue Echo Bumper Plates
A budget-friendly bumper plate.
Rogue Echo Bumper Plates have an IWF standard 450mm diameter (10LB Plate is 446mm), minimal surface imperfections, and a weight within 1% of its target. Combined with stainless steel inserts and quality virgin rubber, the Echos offer a dead bounce and durability rarely seen in an economical plate.
Echo Bumpers are available in pairs or as sets. Fully equip a new garage gym or save money supplying a school weight room or large training facility. If you're looking for plates that will be reliable workhorses at a reasonable price, the Echos will not disappoint.
See more: Plates available at Rogue.
Shipping Zone Map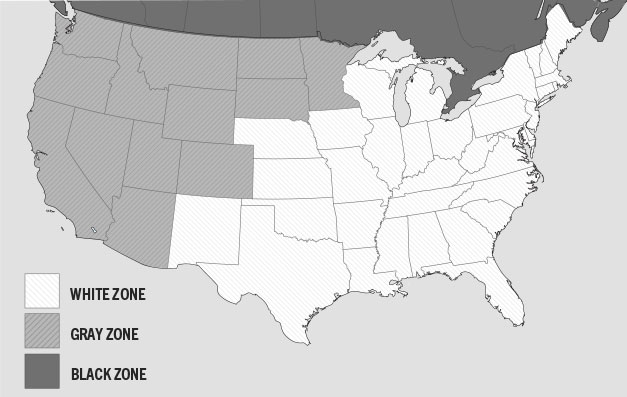 Specifications:
Diameter: 450mm (+/- 3mm) / 17.72 inches (IWF Standard). 10LB Plate is 446mm
Collar Opening: 50.40mm / 1.98 inches.
Stainless Steel Inserts
Weight Tolerance: +/- 1% of claimed weight
Minimal Bounce
Imported from China
Warranty: 10-15LB variant plates are warrantied for 90 days. The 25-45 LBS variants are warrantied for 3 years.
Add to Registry

Please choose the registry you want to add this product to:
Rogue Echo Bumper Plates
is rated out of
5
by
43
.
Rated

5

out of

5
by
Jeff Norman
from
Amazing Value!
I bought these plates a few weeks ago and they are awesome! I wanted Bumpers on a budget and I picked these to start with for my garage gym and they have not disappointed. As a matter of fact I am about to buy another set for more weight.
Date published: 2016-08-30
Rated

4

out of

5
by
Aaubrey
from
So Stinky
Great Value. Durable. Low bounce. Anyone who says they don't smell has got to have nose damage. It's a powerful smell and it took 6 months for the smell to diminish at all. That's with storing them outside in open air. Washed with pine-sol. coated with chalk. Just smelly. That being said, not surprising that they stink and I'm still glad I bought them.
Date published: 2016-08-24
Rated

5

out of

5
by
eVau
from
Solid plates for my garage gym!
I've been using theses plates for two months now and they are standing the test of time really well! Good build, not too much bounce. I haven't used them as training plates too much and I'm being careful not to throw them around when I don't have to.
Date published: 2016-08-07
Rated

5

out of

5
by
JPFLO
from
Great value.
Just got the 260lb set and have completed a few workouts with them. Quality is top-notch. Mine did not have the strong rubber smell that others have complained about. Low bounce, but they are a bit loud when dropping. Fortunately, I workout in a detached garage so not a big deal. Would definitely recommend to anyone kitting out a home/garage gym.
Date published: 2016-07-14
Rated

5

out of

5
by
0317 again
from
Ringer
Put them through the ringer today after opening them in the packaging. They performed very well on O-lifts. Id suggest getting these over the 2.0's or hi temp plates due to price being lower for packaged deals. But overall, they are similar to competitors virgin bumper plates. But I got them ultimately to add more to my bumper collection and free shipping on two bars I purchased.
Date published: 2016-07-07
Rated

5

out of

5
by
Gmorrison
from
Great Plates
I bought these plates about 8 months ago for my garage gym. They have held up to every work out. There is minimal bounce with these plates. We have the Hi Temp bumpers at the box i work out in and there is little bounce in comparison with these. I would say that the bounce is similar to the competition plates. I have had no issues with the inserts even on the 10lbs plates. I have had friends purchase these plates based on my experience and I am confident that you will not be disappointed with these plates.
Date published: 2016-05-09
Rated

5

out of

5
by
andreinifitness
from
Solid Better Option Then The Rest!
Solid bumpers, barely bounce at all, even the 10lb's are stiff. Not as thick as the Hi-Temp Bumpers which is always a plus. No weird smell that others are talking about, they are new rubber plates, they smell like rubber for a day or two. I would say this is the best option overall, before competition plates, and you can't beat the price.
Date published: 2016-04-23
Rated

5

out of

5
by
Hook
from
Rock Solid / Use with C-70 Bar
I've had these a few months and they are rock solid. I use them in my GG and frequently drop them from shoulder/overhead heights onto my concrete garage floor. I've even dropped with just the 10's and no issues at all(no warping, no loose inserts, etc...as you might see with the hi-temps). Very low bounce. To combat the initial smell(which is totally bearable anyway), I wiped the grease/film off the plates with an old towel. They still smelled minimally for about 3 weeks but airing out the garage took care of that. The feel and texture is like the HG's(very hard rubber) but without the glossy finish. These have a more rugged matte finish and are easier to grasp, which is helpful when loading/unloading the bar. Not sure why the prior commenter said the 10-15 are larger than other plates, mine are all the exact same size(guessing he possibly got a defective pair?). Nor do I understand why mentioned they aren't very durable. Mine are stiff as a board.
Date published: 2016-03-31
Rated

5

out of

5
by
John123456789
from
Echo Bumpers
Excellent quality, preformed as advertised but the smell was unbearable, after two months in the garage the smell was still so strong I could not bring them into the house so I sold the set and went back to metal. I feel this smell challenge would be had from any bumper provider, thus a 5 rating.
Date published: 2015-08-12
Rated

5

out of

5
by
JNorth
from
Yep, A Little Stinky at First
Rubber smells, and that isn't exclusive to these bumpers. The smell does fade and if it is bothering you that much you can try some of the cleaning methods others have suggested. To me, the packaging smell was the worst of it. The bumpers spent the first week in my garage and then they moved into the house with far less odor. I think these are a great value and I am happy with my purchase.
Date published: 2015-08-04
Rated

4

out of

5
by
Sambrge
from
Great but but very strong odor
Just arrived today - 160lb set. They are very nice quality however the odor is unbelievably strong. I have my gym setup in a spare room and my whole house stinks. Other than that a great buy and you can't beat free shipping. Hoping the smell goes away fast because I can't breathe.
Date published: 2015-07-28
Rated

5

out of

5
by
Avg_Joe
from
Excellent price point
I wholeheartedly agree with all the reviews here. If you are looking for a great gym plates at average Joe prices these are the one to get. Shipping was prompt. The plates are fantastic. Dead bounce and solid. But like everyone else says, the only minor issue is that being made of heated rubber they'll make your whole gym, garage, or house smell like a 1971 pick-up filled with used drag racing tires baking in the hot sun.
Date published: 2015-07-02
Rated

5

out of

5
by
Thecalebatx
from
Home Gym Perfection
Purchased cheaper plates from another local vender and regretted it from the start. The shipping was delayed by a week as well as cost $150. Cancelled those plates after the 4th time I got the run around on delivery date. Very happy I did! These plates not only arrived on time (3 business days) but have exceeded my expectations by far! The three negatives I see commonly are as follows: 1 - The rubber around the color isn't uniformly trimmed, e.g. it appears a bit jagged. - I have no issue with this as these are the cheaper plates. It doesn't undermine the quality or performance at all. 2. The smell. - These plates are made from rubber that has been pressed into plates using high pressure and chemicals... They smell. But, if you leave the room ventilated the smell decreases with time. 3. Dead bounce. - This is actually a Pro. I don't have a ton of room in my garage and these plates do not bounce around like crazy (bonus: Purchasing from a brand name. E.g. Rogue I'm so glad I did! The same day I put these in the cart, they were sent out to ship.) All in all I'd say don't hesitate to order if you want to make a garage gym!
Date published: 2015-06-26
Rated

5

out of

5
by
Cruzer
from
Just buy them
I purchased these a year ago and they are just like new. I feel like these will last me forever. I purchased 300# and it has been worth every penny. I'm a big fan of steel plates but unfortunately due to my changing work schedule I sometimes have to lift at night. These are silent with very little bounce. Another nice feature is these slight on my bar like butter. My steel plates kind of scrap against it leaving little marks. Overall I think they are a great bumper for the money. Plus rogue has the best customer service.
Date published: 2015-06-26
Rated

4

out of

5
by
RyanW
from
Nice tolerences, but strong odor
The odor is strong and they continuously off-gas. I found if you scrub them down with Wesley's Bleach White tire cleaner, a brush, and a hose, it gets this oil finish off. Then the odor is drastically reduced after 2-3 days. The ones I didn't scrub, the odor stuck around and the oil finish also contaminates the chalk on your hands when loading/unloading. Otherwise, good value for the money. Lettering is on both sides meaning there is no front or back. This speeds up loading.
Date published: 2015-06-05
Rated

5

out of

5
by
John at Alpha Fitness
from
AWESOME PRODUCT
Got the 230lb set as a gift from my wonderful fiance this past Christmas and they are AWESOME. Great for my garage gym. Best thing is that they don't bounce and roll all over the place when you drop them, they have just enough bounce. Great value, buy now!
Date published: 2015-03-18
Rated

5

out of

5
by
West Ham GSE Yank
from
Well crafted solid performer
I'm new to Olympic lifting and Crossfit and was looking for some bumpers for my garage gym. After reading reviews for Rage brand bumpers, I decided to spend the extra and go for Rogue. I was not disappointed! These bumpers are well crafted and have solid construction. Not a lot of bounce, but enough to expel the energy on the drop. I started with a 160 lb kit and ended up buying a second 160 lb kit a month later. I've been using them for 6 months and they show no sign of wear. With free shipping for the kits, the decision is simple: buy these.
Date published: 2015-02-18
Rated

5

out of

5
by
heatherow17
from
Amazing Plates
Super awesome plates, I bought them for my home gym. Unfortunately my home gym is a bedroom but the echos barely bounce or roll when you drop them. They work well with the operator bar I use with them. I bought the 160lb set in January and plan on purchasing more.
Date published: 2015-02-15
Rated

5

out of

5
by
Dave75226
from
Excellent bumper
I bought these during the Black Friday sale. I have used all of Rogues bumpers from the high temps to the training comps. These are a great bumpers with almost a zero bounce which I need due to the confined area I lift in. They are very tight on my Ohio bar which is great for lifting movements. With the exception of the competition bumpers these are my favorites. I did notice another review mentioned their tens seem to be a touch taller than the other weights on the bar one of mine is also but not a big issue to me. Great purchase for the money.
Date published: 2015-02-01
Rated

5

out of

5
by
kjn4060
from
260 set
I love the weights there is very little bounce and they go along great with the Ohio bar. The shipping was amazingly fast I couldn't believe it. Very well done and I will be a returning customer and tell all my friends.
Date published: 2015-01-10
Rated

4

out of

5
by
Tony Garage Gym
from
160lbs Set
I ordered the 160lbs set. Came in record time and free shipping. Can't beat it. Very little bounce and noise which is key since I WOD in my garage. They look great. Smell was a bit over whelming at first but it has since passed. Only gripe I have is the 10lbs plates seem to be slightly larger in diameter than the rest of the plates. Not a huge issue but does jam up when loading w/ other plates. Like I said free shipping can't beat it.
Date published: 2014-12-23
Rated

5

out of

5
by
mclift
from
Echo vs. HG Bumpers
First, let me say that I am a crossfitter and I work out exclusively in my basement gym so having bumpers that can take a beating and won't destroy the foundation of my house is pretty important to me - these have not let me down. I had a nearly complete set of HG bumpers before I bought the Echos. The free shipping on a full set of Echos persuaded me to invest in them. In my opinion, they are almost identical to the HG bumper (which I love). They have pretty dead bounce and this makes them perfect for smaller spaces. I would steer clear of the Hi-Temps unless you have a large space and want to chase the barbell all over the room. While some reviewers have commented that they lack the initial greasy feel of the HG bumpers; I disagree. The greasy feel wears off over time, but out of the box they are a bit slick and smell even more than the HGs. That small complaint aside, this is another high quality product from Rogue that competes with Pendlay bumpers in cost and quality (the Echos are even more affordable than the equivalent Pendlay sets and every bit as nice). Bottom line - if you are in the market for an awesome set of bumpers for your garage gym, you can't go wrong with these.
Date published: 2014-11-12
Rated

4

out of

5
by
bpr515
from
Excellent bumpers
I've used iron plates, but was ready to upgrade my set. Really like the look and feel of these bumpers. Makes my home gym look more "legit". Plain black with a raised logo. Simple. Clean. Cool. You can't go wrong with these and the price is great. Shipping took a little longer since they come freight (if ordering a set), but impatience was a small price to pay for these. They do give off a fairly heavy rubber smell out of the box, but nothing obnoxioius. A few days into my workouts (keeping my basement windows open when I went to lift) and the smell is completely gone. Would recommend.
Date published: 2014-10-07
Rated

5

out of

5
by
Nick917
from
Great plates
This is my first set of bumper plates after years of using cast iron plates. I bought these due to Rogue's reputation for quality as well as the price. Without having experience with bumper plates it's difficult to compare these to other bumpers, but I was extremely surprised at the quality for the price as well as the finish...absolutely flawless. Will be using these for deadlifts, power cleans, and other olympic lifts.
Date published: 2014-10-05
Rated

5

out of

5
by
TonyS
from
Awesome Bumpers
I love using the Rogue bumpers but is there a chance in the future of having them colored? Having an affordable quality colored bumper that isnt a comp style colored plate would be fantastic.
Date published: 2014-10-02
Rated

5

out of

5
by
Josh B
from
Great Buy, Great Product
I just set up my home gym and have been a fan of everything Rogue from the beginning, especially, since they are a one stop shop with competitive pricing and great customer service. I am also a huge fan of the majority of their products being Made in the USA, however, these plates are not but you can't win'em all. I did want to buy the Hi-Temp based on them being made in the US but I wanted more of a dead-bounce so I went with these. I have been using them now, doing all the movements (deadlifts, cleans, snatches, jerks, etc), about 2 months dropping them on bare (smooth) concrete, as well as, stall mats and they hold their own with very little bounce. Dropped them from all positions to check the bounce and sound, both inside and outside the garage, to see what I could get away with between the Mrs and the neighbors...no complaints from the neighbors and no noise complaints from the Mrs other than when she didn't know I was working out and thought the kids were destroying the house while she was trying to enjoy a nap but 10 sets of 3 moderately heavy deadlifts will sound like that plus my kids do try to destroy everything. Also, I have read other reviews stating that they come with some sort of putrid, oily finish but the ones I ordered arrived with a nice matte finish and no smell. If you are looking to save a couple bucks and can do without the Hand Grenade printed on the side (which does play a factor in the coolness category) then just pull the trigger and get these. I am big on reading reviews and doing my research before a major purchase but sometimes you have to see what happens.
Date published: 2014-08-19
Rated

5

out of

5
by
Brian C
from
Nice Bumpers
These remind me of the HG bumpers... Pretty much the same thing without the hand grenades on the side. Nice dead bounce and good overall construction. The 10's seem to have a slightly taller profile than other 10's but hasn't been a big deal. Great deal with the free shipping!
Date published: 2014-08-13
Rated

4

out of

5
by
Casey Clutter
from
A good set of plates
I was very disappointed when these bumper plates cracked and split after just one day of use. However, a small split doesn't hurt anything. These plates hardly bounce at all and besides the first day, have been holding up well.
Date published: 2014-08-07
Rated

5

out of

5
by
Nick C
from
Quality Plates
I've been using these for two weeks in my home gym. Very impressed with the quality of these plates. Super flat bounce. Don't hesitate to buy them.
Date published: 2014-08-01
Rated

5

out of

5
by
Brad Gargani
from
Worth every penny
These plates are way better than I ever expected for the price. They are very solid and do not bounce. They have exceeded expectations so far. If you are looking for a great bumper plate at a great price well this is it. I am more than satisfied with the weights.
Date published: 2014-07-12
Rated

5

out of

5
by
Fernando Gonzalez-Avila
from
You Get More Than What You Pay For
These are great bumpers. I was used to using the bumpers (hi-temps) at my school gym and when I used them for the first time, I was surprised because they had low bounce. IMO they are better than the hi-temps. These are great bumpers. Buy them!
Date published: 2014-06-24
Rated

4

out of

5
by
David Walls
from
I love the dead bounce
I have used hi-temp and hg bumpers at the box I used to go to. I got these for my home gym and prefer the texture of these a lot more. The one complain I do have is that the 10# bumper is to wide. I have only uses these while other bumpers where on, and the 10# bumpers stick out farther than the 45,35,and 25# echo bumpers. It's kind of annoying. I just order a pair of 10# steel plates to use instead because it's such a pain especially when changing weight during EMOM WODs.
Date published: 2014-06-23
Rated

5

out of

5
by
Caleb Kangas
from
Good so far
Got these for my garage gym. My box has the Hi-Temp plates which are ok but they bounce like crazy! When you are doing a lot of high rep work where you drop the bar it bounces so far away that it's hard to reset every time. These dead blow when they hit the ground so you don't have to go chase them. I'm hoping the hold up better than the VTX ones. So far so good.
Date published: 2014-05-23
Rated

5

out of

5
by
Travis Johnson
from
Buy these ASAP
When I purchased these bumpers a few months ago, I wasn't expecting a "great" bumper, just a good one. What I received was a rock solid set of dead bounce workhorses. These things are damn near bulletproof. At first, I was unsure of how I would like the finish on these compared to that of the HG and HiTemp plates. It turned out to be a nice balance between the initial greasy feel of the HG and the grittiness of the HiTemp. Very nice! I can't wait for them to come back in stock so I can get more!
Date published: 2014-03-09
Rated

5

out of

5
by
Corey Wilson
from
Beast for the least
These plates are as good of quality as any plates you'll find in the gym most likely. I have used the hi-temps before and know their bounce, and I expected nearly the same for these but I was happily surprised to drop the 45 and see literally no bounce. These plates seem pretty solid all around. Anyone looking for good plates on a budget or just want a couple more plates, then pick these up.
Date published: 2014-01-25
Rated

5

out of

5
by
Anonymous
from
seem solid, definitely good looking
Really no experience with bumpers, but I purchased the 15s and 45s the day after they came available through Rogue. I dropped them onto horse stall mats, on a Rogue Ohio bar, which are on a concrete floor today during my first workout with them. Very little bounce and seem like a solid product in my opinion. Went with these because they are wider than the HGs and bigger around than the Hi-Temps, and the price was awesome. Will purchase the 25s and 35s soon.
Date published: 2014-01-22
Other Customers Also Viewed