Rogue Weightlifting Shoes - 3/4"
Shoe Type: Men's
Shipping Deals
Gear Specs
| | |
| --- | --- |
| SKU | RS0002 |
| Brand | Rogue |
| Shoe Color | Black & White |
| Shoe Type | Men's |
| Effective Heel Height | .75" |
| Made In USA | No |
| Free Shipping | Yes |
| 3 Ships Free | No |
FAQs
CAUTION: THESE WILL BUILD INSANE INTENSITY INTO YOUR LIFTS!
This is the shoe that started the revolution!

If it's not broke don't fix it. The Rogue Do-Win has a new colorway but retains the same great characteristics that have made it a classic.
These offer better breathability by using mesh inserts and greater stability from two shorter hook and loop fastening tarsal straps and a lower heel, when compared to the regular Do-Wins.
---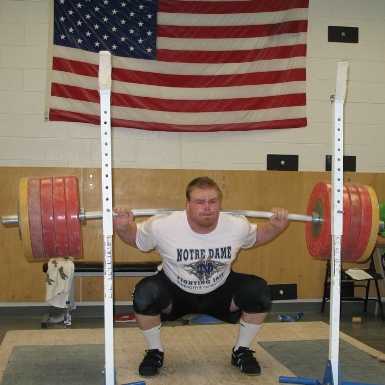 Here is what Casey Burgener has to say about the Rogues:
"The new Rogue weightlifting shoe is a huge improvement to the older style of Do-Win's. The heel height, increased ventilation, and overall comfort make them a top choice for weightlifters of all skill levels. This is a great set of weightlifting shoes."
Thanks Casey!
Rogue Weightlifting shoes are warrantied for 30 days. These shoes are made for weightlifting only because of the soles rigid design. Doing movements such as box jumps, sprints, jump roping, and anything else that will cause extreme flex to the sole will compromise the integrity of the shoes.
The Rogue Shoes have a .75" Heel Height.
Heavy Duty strap system.
Men: Sizing seems to run normal so order your normal shoe size
Women: Suggest Dropping down 1.5 sizes from posted Men's Size
If these shoes do not fit, just send them back and we will send you a new pair!
Reviews
Outstanding product and service
Review by
Drew
Quality
I purchased these shoes after months of research and shopping around. I am a minimalist and the thought of going back to rigid heeled shoes was a bit counter to my footwear philosophy. However, I spoke to some folks who made some good points; you should have the right tool for the job. So, I think this is a good choice for the price and frequency that most of us would use these shoes.
On a Rogue service note, I bought these shoes at my running shoe size--10 ½--and they were a bit too big. I run between a 10 and 10 1/2. So, be warned, I would go smaller if I was in that category. Rogue processed my exchange online and sent my shoes out immediately, although I had to pay return shipping--the only downside.
In all, I would order these shoes over some of the more expensive brands. Great quality for the money and after a few test workouts they have proven their function and worth. I can see the benefits of these shoes already.

| Review for:
Rogue Weightlifting Shoes - 3/4"
Should have bought these shoes much earlier
Review by
Rev
Quality
These are the first pair of lifting shoes I've ever owned, so I can't compare them to anything else, but they are a drastic improvement on cross-training shoes that I used to lift in.

I did a lot of research before buying these shoes and didn't really appreciate how much they help lifting stability and technique until I actually started lifting in them. It makes a huge difference in feeling solid through the floor and getting into a better position for all lifts, which improves your confidence in lifting more weight.

I ordered the shoes from Australia and I was concerned that proper sizing would be an issue (particularly due to the cost of returning them if they didn't fit). I ordered half a size down from my normal shoe size (as per the other reviews) and they fit perfectly (good for people with a wide foot). Thanks to Rogue for prompt delivery.

Don't put off buying these shoes like I did - just get them! They are reasonably priced compared to the other lifting shoes, and I'm told they should last a long time if you treat them right.
| Review for:
Rogue Weightlifting Shoes - 3/4"
Everything You Want In An Oly Shoe
Review by
Cory
Quality
Did a lot of research before I bought these and I'm glad I did. I have been doing oly lifts in my Nano 2.0s and I have been needing more stability in my snatch and c&j. They make a WORLD of difference. PR'd my snatch 10# the first night I tried them out. If you're contemplating about purchasing an oly shoe and want to lift more, this shoe is for you. Squatting is the same thing; you're stable as can be with your ATG squats. These shoes just make you want to get even stronger because you feel so secure in them. The laces are a little long, but that is something stupid to complain about if you have complaints about this shoe. Super fast shipping and great customer service from Rogue again. Highly recommend these shoes for any CrossFitter or weight lifter.
| Review for:
Rogue Weightlifting Shoes - 3/4"
A Great Pair of Shoes
Review by
Lenart
Quality
I was worried about the size of the shoes while ordering. I wear sizes 12 and 11,5, so I decided to order 11,5 and they fit perfect.
I believe these shoes offer great cost / performance ratio. I'd say that the overall quality is in my opinion not as good as Nike Romaleos II or adidas adiPower, but these shoes cost way less. They feel great and perform flawless, the shipping to Europe was extremely fast and the customer service was very helpful.
| Review for:
Rogue Weightlifting Shoes - 3/4"
Stable, solid, love 'em.
Review by
Kolin
Quality
I love these shoes. I got mine three weeks ago after squatting in Chuck Taylors. Really no comparison. Before I tried these shoes, I didn't quite believe how 'weightlifting' shoes could be anything special. After wearing them for one workout, I was sold. They are absolutely solid. They're comfortable to wear, but when you sit back in a deep squat the heel stability is perfect. No movement at all. Now I can focus on all the other variables in my squat and not worry about the foundation. The grip is also fantastic. There's no skidding or sliding in these shoes - my feet really do feel glued to the floor.

I wear 10.5 in Chuck Taylors, and 11.5 in Nike shoes. I like my lifting shoes to fit very snug. I ordered 11's in these, hoping for a snug fit. After wearing them for 5 minutes I thought they might be too small. But after two just workouts, they are really perfect. They're very snug, just how I like them.
| Review for:
Rogue Weightlifting Shoes - 3/4"
very stable shoes
Review by
Jesse M.
Quality
Ive been doing crossfit for little over a year and just got these shoes less than a month ago as soon as you put them on you feel glued to the ground and very stable. I wish I would have bought these sooner. i pr'd my oh squat and my snatch felt a lot more comfortable at the lowest part of it. great investment if you want to become stronger and better.
| Review for:
Rogue Weightlifting Shoes - 3/4"
Must Buy For Squats!
Review by
mikecart1
Quality
For a long time I had used skateboarding shoes for squatting, deadlifting, and pretty much anything that didn't require running in the gym. Those shoes allowed me to have a 400 squat and 500 deadlift. The first time I tried Rogue shoes, I found out what I was missing the entire time: 100% stability and contact with the floor. While skateboarding shoes do have flat soles, the soles in Rogue shoes are much harder. If you want to rock back and forth in Rogue's, you can't. When it comes to squatting, the feeling is way better. Also I have noticed that the soreness is entirely on my legs now which is good. I tried using the shoes for deadlifts even though I was not sure if the raised height of the heel would make them harder. Deadlifts are also just as stable. My only regret is not buying these sooner.
| Review for:
Rogue Weightlifting Shoes - 3/4"
I love my Do-Wins!!
Review by
Liz
Quality
I cannot put into words how much I love these shoes! I just received mine last week, and used them in a CrossFit competition over the weekend. I was able to put 30lbs on my clean and set a new PR!! I felt so stable through all of my lifts, and was amazed at how previously harder lifts came much easier for me. The only thing I would say is that they might run a little small. I ordered a size 5 (I'm a women's 6.5), and my feet are a little snug. Hopefully they will stretch out a little, but even if they don't, they are neither uncomfortable nor hindering. Thanks, Rogue!! :)
| Review for:
Rogue Weightlifting Shoes - 3/4"
Great shoe!
Review by
Jeff L.
Quality
I'd been lifting barefoot for a long time, and had always heard how a good pair of shoes would help my form in various lifts, but was always skeptical until I tried these shoes.

I'm a total convert now! I had originally ordered the Adidas shoes, which were far too narrow for me, so I put a little extra money toward these after reading that they were a better fit for people with wider feet. I ordered a true to size 12, and while they are ever so slightly looser than my size 12 Asics running shoes, it's a comfortable loose rather than a sloppy loose. When tied on normally and strapped down, the shoes are a solid fit and my feet aren't wedged in at all.

Now I have a great connection to the floor while squatting and deadlifting, and the heel support feels great even on non-leg days, when I do overhead barbell presses. The soles somehow manage to grip my slick garage floor as well. The only thing I would alter is adding a removable insole so the lifter could use custom inserts for arch support.

Overall very impressed with the shoes. Great job, Rogue!
| Review for:
Rogue Weightlifting Shoes - 3/4"
Great Investment
Review by
Steve
Quality
I'll start with the fact that I have Large Flat Feet, Size 14 4E, and these shoes fit perfectly. I was used to squating in Flat bottomed shoes (Chucks, Airwalks) and didn't think I needed a dedicated pair of lifting shoes. I was completely wrong. These shoes make me feel more secure on the floor and helped alleviate some mobility issues I have had with my hip and being able to hit full depth on my squat. I look forward to using these for quite a while.
| Review for:
Rogue Weightlifting Shoes - 3/4"
Other Customers Also Viewed