The Ohio Bar
Availability: In stock
Price
Qty
Gear Specs
| | |
| --- | --- |
| Brand | Rogue |
| Bar Type | Men's Bars |
| Bar Use | Weightlifting, Olympic Weightlifting, Powerlifting, Multipurpose |
| KG | 20KG |
| Diameter | 28.5MM |
| Knurl | Multi |
| Center Knurl | No Center Knurl |
| Knurl Marks | Dual |
| Shaft Coating | Varies |
| Sleeve Coating | Varies |
| Sleeve Construction | Press |
| Sleeve Design | Snap Ring |
| Bushing/Bearing | Bushing |
| Tensile Strength | 190K |
| Guarantee/Warranty | Lifetime Use Warranty |
| Free Shipping | No |
| Made In USA | Yes |
| 3 Ships Free | No |
FAQs
Columbus Craftsmanship, World Class Quality
The Ohio Bar isn't just one of Rogue's most durable and versatile weightlifting bars, it's also a direct reflection of the proud professionals who build it. From the 190 KSI steel to the distinctive dual knurl marks and four separate coating options, every detail of the Ohio Bar is held to the absolute highest standard—as you can see in the step-by-step process below.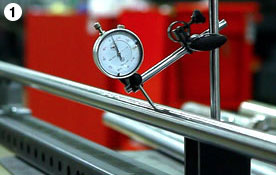 1. New 190KSI Steel
This steel is manufactured in the US and has proven to be one of the best steel variants for a multi-purpose barbell.
Each barbell shaft is ground and polished prior to machining which allows the bar to have a very smooth finish post any black oxide, zinc or chrome finish.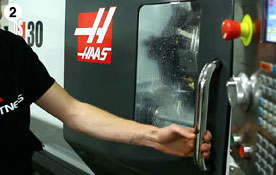 2. Machining
Each bar shaft is machined on new Haas machines that are built in the US. A great deal of pride is built into each bar as the knurling process is an art. We spent months working on the knurl we believe to be the best for the Ohio Bar.
To test the knurl it is more a beer tasting process than exact measurement. There is a look and feel that go into testing every bar.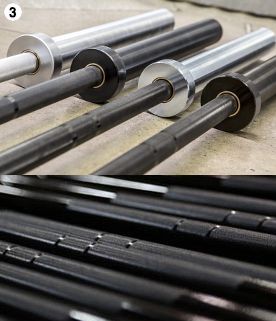 3. Fit and Finish
The Ohio Bar is available with 4 different finishes. Each finish offers a different level of oxidization protecion and has a direct effect on the feel of the knurl.
Black Oxide is a mild oxidization protectant process. This type of steel treatment will still require some maintenance but will give the best knurl feel, more like a naked bar.
Bright Zinc and Black Zinc is a medium oxidization protectant process. This type of steel treatment requires minimal maintenance and is used on The Rogue and Bella Bars.
Satin Hard Chrome is a high oxidization protectant process. The feel of this bar is similar to brushed steel.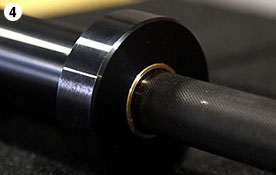 4. Assembly
The Ohio Bar is assembled with bronze bushings which act as bearing surfaces between the bar sleeve and bar shaft. This is a very robust way of building a barbell.
Each bar will come with an Ohio Bar card that has the initials of the Rogue team member that built the bar.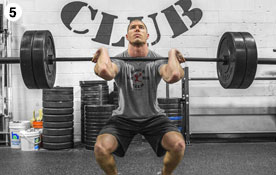 5. Performance
This bar will have normal "whip" during Olympic weightlifting and enough stiffness to hold for heavy powerlifting. The steel in this bar is proven as an excellent choice for weightlifters.
Each Rogue Ohio Bar is machined and assembled in Columbus, Ohio, and includes a lifetime guarantee against bending**.
The bushing sleeves on the Ohio Bar promise a reliable spin, and their snap ring design maintains optimal stability throughout any type of weightlifting regimen-- from basic high school or collegiate strength training programs to intense Crossfit workouts.
Ohio Bar Coating Options You can select one of the following available coatings from the sidebar:
Standard Black Oxide Treatment
Black Zinc Plating with Bright Zinc Sleeves - Same zinc combination as the Rogue Bar
Black Zinc Plating with Black Zinc Sleeves – Murdered out
Satin Hard Chrome – Top of the line finish with more of a matte look than standard chrome

Versions:
Version 1.1 - This is the first version of the Ohio Bar manufactured by Rogue
Version 1.2 - We upgraded the steel used in the shaft to 190,000 PSI tensile strenght steel.
Whichever coating you choose, Rogue has provided some helpful tips for long term Bar Care & Maintenance.
**Warranty against bending does not cover any bar which has been damaged due to negligent or faulty use, alteration, maintenance, storage or handling by the user. Negligent or faulty use includes abusive dropping of the bar (i.e., dropping the bar on a box, bench, spotter arms or pins in a power rack, excessive dropping with insufficient or damaged bumpers, or excessive dropping with iron plates, and similar usage). Any specific issues regarding a Rogue product with which a customer is not satisfied will be reviewed on a case-by-case basis. Rogue has a replacement rate of less than 0.0002% on bars. We have found that most problems with bars we replace are related to abusive use rather than manufacturing or materials issues.
Reviews
Perfect Bar- for price and function
Review by
Stefan
Quality
I have been in the market for an Olympic bar, and simply put, you can't buy a better bar. You can either buy a bar that over 100 bucks that will break within a few weeks, buy a bar for the amount the rogue and ohio bars cost, or buy another bar thats over 500 dollars that has ALMOST the quality but hasn't the reputation, customer service, or the pride of being american made. I bought the ohio zinc (i live in a humid climate) and it's the centerpiece to my gym. I'll never go anywhere else but rogue. The best quality bar, with a price any cross fitter can afford. It takes every bit of the beating i put it through. If you are doubting just a little bit, don't anymore, buy it now!!
| Review for:
The Ohio Bar
My First Bar & Last
Review by
Tri_Hoosier
Quality
This is my first 20KG bar that I have ever purchased and will be the last as the quality is top notch. The knurl is perfect, grippy yet easy on the hands. I have the Black Zinc Shaft / Bright Zinc Sleeves and I am well pleased. The bearings are smooth and tight, spins real easy...great craftsmanship. The only thing I find wrong with this bar is the name OHIO??? HOOSIER BAR sounds better! ROGUE IS AMERICAN QUALITY.....Buy this bar.
| Review for:
The Ohio Bar
Satin Hard Chrome = Bliss
Review by
Sabree Blackmon
Quality
I purchased the satin chrome finish - it is the best feeling bar I've ever had in my hands. The knurling is perfect for me and the spin is great for a non-bearing bar. It's the satin chrome finish that puts it over the top though, and it creates an overall texture that's really pleasing to touch and to look at it. Granted, it's still a hybrid bar, and it will not replace some of the higher end weightlifting bearing bars costing at least twice as much, but I won't throw a tantrum if the bar is used in a rack either. It's a great compromise at a great price.
| Review for:
The Ohio Bar
Excellent Product, Best Bar EVERRRR!!!
Review by
Julio
Quality
The bar is awesome, perfect grip and the delivery was nothing like I expected. It was freaking fast.
| Review for:
The Ohio Bar
Best bar I've ever seen or had!
Review by
Greg
Quality
Most bars that I've used in the past are all smoothed out or lost their grip after a very short time, but not this bar! Simply amazing! Coupled with the HG collars, you can't lose! Never gonna buy any other bar ever again! Thanks!
| Review for:
The Ohio Bar
Nice so far
Review by
RossC
Quality
I just got the Bar after debating on going with the Pendlay. I went with this thinking that it would probably take a beating a little better, even if it had less of a spin. Its a bushing bar so I didn't expect much, but I was surprised pleasantly. pretty damn good. I like the feel of the oxide. I haven't used it much but the couple times I have, I was super happy with it.

Feels great, works great, and is cooler than the standard rogue bar. Id go for it if I were you.
| Review for:
The Ohio Bar
Quality
Review by
Brent
Quality
Amazing bar, worth every penny. I will continue to only purchase Rogue.
| Review for:
The Ohio Bar
BEST EVER!!!
Review by
Randall G.
Quality
I have been using my ohio bar (black oxide) and I will never be the same again. Having a quality bar like this is a must!!! It's inceedible the difference that it makes in your workouts!
| Review for:
The Ohio Bar
A solid bar
Review by
Christian
Quality
The bar is very well crafted. The spin is nice and smooth, the knurling is great. I regret getting the zinc coating, however. It is coming right off with routine usage. I have had the bar for two weeks and it looks quite splotchy. To be clear: The bar itself is great. Far superior to any gym beater I've used before.
| Review for:
The Ohio Bar
BAD @SS BAR!!!
Review by
SCarwile
Quality
Having deadlifted a few weights in my day (personal 1RM was 665...yeah buddy!) I feel like I've seen and used quite a few bars. Our local Gold's gym had okay bars initially but once they started bending, the gym started buying el cheapo bars which were simply awful...so I've used great bars and I've used terrible ones. All that said - this Ohio bar is hands down the best I've ever used. The knurl isn't too aggressive (I have the black oxide finish) and the whole bar just "works." From the look, to the feel to the outstanding quality of this thing - not to mention it's made in the USA - I can't imagine a better bang for your buck. Stop thinking about it, stop reading "reviews" from online warriors who probably can't pull 315 and BUY THIS BAR. Simply awesome.
| Review for:
The Ohio Bar
Other Customers Also Viewed