The Ohio Bar
Gear Specs
| | |
| --- | --- |
| Brand | Rogue |
| Bar Type | Men's Bars |
| Bar Use | Weightlifting, Olympic Weightlifting, Powerlifting, Multipurpose |
| KG | 20KG |
| Diameter | 28.5MM |
| Knurl | Multi |
| Center Knurl | No Center Knurl |
| Knurl Marks | Dual |
| Shaft Coating | Varies |
| Sleeve Coating | Varies |
| Bushing/Bearing | Bushing |
| Tensile Strength | 190K |
| Guarantee/Warranty | Lifetime Use Warranty |
| Free Shipping | No |
| Made In USA | Yes |
| 3 Ships Free | No |
FAQs
Columbus Craftsmanship, World Class Quality
The Ohio Bar isn't just one of Rogue's most durable and versatile weightlifting bars, it's also a direct reflection of the proud professionals who build it. From the 190 KSI steel to the distinctive dual knurl marks and four separate coating options, every detail of the Ohio Bar is held to the absolute highest standard—as you can see in the step-by-step process below.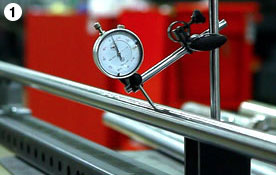 1. New 190KSI Steel
This steel is manufactured in the US and has proven to be one of the best steel variants for a multi-purpose barbell.
Each barbell shaft is ground and polished prior to machining which allows the bar to have a very smooth finish post any black oxide, zinc or chrome finish.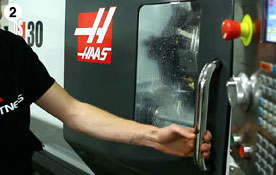 2. Machining
Each bar shaft is machined on new Haas machines that are built in the US. A great deal of pride is built into each bar as the knurling process is an art. We spent months working on the knurl we believe to be the best for the Ohio Bar.
To test the knurl it is more a beer tasting process than exact measurement. There is a look and feel that go into testing every bar.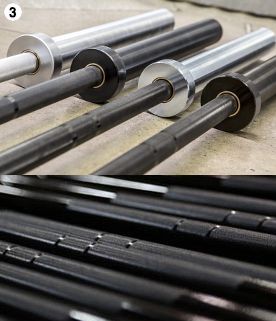 3. Fit and Finish
The Ohio Bar is available with 4 different finishes. Each finish offers a different level of oxidization protecion and has a direct effect on the feel of the knurl.
Black Oxide is a mild oxidization protectant process. This type of steel treatment will still require some maintenance but will give the best knurl feel, more like a naked bar.
Bright Zinc and Black Zinc is a medium oxidization protectant process. This type of steel treatment requires minimal maintenance and is used on The Rogue and Bella Bars.
Satin Hard Chrome is a high oxidization protectant process. The feel of this bar is similar to brushed steel.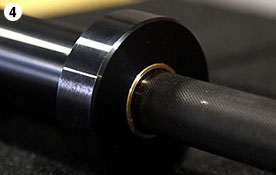 4. Assembly
The Ohio Bar is assembled with bronze bushings which act as bearing surfaces between the bar sleeve and bar shaft. This is a very robust way of building a barbell.
Each bar will come with an Ohio Bar card that has the initials of the Rogue team member that built the bar.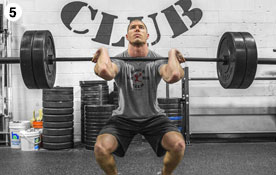 5. Performance
This bar will have normal "whip" during Olympic weightlifting and enough stiffness to hold for heavy powerlifting. The steel in this bar is proven as an excellent choice for weightlifters.
Each Rogue Ohio Bar is machined and assembled in Columbus, Ohio, and includes a lifetime guarantee against bending**.
The bushing sleeves on the Ohio Bar promise a reliable spin, and their snap ring design maintains optimal stability throughout any type of weightlifting regimen-- from basic high school or collegiate strength training programs to intense Crossfit workouts.
Ohio Bar Coating Options You can select one of the following available coatings from the sidebar:
Standard Black Oxide Treatment
Black Zinc Plating with Bright Zinc Sleeves - Same zinc combination as the Rogue Bar
Black Zinc Plating with Black Zinc Sleeves – Murdered out
Satin Hard Chrome – Top of the line finish with more of a matte look than standard chrome

Versions:
Version 1.1 - This is the first version of the Ohio Bar manufactured by Rogue
Version 1.2 - We upgraded the steel used in the shaft to 190,000 PSI tensile strenght steel.
Whichever coating you choose, Rogue has provided some helpful tips for long term Bar Care & Maintenance.
**Warranty against bending does not cover any bar which has been damaged due to negligent or faulty use, alteration, maintenance, storage or handling by the user. Negligent or faulty use includes abusive dropping of the bar (i.e., dropping the bar on a box, bench, spotter arms or pins in a power rack, excessive dropping with insufficient or damaged bumpers, or excessive dropping with iron plates, and similar usage). Any specific issues regarding a Rogue product with which a customer is not satisfied will be reviewed on a case-by-case basis. Rogue has a replacement rate of less than 0.0002% on bars. We have found that most problems with bars we replace are related to abusive use rather than manufacturing or materials issues.
Reviews
Amazing Bar
Review by
Logan
Quality
I recently purchased the Ohio bar from Rogue and i am extremely happy with my results. The bar is very solid and a major upgrade from the bar i was using before. Great work Rogue!
| Review for:
The Ohio Bar
Excellent multipurpose bar!
Review by
Lance
Quality
This is probably the best multipurpose I've owned. It's a jack of all trades, not a specialty bar... with that in mind the thing is incredible. Feel great, sticky knurl, good spin, beautiful finish. I got the Black Oxide, as I like the "bare steel" feeling, and it didn't disappoint. The knurl is mild by my standards, but nice and sticky. For heavy powerlifting (over 400 or so) I still use a power bar, but on days when I do mixed exercises, the bar really shines. Order it expecting a multipurpose and it will definitely deliver.

| Review for:
The Ohio Bar
Top notch bar
Review by
PZeman
Quality
I just received the bar today and was left by UPS while I was at CF...was worried about shipment damage but was relieved to see the bar packaged like I would expect for such an investment. The bar is awesome quality and Rogue took great care to make sure it arrived safely. Great Job!
| Review for:
The Ohio Bar
Thor meets Leonidas
Review by
The olympious realious
Quality
Imagine Thor watching over the world with his great hammer, replace that hammer with an oxide piece of steel forged from the ancient bones of Leonidas and the brave 300. This is the Ohio Bar.
I read your filth frequencydrive. Your review disgusts me. This flimsy piece of shiny metal with a couple needle bearings you speak of is not worth your crass judgment. Sweden?... Sweden? Let the Swedish keep their cross-country skiing and liberal sexuality, their bars spin like their political system- freely and without purpose. The Ohio bar is an American. It has depth and determination. It moves only when pushed, and only in an offensive throat jabbing position.
Wanna Deadlift 500? Load it up and watch how it doesn't bend, just like the hardended backbone of this great nation.
Wanna snatch- go ahead, and do all 150 of them, we know you will you damn crossfitian- this bar can take it. It will take a beating, get up, and kick you in the throat like a US Marine.
So go ahead and buy that Swedish bar you Mary poppins, liberal, biscuit eating commie, this country and this bar will be here to save you and all your other Europeans asses for a third time when the Nazi werk sans come to take over.
| Review for:
The Ohio Bar
WOW
Review by
JJ
Quality
Get this bar
stop reading this and get this bar before they run out of stock this is the best bar ever i feels like heaven when you clean and snatch BUY IT
| Review for:
The Ohio Bar
outstanding bar!
Review by
Art
Quality
Purchased this bar seven months ago and am VERY pleased thus far. Have dropped from overhead repeatedly with 95#-135# & occasionally with 155#-185# with no problems. I love the spin, diameter, & knurling on this bar! Would buy another, but I don't anticipate needing to for a long time!
| Review for:
The Ohio Bar
Perfect
Review by
Brian
Quality
received my black on black zinc bar a month ago and have been impressed since I got it. The knurling is excellent, not too deep that it cuts. The no centre knurling is perfect for deadlift and cleans, yet still great to squat with. This bar sees everything in my garage, Olympic lifting, dealifting, squats, rack pulls, bench pressing etc. Out of everything I've bought for my home gym, i'm glad I spent the money on this bar, worth every penny. I'm glad I didn't cheap out and get a bar that I would have to replace after a year or so because it's bent and the collars are loose!
| Review for:
The Ohio Bar
Bar Reviews
Review by
Sean
Quality
I currently own a Ohio bar (150k) tensile strength which was standard before they beefed it up to 190k. I also own a pendlay hd bar, and I was given a rogue bar as a present. The Ohio bar is black oxide, and living in New Jersey I put wd-40 at least every other week to keep the rust off the knurling. The spin is a bit better than the rogue bar, but not as good as the Pendlay Bar. As far as whip is concerned, Ohio bar again is better than the rogue, but much less than the Pendlay bar. I happen to love all three bars and would not wish to get rid of either one. The bar that I use most often is actually the rogue bar, it has great strength, good aggressive knurl, and it spins great. It can hold up to heavy deadlifts and can also be used as an Olympic bar. As a crossfitter for just about two years, I highly recommend the Ohio or the Rogue bar. I use both in WOD's all the time, and I have no wear on either bar. If you would like to strictly concentrate of Olympic lifting, than I would recommend the Pendlay HD bar. Since the steel in the Ohio bar has went up to 190K, I would love to feel how that bar performs now that it has the same tensile strength as the Pendlay bar.
| Review for:
The Ohio Bar
Amazed!
Review by
Jake Warner
Quality
I'm pretty new to Oly lifts, and certainly new to high end equipment, but have worked out my entire life. Everything from Bodybuilding, to mountain bike racing, to trail running, to MMA, to Jiu-Jitsu, but there is just something I'm really enjoying about the challenges I'm faced with in Olympic lifts and Crossfit workouts. The Ohio bar is a geniune piece of ingenuity. My Olympic lifts immediately felt easier and more fluid, and if a bar could be sexy, this one is! Lol
| Review for:
The Ohio Bar
Get this bar
Review by
thunder900
Quality
This bar is just amazing. From the spin, to the feel of the knurl, to how the bar reacts when being dropped (its quiet), to the way the bumpers fit on this bar, this bar has it all. I also received this bar within three days of ordering it. I first discovered how great this bar was at a CrossFit affiliate, and knew right then that I was going to get this bar. My other bar is now going to become a backup/second bar, as this is the bar I will be doing most of my work with from now on. If you need a great CrossFit bar, go out and buy this bar.
| Review for:
The Ohio Bar
Other Customers Also Viewed