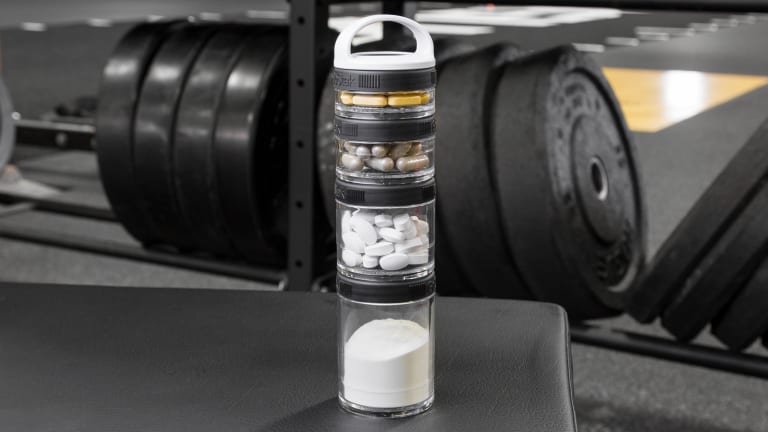 Ships in 7-10 Business Days

3 Ships Free Item
Buy 3 or More Items Marked "3 Ships Free" And They All Ship for Free
Product Description
GoStaks
The innovative design of the BlenderBottle® GoStak™ allows athletes to carry multiple energy drinks, snacks, supplements, or other items inside a single, existing BlenderBottle® Classic™ container. The GoStak starter set includes four separate jars of incrementally larger capacity, which can then be stacked and locked into place with a simple twist. Each jar seals tightly and is highly durable, so there's no risk of leaks or one drink diluting another.
The GoStak system is an efficient, easy way to have both your pre and post-workout fuel kept cool within an arm's reach. You can also store a protein snack in one of the jars or keep your keys there rather than loose at the bottom of a gym bag. GoStaks are fully customizable and add a new level of versatility to the traditional sports bottle.
Gear Specs
Specifications:
Starter set include 4 jars of incrementally larger capacity
Jars twist and lock into place when stacked in any sequence
Stain and odor resistant
3 largest jars will fit inside BlenderBottle® Classic™
Color: Clear jars with Black lids
Jar sizes: 150cc, 100cc, 60cc, 40cc
See Rogue's entire line of drinkware here.
Shipping
Rogue Fast Shipping
The Rogue Shipping System allows you to track your order from the time you place it to the time it hits your door. Order today, track today.
Reviews
Perfect stacker
I work on the road constantly and these are perfect for taking my powers and pills with me. I searched for stackers all over and these are super durable and extremely convenient.
Yes, I recommend this product
Originally posted on roguefitness.com
GREAT PRODUCT ALL AROUND!
Great product! Keeps my vitamins, fish oils, and glutamine in one bottle! Also great for traveling, just make sure to keep it in a spot preventing it from cracking! Easy to clean and don't need to keep on going back to each supplement bottles! Great looking bottle!
Originally posted on roguefitness.com
#RYOUROGUE
Tag your photos on Instagram and Twitter with #RYOUROGUE for a chance to be featured in our gallery
View Full Gallery