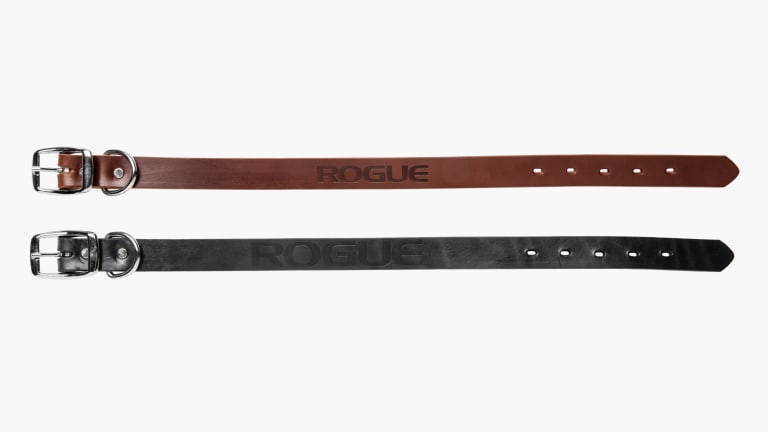 Ships in 7-10 Business Days

3 Ships Free Item
Buy 3 or More Items Marked "3 Ships Free" And They All Ship for Free
Product Description
Rogue gear has finally gone to the dogs. This exclusive line of quality leather dog collars is made in Ohio from the same vegetable-tanned USA leather as our Ohio Weightlifting Belts. Available in five different size options, each collar is branded with the Rogue logo and features a riveted construction with nickel-plated buckle and D rings. Large and Extra-Large size collars are double-riveted with a heavy-duty buckle and roller to handle the biggest, strongest breeds of "canine athlete."
Read More
Rogue Dog Collars
Rogue gear has finally gone to the dogs. This exclusive line of quality leather dog collars is made in Ohio from the same vegetable-tanned USA leather as our Ohio Weightlifting Belts. Available in five different size options, each collar is branded with the Rogue logo and features a riveted construction with nickel-plated buckle and D rings. Large and Extra-Large size collars are double-riveted with a heavy-duty buckle and roller to handle the biggest, strongest breeds of "canine athlete."
All Rogue Dog Collars are also pre-treated with a special leather sealer that helps prevent drying and fading over time, meaning they're built to last for the long haul—whether you're measuring in human or dog years.
Gear Specs
Specifications:
Made in America
3/16" thick USA Leather
Nickel-plated Buckle & D Rings
Rogue Branded
Available in 5 Sizes (See Below)
An Important Note on Dog Collar Sizing:
A collar should ride high on your pet's neck, not loose so that it slides down near the top of his shoulder blades. There should be enough room to fit two fingers between your dog's neck and his collar, but the collar should not be loose enough to slip over the pet's head. Collars should also not be so tight as to restrict breathing or cause coughing. Check collar size frequently on growing puppies. Use a tape measure to measure your pet's neck, then add on 2-3".
Fit Guide
Fit Guide:
| Size | XS | S | M | L | XL |
| --- | --- | --- | --- | --- | --- |
| Length | 7"-10" | 10"-13" | 13"-17" | 17"-21" | 21"-25" |
| Width | (3/4" wide) | (3/4" wide) | (1" wide) | (1-1/2" wide) | (1-1/2" wide) |
Neck: Measure around the neck with a measuring tape
Shipping
Rogue Fast Shipping
The Rogue Shipping System allows you to track your order from the time you place it to the time it hits your door. Order today, track today.
Reviews
Leather cracked
Within days the leather had cracked which was disappointing.
Originally posted on roguecanada.ca
Well made.
Beautiful collars, very well made. Extremely happy to finally find a leather collar tough enough for our dogs! Thank you.
Yes, I recommend this product
Originally posted on roguecanada.ca
Best collar out there
I've been buying these since Rogue started making them. My dog is a lab/pit mix and very active. We used to live across the street from the beach so I'd have to replace the collars once a year because of the salt water wear on them. Now that he doesn't spend everyday at the beach I realized he has his same collar for going on 3 years now. And it doesn't actually need to be replaced yet. There's no stitching so if your dog has sensitive skin this collar is perfect. It's also extremely durable (3 years on a lab/pit, really?!)
Yes, I recommend this product
Originally posted on roguefitness.com
Just Right
Bought this as a stocking stuffer for my English Mastiff. Looks great and quality leather. Looks like a lifting belt around his neck. Definitely recommend this collar.
Yes, I recommend this product
Originally posted on roguefitness.com
I thought people were tripping!
I thought people were tripping when they said the logo disappeared but they were right it's gone. It's very sturdy and the hardware is just impressive. My dog's last caller had a little padding on the inside this is more of thick piece of leather.
Originally posted on roguefitness.com
Beautiful Collar
The Rogue leather dog collar is a perfect fit and style for my dog. It looks great and is high quality since he loves to run around and play. Thanks for the great products and service!
Yes, I recommend this product
Originally posted on roguefitness.com
Great collar
I bought this collar even though thw reviews said it wears quickly. I have had it for 3 months now and it still looks brand new. Still have not bought something here that wasnt decent or better than expected quality. American made quality. Love it
Yes, I recommend this product
Originally posted on roguefitness.com
Great Collar
The bad reviews here are rediculous, you're paying $16 for a DOG COLLAR. I love the collar and my dog is going on 3-4 months wearing it with no signs of "lettering falling off blah blah" Let me add a sweet sweet photo ❤️
Yes, I recommend this product
Originally posted on roguefitness.com
#RYOUROGUE
Tag your photos on Instagram and Twitter with #RYOUROGUE for a chance to be featured in our gallery
View Full Gallery