Rogue 28MM IWF Olympic Weightlifting Bar - Cerakote
Made in U.S.A. with US & EU Steel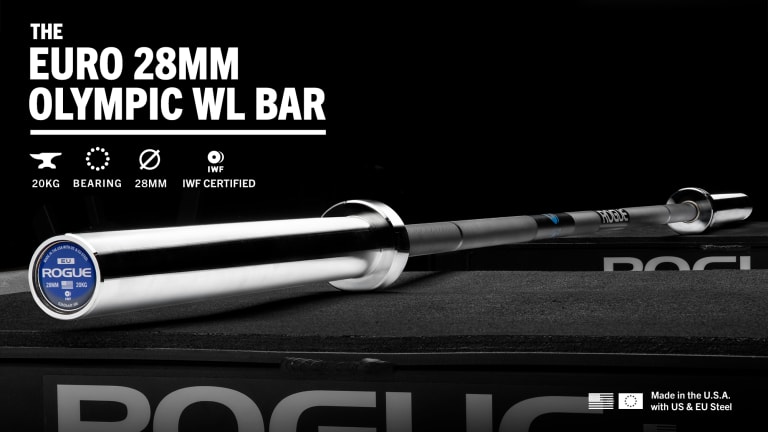 Rogue 28MM IWF Olympic Weightlifting Bar - Cerakote
Made in U.S.A. with US & EU Steel
Product Description
This edition of the Rogue 28MM Olympic Weightlifting Bar features a Black Cerakote finish and official International Weightlifting Federation (IWF) branding on the shaft and endcaps—denoting the bar's approval from the IWF for use in competition.
Read More
Rogue 28MM IWF Olympic Weightlifting Bar - Cerakote
This edition of the Rogue 28MM Olympic Weightlifting Bar features a Black Cerakote finish and official International Weightlifting Federation (IWF) branding on the shaft and endcaps—denoting the bar's approval from the IWF for use in competition.
Each 20KG bar is machined and assembled in Columbus, OH, and includes a 215K PSI steel shaft, quality needle bearings, and friction-welded chrome sleeves. A center knurl provides added "stick," and an exclusive precision-machined knurl pattern offers a firm but non-abrasive grip.
We believe the Rogue Olympic Weightlifting Bar ranks among the best in the industry for feel, durability, and performance. Approval from the IWF further proves the high standard to which it's held.
See Also:
Gear Specs
Specifications:
Made in the USA with US and EU Steel
28MM Men's Olympic Bearing Bar
215K PSI tensile strength steel shaft
Shaft Diameter: 28MM
NEW IWF Approved branding on shaft and endcaps
Black Cerakote Shaft Finish
Friction Welded Sleeves, Chrome Finish, 16.25" loadable sleeve length
5 Needle Bearings per sleeve"
Olympic Knurl Marks and Center Knurl in full but non-aggressive pattern
F6-R Rating
See More: Men's 20KG Barbells Available from Rogue
Shipping
Rogue Fast Shipping
The Rogue Shipping System allows you to track your order from the time you place it to the time it hits your door. Order today, track today.
Gear Specs

Brand
Rogue Fitness
Color
Black / Chrome
Made In USA
Yes, with US & EU Steel
Loadable Sleeve Length
16.25"
Bar Length
86.6"
Diameter
28MM
F Rating™
F6-R
Bar Type
Men's Bars
Bar Use
Olympic Weightlifting
Bushing/Bearing
Bearing
Bar Weight
20KG
Knurl
Olympic
Center Knurl
Yes
Knurl Mark
Olympic
Shaft Coating
Cerakote
Sleeve Coating
Chrome
Tensile Strength
215,000 PSI
KEY FEATURES OF THE 28MM IWF OLYMPIC WEIGHTLIFTING BAR
This version of the 28MM Olympic Weightlifting Bar has been recognized at the highest levels of competition through its IWF certification. In the strength world, IWF approval is like the equivalent of a restaurant getting its Michelin stars, so we're proud to include a new IWF Cerakote logo on the shaft of the bar, along with additional IWF branding on the endcaps.
Cerakote is a ceramic-based coating commonly trusted by firearm manufacturers for its remarkable durability in thin applications. This unique finish can deliver superb abrasion/wear/corrosion resistance over time—100X that of standard black zinc—with greater versatility in color options. It's utilized here in Black, with the Rogue logo branded on one side of the center knurl (in white) and the IWF logo on the other (in blue). The sleeves still have their original chrome finish.
215,000 PSI Tensile Strength
Our Men's Oly Bar is made exclusively from high-grade steel, producing a shaft with a minimum tensile strength of 215,000 PSI. Each shaft is ground and polished prior to machining (to ensure a smooth finish), and individually tested and straightened to within 0.015" (0.38mm). The goal is to create just the right amount of "whip" or "flex" needed for competitive Olympic lifting.
Friction Welded Sleeves + Needle Bearings
Using a process from the worlds of aviation and automotive manufacturing, the sleeves on the Rogue Olympic Weightlifting Bar are friction welded—creating a superior, forged-quality bond. This method is more precise than most joining techniques and helps prevent any changes in the integrity of the sleeve. Combined with 10 sets of top-quality needle bearings, the result is a barbell with a smooth, consistent, quieter spin.
Every Oly Bar is machined in Columbus, Ohio, on new Haas machines that are built in the USA. For the Olympic knurl marks and center knurl, we experimented with several knurling patterns before choosing the full but minimally aggressive texture that top weightlifters responded to best. Rather than relying on visibility alone, each bar is manually tested to ensure the actual "feel" is up to Rogue standards.
F SCALE™
The F Scale™ is a durability scale for barbells based on functional testing at stresses similar to what barbells experience when being dropped from overhead. Bars that have been treated with Rogue Work Hardening (RWH™) are designated by having an R in their F Rating™. For more information on F Scale™ click here.
OXIDATION RATE
The resistance of a barbell to oxidation depends on the type of steel and the coating. Barbells at the lower end of the spectrum will require more care and maintenance to preserve their appearance than barbells at the upper end of the spectrum.
*Warranty against bending does not cover any bar which has been damaged due to negligent or faulty use, alteration, maintenance, storage or handling by the user. Negligent or faulty use includes abusive dropping of the bar (i.e., dropping the bar on a box, bench, spotter arms or pins in a power rack, excessive dropping with insufficient or damaged bumpers, or excessive dropping with iron plates, and similar usage). Any specific issues regarding a Rogue product with which a customer is not satisfied will be reviewed on a case-by-case basis. We have found that most problems with bars we replace are related to abusive use rather than manufacturing or materials issues.
See Also: The Rogue Barbell Cleaning Kit
Reviews
You need to purchase this bar
I bought this bar earlier this year. Beautiful craftsmanship. The spin is amazing. Not compatible to any other bar I have used.
Originally posted on roguefitness.com
Better without center knurling
Great bar for olympic lifting. Previous one had the center knurling, which was aggravating to everyone doing cleans.
Yes, I recommend this product
Originally posted on roguefitness.com
Only bar
Best bar I've ever used. Spins perfectly and looks great
Yes, I recommend this product
Originally posted on roguefitness.com
Great knurling
Great bar really enjoy using it especially since the knurling is just right you can use less chalk and always have a good grip. Center knurling has great friction on hip contact. Spin is great and arrived in great shape.
Originally posted on roguecanada.ca
Great bar!
Just purchased and the whip, spin and finish are amazing. Huge improvement over the box owned bushing bars that I've been using!
Yes, I recommend this product
Originally posted on roguefitness.com
#RYOUROGUE
Tag your photos on Instagram and Twitter with #RYOUROGUE for a chance to be featured in our gallery
View Full Gallery