Rogue Hoover Medicine Balls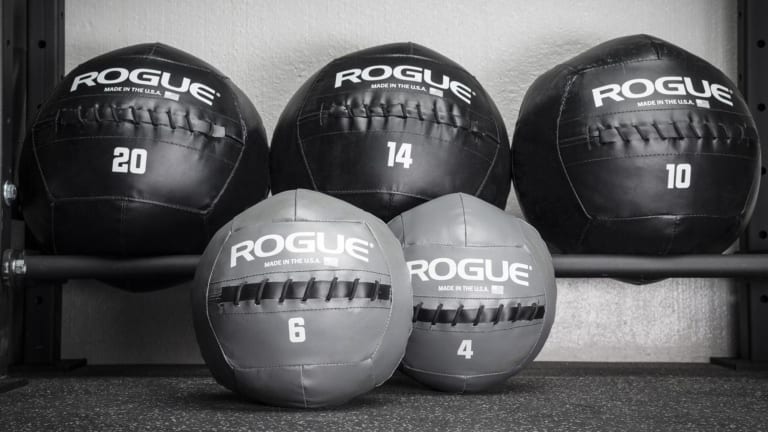 Rogue Hoover Medicine Balls
Ships in 7-10 Business Days
Rogue Hoover/Kids Medicine Ball - Gray - 4LB
Rogue Hoover/Kids Medicine Ball - Gray - 6LB
Gear Specs

Brand
Rogue Fitness
Made In USA
Yes
Product Weight
Varies, 4LB and 6LB
Diameter
10"
Material Type
Scuff-Resistant Coated Vinyl Shell & Nylon Thread Seam Construction
Infinity Compatible
Yes
Monster Compatible
Yes
Echo Compatible
Yes
Monster Lite Compatible
Yes
Product Description
Rogue Hoover Balls are smaller 10" diameter versions of our standard 4LB and 6LB Medicine Balls, and make great options for kids or newcomers to medball training. These balls also meet the competition size standard for the game of Hooverball itself—an old-school hybrid of volleyball, tennis, and medicine ball training that's been called "more strenuous than either boxing, wrestling or football" and effective at targeting "nearly every muscle in the body."*
Read More
Rogue Hoover Balls
Rogue Hoover Balls are smaller 10" diameter versions of our standard 4LB and 6LB Medicine Balls, and make great options for kids or newcomers to medball training. These balls also meet the competition size standard for the game of Hooverball itself—an old-school hybrid of volleyball, tennis, and medicine ball training that's been called "more strenuous than either boxing, wrestling or football" and effective at targeting "nearly every muscle in the body."*
Featuring a precision nylon thread seam construction with a moisture and scuff-resistant coated-vinyl shell, Rogue Hoover Balls are extremely durable and among the few modern medicine balls entirely constructed in the USA. The interior filling is substantial enough to help the ball keep its shape across repeated use, but also forgiving and flexible enough for athletes to safely stop or catch the ball at high velocity. The vinyl shell is gray (distinguishing these from the standard black Rogue Medballs) and includes exclusive Rogue branding in white.
A Little Background on the Sport of "Hooverball"
Named for the 31st President of the United States, "Hooverball" was created at the White House during Herbert Hoover's first year in office (1929) as part of a unique daily fitness regime for the president and his staff. The game (invented by Hoover's personal physician Joel T. Boone) is played by teams of 2-4 players on a volleyball-like court with an 8' high net and a 6LB medicine ball. Scoring is handled exactly like tennis, and the gameplay is similar. The server throws the ball, and the opponent(s) must catch it on the fly and immediately return it, attempting to put it where it cannot be reached and returned. The side that misses the ball or throws it out of bounds loses the point.
"It required less skill than tennis, was faster and more vigorous, and therefore gave more exercise in a short time," Hoover wrote in his Memoirs.
Hooverball still has a cult following, and an annual Championship tournament is held each year in West Branch, Iowa, home of the Herbert Hoover Presidential Library.
*Quote by Will Irwin, a friend of President Hoover, in Physical Culture magazine, 1931.
Gear Specs
Additional Specifications:
Made in the USA
Weight Increments: Varies, 4LB and 6LB
Diameter: 10"
Nylon Thread Seam Construction
Scuff-Resistant Coated Vinyl Shell
Color: Gray
Applications: Beginner / Kids Medicine Ball or Hooverball game use
See More: Medicine Balls Available from Rogue
Shipping
Rogue Fast Shipping
The Rogue Shipping System allows you to track your order from the time you place it to the time it hits your door. Order today, track today.
Reviews
Does the job
I wanted a 6# wall ball, I ordered wrong. I'm using it as a wall ball and it does the job so I'm happy. It probably deserves a 5 star rating it's well made and a great ball but not what I wanted Kiki
Yes, I recommend this product
Originally posted on roguefitness.com
Epic Battles Await
I bought this for two reasons: 1) using with my rugby teams for sand hoover ball; 2) for my 3 kids to use for "workouts". For both purposes, they have been awesome. With the ball being so small, the players can really throw it with more accuracy that increases the speed and workout. With a winner stays format, my players have been very competitive when we pull this out for our off field training. For my kids, they can use it for all the stuff an adult would use a regular size MB for. Really happy with this purchase.
Yes, I recommend this product
Originally posted on roguefitness.com
Great for kids!
Got 3 of the 4# for our kids classes. They are perfect for the younger ones who don't have the size and coordination for good consecutive Wall Balls yet, not to mention a couple of our 70 year-old ladies who don't need to get beat up by a Med Ball. It's a little more forgiving on your face. They are well made. I've also used them for my own shoulder warm-up movements as well. Just ordered a couple 6# as well.
Yes, I recommend this product
Originally posted on roguefitness.com
Made to last.
The brand is the best for a reason, the products are the top of the line. Very well constructed.
Yes, I recommend this product
Originally posted on roguefitness.com
#RYOUROGUE
Tag your photos on Instagram and Twitter with #RYOUROGUE for a chance to be featured in our gallery
View Full Gallery