Rogue 8' x 8' Oly Platform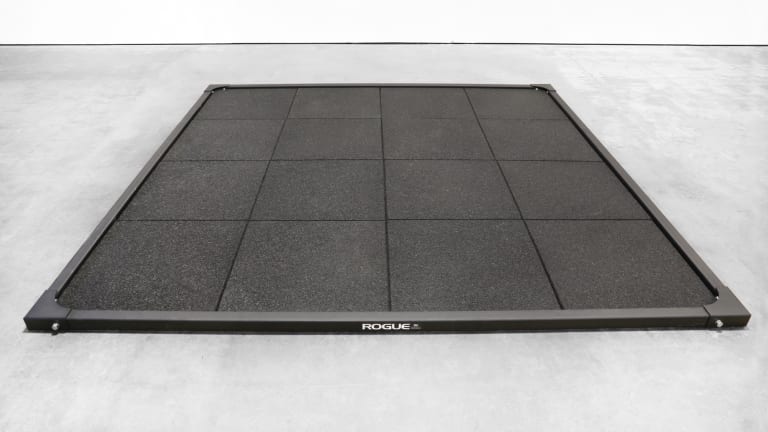 Rogue 8' x 8' Oly Platform
Rogue 8' x 8' Oly Platform
Rubber Tiles Sold Separately
Rubber Tile - Crumb Finish - 8 Pack
Rubber Tile - Crumb Finish - 16 Pack
Rubber Tile - Smooth Finish - 8 Pack
Rubber Tile - Smooth Finish - 16 Pack
Gear Specs

Brand
Rogue Fitness
Color
Black
Made In USA
Yes
Product Weight
110LB
Length
8' 4"
Width
8' 4"
Foot Print
8' 4" x 8' 4"
Material Type
Powdercoated Steel
Steel Notes
2x2" 11-Gauge Steel
Other Product Specs
Inside Dimensions - 8' x 8'
Product Description
Rogue 8' x 8' Oly Platform
Black
The 8'x8' features the same construction as Rogue's original 6'x8' Olympic Lifting Platform, but with an extra two feet of length for some additional real estate during your workout.
Made in the USA with 2x2" 11-gauge steel, the platform's frame bolts together easily with gusseted corners. From there, you can add a set of shock-absorbing rubber tiles to your order, available in your choice of a smooth or crumb finish. These tiles can be purchased in a full 16-pack, to cover the entire platform, or in an 8-pack—for customers who prefer to use their own plywood sheet in the center of the platform to finish the job (see photos above for examples of set-ups).
A dedicated lifter needs a dedicated space to hone their craft without killing their floors. The Rogue 8'x8' OLY Platform more than fits the bill.
Browse All: Weightlifting Platforms Available from Rogue
Gear Specs
Specifications
Olympic Weightlifting Platform - 8 ft x 8 ft training area
2x2" 11-Gauge Steel Frame: Made in the USA, Bolt-Together design, black w/ Rogue branding in white
Total Footprint: 8'4" x 8'4"
Black Rubber Tiles (import) sold separately: can be added to order in 8-pack or 16-pack, with smooth or crumb finish
Can also combine 2-foot sections of rubber tiling with plywood (not included) in center
Shipping
Rogue Fast Shipping
The Rogue Shipping System allows you to track your order from the time you place it to the time it hits your door. Order today, track today.
Reviews
Does its job but could be designed a little better
Tiles are good and provide the good sound reduction. I don't need to put plywood for solid platform to stand as tiles provide good support. The only thing that I didn't like is the frame. Frame is slightly bigger than 8' to accommodate bolt heads and that 1/4 extra inch makes it impossible to align tiles properly. May not be a big deal maybe but i always find myself trying to fix it before starting my workout. A small slot for the bolts could have fixed it, it is just a lazy design and for the price of it i was expecting a little better from rogue.
Originally posted on roguefitness.com
The best!
I bought this platform a few months ago and I just love it! It's so fun to train on. Easy to clean and easily accommodates two lifters with two barbells.
Yes, I recommend this product
Originally posted on roguefitness.com
Durable Top Quality
I ordered after the Holidays and this came in very quickly. I was on the fence about getting 8 rubber tiles and laying wood in the middle like a standard platform... I decided the hell with it and am going with an all rubber tile lifting platform. It all came in and I just knew they were top quality, judging from how heavy the tiles are. The setup was super easy and its an excellent durable product. My only gripe is it appears the tiles MAY not be "precision cut". I am going to look to rearrange today to see if I can get a more flush arrangement. If anybody has any recommendations, by all means!
Yes, I recommend this product
Originally posted on roguefitness.com
Perfect Garage Gym addition
I heavily considered building an Oly Platform from scratch and save a few bucks for my garage gym, but I eventually came around and pulled the trigger on the Oly platform with 8 smooth tile. Needless to say I am so glad I made that decision. Why not go for the best quality in the business, right? The platform is fantastic for noise elimination and can handle heavy drops with ease. I don't even have to think about my foundation getting damaged which is one of the top priorities for me. If you go with the 8 tile options, you will have to buy a couple sheets of 4' x 8' plywood separately for the center piece, which you can find at most local lumber warehouses. So far no complaints for all of my primary platform lifts (deadlifts, cleans, jerks, snatches). I may eventually fill the platform with rubber tiles down the road but I'm really enjoying the center wood piece. All in all - Full 5 stars!
Yes, I recommend this product
Originally posted on roguefitness.com
Great platform, glad I got it!
I just got the platform and put it together this weekend using the 16 rubber tiles package. Assembling the frame itself is super easy and a non-event. The first time I put the tiles into the frame there were some gaps between tiles as well as tiles out of alignment. I took all the tiles out and tried it again, starting by jamming a tile into each of the two back corners. I then put two tiles between those back corner tiles to complete the back row. Next I put 4 tiles very carefully in front of the two middle tiles in the back row, and then worked my way around the rest of the frame. This resulted in everything being well aligned and tightly packed with no gaps. The platform is a pleasure to use, with a very noticeable reduction in sound volume when I return a deadlift to the floor. It also works very well as a stable base for squats and the dense rubber pads provide a firm support for feet in lifting shoes. I put a Rogue Monster rack RM-4 on the platform and I still have plenty of room to deadlift outside the rack. Finally, the amount of odor from the rubber tiles is really very slight. I suspect this has to do with the "age" of the tiles after manufacture, and I guess I got lucky with ones that had time for volatile compounds to outgas.
Yes, I recommend this product
Originally posted on roguefitness.com
Love it.
This thing is great. Perfect for words, lifting...everything I need. Again do yourself a favor and just get 16 rubber tiles also. They are well worth it.
Yes, I recommend this product
Originally posted on roguefitness.com
Easy Set Up !
I bought this from Saudi Arabia, about 3 weeks ago, and its very easy to set up. Basically, I live in a place where there is a lot of dust because the weather is dusty, so sometimes my shoes leave a mark on the plat form which makes it look a bit dirty. But it was really easy to clean, with a towel or any surface cleaner. Most importantly, the smell of the rubber is really strong so make sure you air out the room or simply put a defuser or anything that changes the smell cause its pretty strong!! Finally it is very hard to move around so piece of advice is to make sure you know where you want to put it !
Yes, I recommend this product
Originally posted on roguefitness.com
Rogue Fitness Platform
This is my third purchase from Rogue, awesome as always, love it.
Yes, I recommend this product
Originally posted on roguefitness.com
#RYOUROGUE
Tag your photos on Instagram and Twitter with #RYOUROGUE for a chance to be featured in our gallery
View Full Gallery