Reactive Sling Shot
Shipping Deals
Gear Specs
| | |
| --- | --- |
| Brand | Super Training Products |
| Free Shipping | No |
| Made In USA | No |
| 3 Ships Free | Yes |
FAQs
This is a Sling Shot for the masses.
The Reactive Sling Shot will work for a lifter who benches 75 pounds to a big meat head who wants to bench 600. This Sling Shot will NOT impede on your form in anyway, it will actually improve your form. Novice lifters will be able to slide it on and enjoy moving heavier weights right away. The main difference between The Reactive Sling Shot (Blue) and the Original (red) /Maddog (black) is that the Reactive Sling Shot is more pliable, flexible, comfortable and a little easier to put on. The Reactive Sling Shot will allow you to train pain free so you can focus on the weights and not how much your shoulders and elbows hurt.
Use the Reactive Sling Shot for benching, pushups or for assistance on ring dips and Muscle Ups.
The Sling Shot was invented by world class powerlifter Mark Bell (545 lb. raw Bench, 854 lb. equipped Bench) to help lifters bench more weight safely and without pain. The Sling Shot is easy to put on, easy to use and will help maintain correct form. It is suitable for lifters of all ages and strength levels.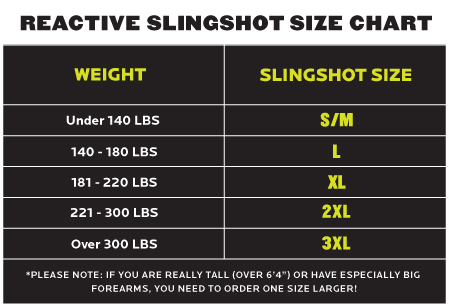 Reviews
Great for Scaling!
Review by
agutz
Quality
I will say, that being a female that struggles with some gymnastics pressing movements such as push ups and ring dips, the Sling Shot really helps emphasize good shoulder and elbow positioning, and offers a little assistance as well, which comes in handy during high volume workouts! I definitely recommend it!
| Review for:
Reactive Sling Shot
Gotta Get It
Review by
Diabetic Kid
Quality
This thing is awesome!!!! I received it four days after ordering it and absolutely love it. It takes away any shoulder pain I have and boosted my bench insanely. It's a must buy and should always be in your gym bag ready for use.
| Review for:
Reactive Sling Shot
Slingshot
Review by
Mike
Quality
Great product! Instantly boosted my bench press mark, which leads to strength gains do to confidence in feeling heavier weights. The Slingshot has instantly become my favorite tool to use on a bench day!
| Review for:
Reactive Sling Shot
Other Customers Also Viewed