GH-1 Rogue Abram GHD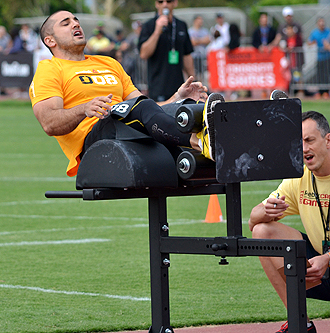 Jason Khalipa on the Rogue GHD at the 2011 CrossFit Games
Ships in 3-5 days.
Availability: In stock
Price
Qty
Gear Specs
Brand
Rogue
Product Weight
200 lbs.
Foot Print
70" x 40"
Steel Notes
2 x 3 steel construction
Upholstery
Vinyl │ Urethane Topcoat
Foam Type
Closed Cell Foam
Other Product Specs
Capacity: 500+ lbs.
Height
Foot Plates: 48.25"
Glute Pads: 41.5"
Free Shipping
No
Made In USA
Yes
3 Ships Free
No
FAQs
The Rogue Abram GHD, built like a tank.
Every feature that an athlete looks for in a Glute Ham Developer has been built into the new ROGUE Abram GHD. Fully adjustable and equipped to remain steady while generating peak power output, the ROGUE Abram GHD is the premier tool used to strengthen the hamstring and gluteus in way that is functionally transferable to an athlete's sport. The split pad is horizontally adjustable and the vertical position is in the ideal angle for peak muscle recruitment that will benefit any athlete who is training core-to-extremity power and strength. The most durable GHD on the Market.
Features:
Choice of Foam Roller Foot Pad or Upholstered Roller Foot Pad
2x3" steel construction
Wheels and handles for easy mobility
Split pad design with heavy duty moisture wicking upholstery
Upholstered ankle pads 1" adjustable increments on the foot pads
Holes for band pegs
Oversized laser cut 3/16" steel foot plate
Foot print: 70x40"
Band Pegs not included
Reviews
Top Shelf!
Review by
Timothy B.
Quality
This GHD is industrial! Ordered it for the home gym and could not believe how stout this thing is. Lifelong quality for sure.
| Review for:
GH-1 Rogue Abram GHD
beast!
Review by
Paul
Quality
I too was trying to decide to buy the rower or the ghd. Went with another amazing product from Rogue and won't ever regret. The ghd is so well built and sturdy that I can't imagine a situation it wouldn't hold up in. The pads are perfect as well!
| Review for:
GH-1 Rogue Abram GHD
Expensive, but worth it!
Review by
JerContact
Quality
I was debating between getting this machine or getting a rower for my garage gym. I'm sooo glad I decided to get the GHD machine. I use it almost every workout, and it's incredible. It was easy to put together and was worth the money. This thing doesn't move!!! I didn't want to deal with the noise of a cheaper GHD machine moving around because I live so close to neighbors (townhouse complex), so this was perfect. You won't be disappointed!!
| Review for:
GH-1 Rogue Abram GHD
Awesome
Review by
Jason
Quality
I've used a few difference GHD's and this is by far the best. Very happy with my purchase!
| Review for:
GH-1 Rogue Abram GHD
Built Rogue Tough
Review by
Bach999
Quality
I just received this GHD a few weeks ago and damn, this thing is solid. Everything works great and GHR's feel good on this machine. The only thing I could recommend for a more tailored fit would be an adjustable footpad, but other than that, a truly great product.
| Review for:
GH-1 Rogue Abram GHD
Solid, needs footpad adjustments
Review by
Travis
Quality
Great buy. Built like a tank. The footpads are a little too far apart, would be better if they were adjustable. Leather is tough but tends to crease. Other than that, outstanding. I would buy again.
| Review for:
GH-1 Rogue Abram GHD
Best GHD I've ever used
Review by
Triple J
Quality
I've used multiple GHD since I've been doing CrossFit. By far this has to be the best GHD I've come across. Everything from the simplicity of building it, right down to the pad design. Rogue has done there homework. A lot of GHD's are out there where you have to put sandbags or whatever you can find to keep the machine pinned to the floor to keep it from coming off the ground when performing sit-ups. With the Abram, anyone from your Chris Spealler's (155 @ best) to your Jason Khalipa (215lb) can get on this machine and it won't move. Now i'm sure a lot of people either don't have the money for it our rather go the cheaper route and buy 2 for the price of 1. Yes it is a expensive piece of equipment but you know what your getting with Rogue. The best piece of equipment out there. Good Job Rogue!!!
| Review for:
GH-1 Rogue Abram GHD
Solid
Review by
ben
Quality
Definitely the most solid GHD made... bar none. Worth the extra money
| Review for:
GH-1 Rogue Abram GHD
Great!
Review by
Scott
Quality
This GHD is so solid! I weigh 230 and this thing does not budge when im on it. I have used others from elite and york and they all had that wobble to them. Not the Abram. Like everything from Rogue it is top of the line, affordable, and made in the USA!
| Review for:
GH-1 Rogue Abram GHD
Good
Review by
Gene
Quality
We have these at my home gym. They are quite durable and easy to use. They are heavy and handle the abuse of a busy gym. The 2 part construction, however, is the only flaw. The connecting bolts come loose and they can start to wobble. If you don't mind an occasional tightening job, this is the machine for you.
| Review for:
GH-1 Rogue Abram GHD
Other Customers Also Viewed