Rogue Ohio Lifting Belt
Shipping Deals
Gear Specs
| | |
| --- | --- |
| Brand | Rogue |
| SKU | WL0002 |
| Width | 4" |
| Color | Brown |
| Thickness | 10mm |
| Other Product Specs | Vegetable tanned USA leather, single prong. |
| Straps, Wraps, Gloves & Belts | Belts |
| Free Shipping | No |
| Made In USA | Yes |
| 3 Ships Free | Yes |
FAQs
Ohio made heavy duty belt
The Rogue Ohio Lifting Belt is hand-crafted not to compete with the world of mass-produced, sporting-goods-store weightlifting belts, but to offer a stronger, longer-lasting alternative for customers serious about strength training and investing for the long haul.
One of the distinguishing features of the Rogue Ohio Lifting Belt is its vegetable tanned leather. Derived from the all-natural cowboy method of tanning hides, the vegetable tanning process can take weeks to complete, versus the mere hours of modern sole tanning. The reward for this painstaking effort, however, is a firm, ultra-durable, water-resistant leather weight belt with a rich, natural brown tone. The vegetable tanning process means you'll receive a belt with a softer feel that is just as strong as the rest, with a break-in time that is nearly nonexistent.
Because it bears the Rogue name, it goes without saying that this leather lifting belt is also Made in the USA and optimized for convenience, with a single-buckle design for quick, easy adjustments.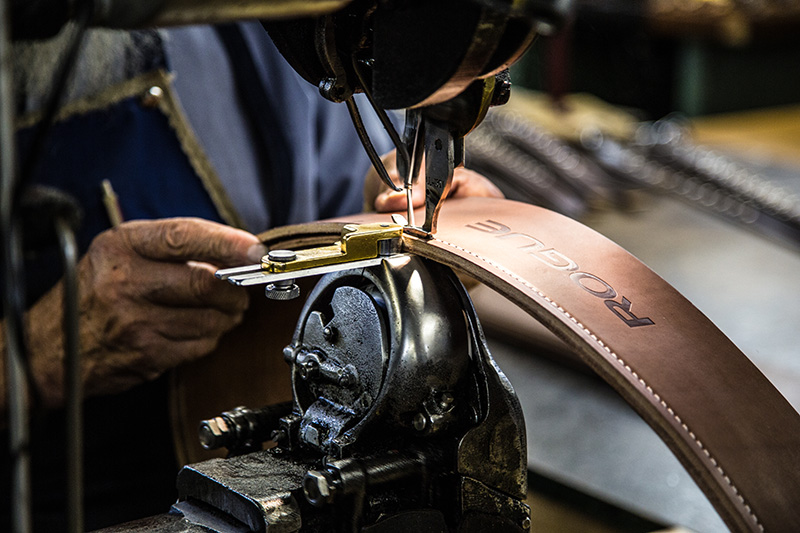 Sizing Chart- Measure with your clothing on around the area the belt will be worn.
| Measurement | Belt Size |
| --- | --- |
| 24" - 31" | S |
| 27" - 34" | M |
| 32" - 39" | L |
| 36" - 43" | XL |
| 40" - 47" | XXL |
Reviews
Killer Belt
Review by
MattS
Quality
This is a great belt to lift heavy with. For me personally it is way too wide to WOD in but for the days I just lift it is perfect. My only gripe is, within a week of owning the belt one of the rivets broke but doesn't seem to effect the integrity of the belt probably more cosmetic than anything. Still a 5 star product!
| Review for:
Rogue Ohio Lifting Belt
Worked like a charm!
Review by
Velasca
Quality
I have lower back issues (a few compressed discs) and am often a bit cowed by squat lifting heavy weight such as carrying a loaded yoke. I spotted my coaches left belt on the floor and asked him if I could use it. I cinched it up tight and lifted that yoke with such support! My lower back and abs felt GREAT! I highly recommend this piece of vital equipment if you suffer from lower back problems ....not a twinge! Thank you Rogue for a quality product at a great price!
| Review for:
Rogue Ohio Lifting Belt
Bomber!
Review by
Rich
Quality
Wanted this belt when it first came out, but my size sold out. Was able to order it this time around and just got it the day before yesterday. Used it immediately out of the box as it was heavy squat day. Perfect! No break in time, comfortable, and incredibly sturdy! Looks like it will hold up for life.
| Review for:
Rogue Ohio Lifting Belt
A true Gem.
Review by
Oliver
Quality
The Gear Specs are spot on. The attention to detail has made this belt as great to look at as it is functional, and the best part is, it is 100% American made! I would highly recommend this belt to anyone looking for something they may hand onto for a lifetime!
| Review for:
Rogue Ohio Lifting Belt
AWESOME
Review by
Flick45
Quality
Ordered this belt the day it came out, and of course it was at my doorstep within days. This bealt is great. No Break in time. its by far the most comfortable belt I've ever worn, I can only imagine it'll get better with time.
| Review for:
Rogue Ohio Lifting Belt
Other Customers Also Viewed