Competition Ring Straps
is rated out of
5
by
8
.
Rated

5

out of

5
by
Dave S
from
Awesome
I have had these for about a year now. The competition straps combined with wooden rings.........No better ring set-up available.
Date published: 2015-08-22
Rated

5

out of

5
by
ZAGNONI STEPHANE
from
GREAT
Really great competition straps, change for the height is really easy and fast. ROGUE FITNESS please do a ranger green and desert tan version !!! i will be great to choose
Date published: 2014-06-28
Rated

5

out of

5
by
Derek Denney
from
Great Solution
As with all Rogue equipment these are high quality and built to last. The carabiner system is much better and easier to use/adjust than the traditional ring mechanism. I had been using plastic rings for a long time and I can say the wood rings are 100% better!
Date published: 2014-06-08
Rated

5

out of

5
by
Jimmy Headwound
from
Great purchase
I would definitely buy these over the standard rings. You can take these anywhere you go string them up and bang out a WOD. I purchased the wood with the 8' straps also the d shaped carabiners make set up a breeze. Awesome Awesome Awesome!!
Date published: 2012-09-28
Rated

5

out of

5
by
S. Perry
from
Incredibly Versatile
When incorporating body weight exercises into your routine, rings are the hands-down superior answer. Having used various plastic rings with and without tape, the wood rings are by far the better option for me. They feel better on the hands and I rarely use chalk. After the first few workouts, the sweat from my hands caused the wood to expand just ever so slightly and brought out a great texture that makes the use of chalk almost unnecessary. The rings are an absolutely invaluable piece of equipment. These things work just about anywhere. Having the sewn loops and carabiners make for an easy adjustments without futzing around getting the length exactly right. The only niggly point I would make is that the loops could be sewn with an alternating color so that they are that much easier to adjust on the fly. I find that when using the rings for two alternating exercises that require different lengths for each exercise (say, inverted dips and suspended pushups) and adjustment between each set, it would be a little easier if the loops were 'color coded' somehow. Alternating stitching on each loop would solve this just fine. Again, this is nothing to complain about, just a suggestion. I have solved the problem myself by taping colored tape every third loop. This makes for easy reference points when switching over between sets.
Date published: 2012-07-27
Rated

5

out of

5
by
Roland
from
Great evolution provided by Rogue
Helped judge the Mid Atlantic Regionals and we used these. They were fast and stood up to a lot of heavy use. The athletes often commented on how much they preferred them. Another win for Rogue!
Date published: 2012-05-15
Rated

5

out of

5
by
Tom S.
from
best ring set I have seen.
I got the wood rings with this set of straps. Probably the best purchase I could have made. I got them so that I could work on ring dips and muscle ups, at the gym on base and they are well worth it. I thought about getting the other strap sets with the sliding locks, but didn't like the look or lack of solid length adjustment, and didn't want to waste time eyeballing proper length. again deffinately the best ring set you can get. and worth it.
Date published: 2012-03-30
Rated

5

out of

5
by
Anonymous
from
New Ring Straps Are Awesome!
We got the 8' ring straps at Verve and they are such an improvement! The adjustability and integration with the infinity rigs is just awesome. No more slippage. No more loose excess strap length laying around getting in the way. Just bomber straps with easy adjustment.
Date published: 2011-12-12
Product Safety Information
At Rogue we want to make sure that we deploy the safest products possible and provide our users with the best safety protocols we have available. Gymnastic ring straps are wear and tear items so inspection and disposal are imperative. We would like to offer the following safety protocols:
Pre Rigging Inspection:
1) All rigging must be checked prior to each use - Not doing these safety checks can lead to serious bodily injury or death
Check for frayed strap material or visible abrasion, such as fused fibers or cut strands

Check to make sure that buckle sets firmly on strap and there is no visible damage to the springs or excessively worn teeth in mechanism

Check all stitching points for frayed or broken stitching. Look for discolorations, "glazed" sections, or stiff sections

Do not leave straps in direct sunlight, exposed to weather, and always store straps in a clean and dry environment
2) All anchoring points for rigging must not have an abrasive surface or edge - Not doing these safety checks can lead to serious bodily injury or death
Make sure the surface you are putting the strap over or through is smooth - if the surface is abrasive it will break the straps

Make sure the contact point for the strap is a large surface with radius – avoid shearing surfaces and sharp edges

Make sure the anchoring point is strong enough to support both static and dynamic loads
3) Make sure you are rigging the competition ring straps per the instructions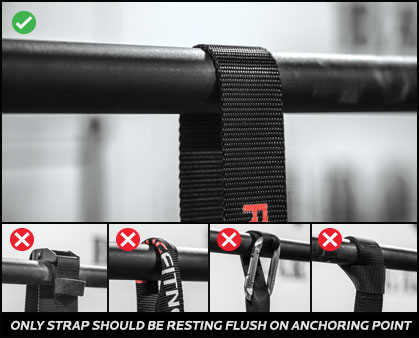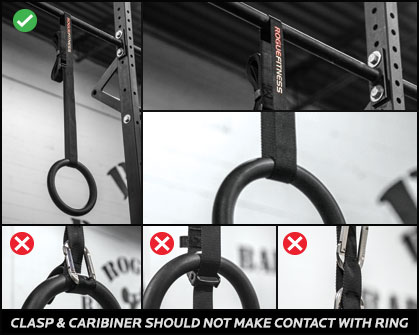 4) Do not use gymnastic straps or rings for purposes not intended for. Straps should ONLY be anchored to or through an appropriate anchoring point.
Gymnastic ring straps are wear and tear items, they must be inspected the same way any other rigging equipment would be done.
WARNING: some aspects of ring and gymnastic training are potentially hazardous and dangerous. Anyone using Rogue's equipment is personally responsible for learning proper techniques and exercising sound judgment, and assumes and accepts full and complete responsibility for any and all damages, injury of any kind, or death which may result from the use of any equipment purchased from Rogue. There is no substitute for personal instruction by a qualified coach or trainer. Train hard, not foolhardy.
Coming Soon
Notify me when in-stock.