Rogue Gymnastic Wood Rings
Ships in 3-5 days
Availability: In stock
Price
Qty
Gear Specs
Brand
Rogue
Color
No
Product Weight
4 lbs.
Diameter
1.25"
Material Type
Heavy Duty Black Nylon
Made In USA
Yes
Free Shipping
No
3 Ships Free
No
FAQs
Rogue Gymnastic Wood Rings
Rogue's Wood Gymnastic Rings offer athletes a texture, grip, and light feel thoroughly distinct from that of steel or plastic rings. Manufactured in Ohio, these rings hark back to the classic American wood gym rings of the past, while still integrating easily into any modern home gym or strength training facility.
Each set of wooden rings comes with Rogue's heavy-duty black nylon ring straps and buckle system, enabling quick, easy adjustments. Hang the ring straps from a crossmember in your gym or venture outdoors to use a swingset or stable tree branch as a foundation. Adaptability, portability, and reliability all help set Rogue Gymnastic Wood Rings apart.
Used in the last three CrossFit Games, Rogue Wood Rings are built to handle Olympic caliber ring dips, muscle-ups, back levers, front levers, pull-ups, scarecrows, ring push ups, ring rows, skin the cats, ice cream makers, and anything else you can throw at them.
Specifications:
Made in Columbus, OH, USA
Sold in sets of 2
Diameter: 1.25" standard or optional 1.11" FIG spec ring for athletes with smaller hands (FIG = International Gymnastics Federation)
Firm grip with or without chalk
Includes (2) 1.5" Heavy Duty Black Nylon Straps with Buckle*
16' Strap features VELCRO® brand fasteners to keep excess strap in one place
Rogue Wood Rings are designed for indoor or outdoor use when weather permits. Wood rings should never be stored outdoors or used in the rain. This wood item carries a 2 year warranty. Ring Straps are a consumable product and carry a 1 year warranty.
*Ring straps also available in desert tan and ranger green.
See Also:
Reviews
Excellent ++
Review by
Ira
Quality
I don't usually leave a lot of reviews. But I must say. These are the single best piece of equipment I have bought in my life. Had them for over two years now. Made solid oak rings at my shop, and unfortunately, the rogue rings are superior.
| Review for:
Rogue Gymnastic Wood Rings
LOVE THEM
Review by
Goose
Quality
I have had these rings for a few months now and i love them. i have used plastic rings before and the wood rings is the way to go. the grip and over all feel is much better. Thanks rogue.
| Review for:
Rogue Gymnastic Wood Rings
Great Rings
Review by
Brad Chase
Quality
I have used these rings and black plastic feeling rings.

The thickness on these definitely helps me with grip, I like it a lot better, but I do have bigger hands.

When you chalk up, these rings seem to have better grip.
| Review for:
Rogue Gymnastic Wood Rings
Quality
Review by
shawn
Quality
Great! The wood feel is amazing. I've been using them almost every day for the last 3 weeks and the feel is still like new. Very pleased with them.
thanks again rogue!
| Review for:
Rogue Gymnastic Wood Rings
Quality
Review by
Vil
Quality
Fantastic product! Extremely happy with it. My ceiling is all exposed trussing which works wonderful. Burlap wrapped around the beam and away we go. The man in my life was super excited that I bought these (for me) so he could use them too. He was a bit surprised there wasn't a Rogue sticker or promo swag in the delivery box though.....he was a sad panda.
| Review for:
Rogue Gymnastic Wood Rings
Outstanding
Review by
Igor
Quality
Simply put, both the rings and the straps are of excellent quality. I'd recommend these to anyone who wants quality equipment. One small, brilliant detail I'd like to highlight and that makes this so portable and easy to carry around are the small velcro straps attached to the large ones. Once you are done working out, you roll the large straps together and bind them with the small velcro straps, just like the way they were shipped. No mess, no tangling, just one small neat package.
| Review for:
Rogue Gymnastic Wood Rings
good stuff
Review by
BOB
Quality
Picked these out as gift for myself on my birthday, great quality and components! very happy
| Review for:
Rogue Gymnastic Wood Rings
Incredible
Review by
MattG
Quality
These rings were what made me a Rogue customer for life. First product I purchased, and still my favorite. I have used the straps to hang from tree branches, rafters, you name it. The rings hold chalk, look and feel amazing, and perform even better. Rogue rings for life.
| Review for:
Rogue Gymnastic Wood Rings
great quality!!!
Review by
D. L.
Quality
These rings were the first product I bought from rogue and I have not been disappointed! The wood swells over time to create a nice grip surface where chalk is not necessary! The straps are top notch and havent missed a beat through all of my abuse! Customer for life here!
| Review for:
Rogue Gymnastic Wood Rings
Best Product
Review by
Laddts
Quality
Purchased the Rogue wood rings and have to say they are by far the best rings I have used. The arrival of the rings was very prompt and ahead of schedule. The straps hold better than imagined. Recommend purchasing this product for any crossfitter.
| Review for:
Rogue Gymnastic Wood Rings
Other Customers Also Viewed
Product Safety Information
At Rogue we want to make sure that we deploy the safest products possible and provide our users with the best safety protocols we have available. Gymnastic ring straps are wear and tear items so inspection and disposal are imperative. We would like to offer the following safety protocols:
Pre Rigging Inspection:
1) All rigging must be checked prior to each use - Not doing these safety checks can lead to serious bodily injury or death
Check for frayed strap material or visible abrasion, such as fused fibers or cut strands

Check to make sure that buckle sets firmly on strap and there is no visible damage to the springs or excessively worn teeth in mechanism

Check all stitching points for frayed or broken stitching. Look for discolorations, "glazed" sections, or stiff sections

Do not leave straps in direct sunlight, exposed to weather, and always store straps in a clean and dry environment
2) All anchoring points for rigging must not have an abrasive surface or edge - Not doing these safety checks can lead to serious bodily injury or death
Make sure the surface you are putting the strap over or through is smooth - if the surface is abrasive it will break the straps

Make sure the contact point for the strap is a large surface with radius – avoid shearing surfaces and sharp edges

Make sure the anchoring point is strong enough to support both static and dynamic loads
3) Make sure you are rigging the competition ring straps per the instructions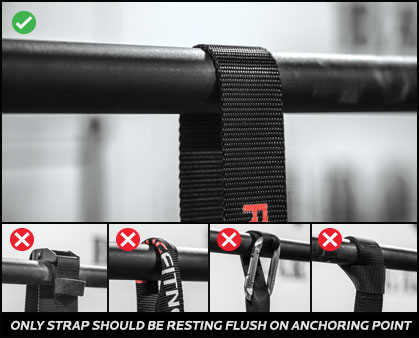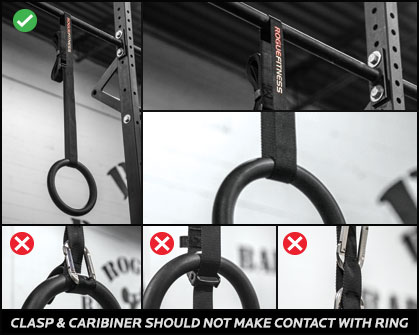 4) Do not use gymnastic straps or rings for purposes not intended for. Straps should ONLY be anchored to or through an appropriate anchoring point.
Gymnastic ring straps are wear and tear items, they must be inspected the same way any other rigging equipment would be done.
WARNING: some aspects of ring and gymnastic training are potentially hazardous and dangerous. Anyone using Rogue's equipment is personally responsible for learning proper techniques and exercising sound judgment, and assumes and accepts full and complete responsibility for any and all damages, injury of any kind, or death which may result from the use of any equipment purchased from Rogue. There is no substitute for personal instruction by a qualified coach or trainer. Train hard, not foolhardy.