Bear Komplex 3 Hole Hand Grips - Froning R* Edition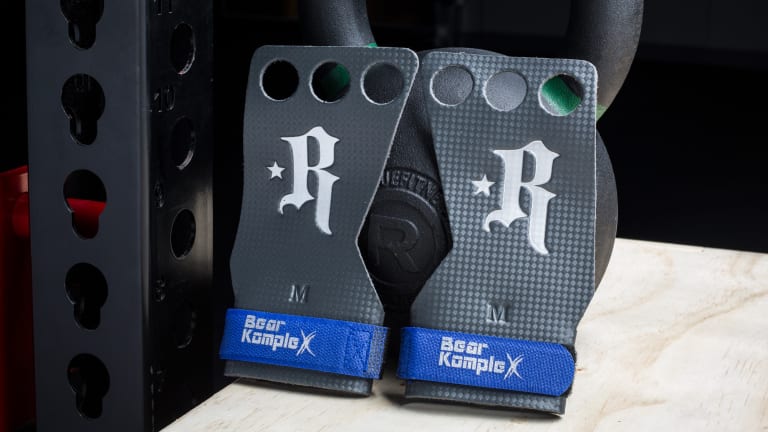 Bear Komplex 3 Hole Hand Grips - Froning R* Edition
Gear Specs

Brand
Bear KompleX
Color
Black
Made In USA
No
Material Type
Composite/Synthetic leather
Product Description
Available exclusively from Rogue, the Rich Froning edition of Bear KompleX's 3-Hole Hand Grips meet the personal standards of the 4-time "Fittest Man on Earth."
Read More
Bear Komplex 3 Hole Hand Grips Froning R* Edition
Available exclusively from Rogue, the Rich Froning edition of Bear KompleX's 3-Hole Hand Grips meet the personal standards of the 4-time "Fittest Man on Earth."
Utilizing a patented Carbon Comp design, these dynamic weight training grips are optimized for slick and powder-coated bars and handles. Even without chalk, the triple-stitched Composite/Synthetic leather creates a consistent stick, helping prevent slipping while also protecting your hands/palms during pull-ups, muscle-ups, kettlebell swings, deadlifts, snatches, and just about any other movement known to cause rips and abrasions.
Like all BKX Grips, the Froning Grips also include a custom wrist strap, positioned beneath the buckle, that provides ample support without digging uncomfortably into your wrist. The official Froning "R" logo is embossed into the grip itself.
See Also: A 2-Hole version is also available (w/ Standard Branding).
Gear Specs
Specifications:
Sold in Pairs
Patented Composite/Synthetic leather Design
Finger Holes: 3
Custom hook-and-loop wrist strap
Rich Froning "R" logo
Color: Black
Important: DO NOT use or chalk these grips until you ensure the grips are the correct size. Sizing is approximate and often times a personal preference, so please keep in mind that you cannot return the grips once they have been used. Place your index, middle, and ring finger into the holes and adjust the velcro strap comfortably around your wrist. You should be able to nearly open your hand fully so the leather lies flat in your hand.
Browse More: Hand Protection Accessories Available from Rogue
Fit Guide
Sizing Guide:


| size | s | m | l | xl |
| --- | --- | --- | --- | --- |
| Measurement | 3.75" to 4.25" | 4.25" to 4.75" | 4.75" to 5.25" | Over 5.25" |
Find your hand/wrist connection. This is where your hand and wrist meet (you should see a creased line there). This is the point to start measuring from.
Be sure your hand and fingers are totally straight and flat. DO NOT cup your hand or stretch your fingers backward.
Measure from the wrist/hand connection (where you see the crease) to the base of your middle finger. Be precise and don't round up or down.
*** The leather grips will stretch slightly***
Shipping
Rogue Fast Shipping
The Rogue Shipping System allows you to track your order from the time you place it to the time it hits your door. Order today, track today.
Frequently Bought Together
Bear Komplex 3 Hole Hand Grips - Froning R* Edition
Rogue Kit Bag
Reviews
Great grips!
I have used these for about a month now and LOVE them! my hands have gotten a nice break and the grips hold up very well. Highly recommend
Yes, I recommend this product
Originally posted on roguefitness.com
Love the grips; Quality questionable
This is my second pair of these grips. I gave it a 4/5 because I love the feel and look... but I am burning through them quick. Significant beating on the grip and I've only been using them for 2 months... I feel like they should last longer than a couple months...
Yes, I recommend this product
Originally posted on roguefitness.com
It ripped the second time I used it.
Unfortunately my grip showed execive wear from the second use. Grip is incredible, it grips the bar very well, however, unfortunately my grip showed excessive wear from the second use. I've been using it for approximately 1 month and it almost doesn't have the carbon fiber coating anymore. Probably won't last another 1 month.
Originally posted on roguefitness.com
Response from Rogue Fitness:
Dec 2022
Thank you for your feedback and we're sorry for any issues. We will have the team take a look at this.
Best Pair Yet
I bought these grips a month ago and I am extremely satisfied. Significantly better grip than the older, brown leather style Bear Komplex grips. Would purchase again.
Yes, I recommend this product
Originally posted on roguefitness.com
Perfect grip
I bought them to replace the worn out rogue ones and my grip in gymnastics is on another level!
Yes, I recommend this product
Originally posted on rogueeurope.eu
Best grips I have owned
Simply the best grips I have owned. Very comfortable and gives good grip and protection for your hands. Yksinkertaisesti parhaat lämsät mitä olen omistanut. Erittäin miellyttävät pitää ja antavat hyvän suojan käsille ollen kuitenkin pitävät.
Yes, I recommend this product
Originally posted on rogueeurope.eu
Disappointed
I'm not here to bash bear complex just these grips. I've not an athlete just your average cross fitter. Had these grips for a year, with everything going on may have used them six months. The biggest down fall for me is they aren't grippy at all and my hands slide and I end up tearing. Also I've already tore chunks out of them where you can not see the R anymore. I had better luck with my leather ones.
Originally posted on roguefitness.com
Amazing features
I bought these a month ago and there absolutely amazing
Yes, I recommend this product
Originally posted on roguefitness.com
#RYOUROGUE
Tag your photos on Instagram and Twitter with #RYOUROGUE for a chance to be featured in our gallery
View Full Gallery