Monster Slinger Solo Pulley Attachment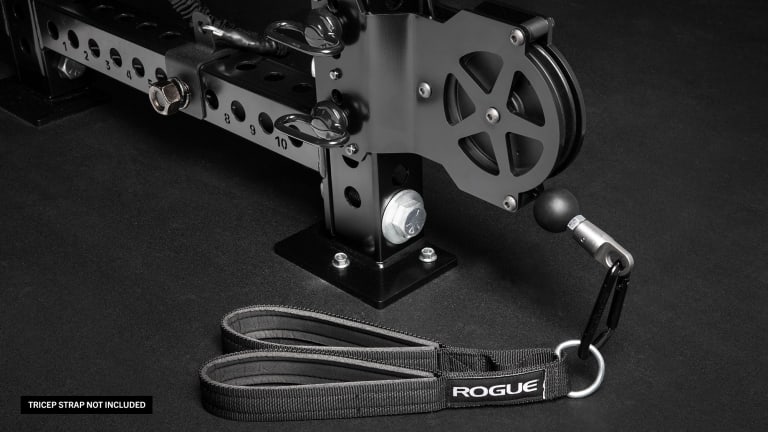 Monster Slinger Solo Pulley Attachment
Gear Specs

Brand
Rogue Fitness
Color
Black
Made In USA
Yes
Product Weight
18LB
Length
11.5"
Width
4"
Height
7.5"
Product Description
Monster Slinger Solo Pulley Attachment
The Slinger Solo Pulley Attachment is a simple add-on for your existing Rogue Monster Series rack and is designed to be paired with the Monster Slinger (sold separately). If you own a Monster LITE rack and Slinger, we also offer a Monster Lite version of the Solo Pulley Attachment.
This unit can be used with with Band, Plate Load, and Weight Stack styles of the Slinger, as well as 90", 100", and 108" Monster power racks. Once assembled, it can be mounted to an upright using the included pair of removable detent pins, or permanently installed with bolts (not included). Users can then easily move the Solo Pulley Attachment vertically along the upright depending on their own height and which exercise they wish to perform.
Made in the USA and equipped with 1/4" thick steel mounting plates and a 1/4" MIL Spec cable, this attachment instantly gives athletes more movement compatibility out of their Slinger system, and a new way to perform low rows, face pulls, bicep curls, and more.
The complete kit includes:
(2) 1/4" thick Steel Mounting Plates (MG Black finish)
(1) 6" Cable Pulley
(1) 1/4" MIL Spec Cable with Rogue-made hardware
(1) Carabiner
(2) 1" Detent Pins
All necessary hardware
Gear Specs
Specifications:
Made in the USA
Compatible with Monster units and the Monster Slinger (Band, Plate Load, or Weight Stack)
Product dims when assembled: 11.5" L x 4" W x 7.5" H
Extends 8.8" from face of upright when mounted
UHMW Plastic inside the channel to protect uprights
Finish: MG Black Powder Coat
User Assembly Required*
*Tools Required for Assembly:
5/32" ALLEN WRENCH
7/16" WRENCH
7/32" ALLEN WRENCH
9/16" WRENCH
Shipping
Rogue Fast Shipping
The Rogue Shipping System allows you to track your order from the time you place it to the time it hits your door. Order today, track today.
Reviews
Great idea, poor execution
I've had this for almost a year now and it is borderline useless, the cable is too long or too short to do anything you would like to do from crossovers, or biceps. if you want to do low-rows, you would be better off getting the low row attachment for the lat pull down seat. A swiveling pulley would be a tremendous help for all slinger items.
Originally posted on roguefitness.com
Buy - Add to cart - Place Order
Solid. This is it. Great add to Monster Rack. Swivel connection at rack would help 🧐 Cross-over ability please
Yes, I recommend this product
Originally posted on roguefitness.com
Great option for home gym
I purchased the solo pulley attachment a few months ago to use in conjunction with my monster slinger. I'm glad I did, it's a great option for a home gym. I perform cable rows with it on most back days. I've also purchased a couple small cables that can utilized to perform cable side raises and bicep curls. Great purchase for a home gym with a small footprint.
Yes, I recommend this product
Originally posted on roguefitness.com
#RYOUROGUE
Tag your photos on Instagram and Twitter with #RYOUROGUE for a chance to be featured in our gallery
View Full Gallery