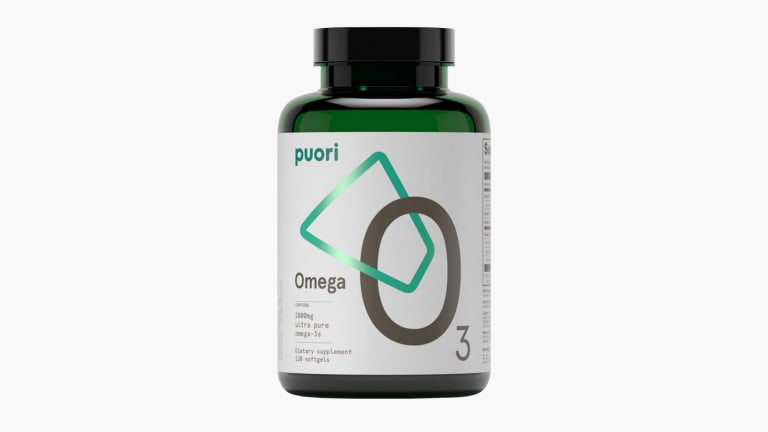 Gear Specs

Brand
Puori
Made In USA
Yes
Servings
120 Capsules
Product Description
By utilizing technology, such as molecular distillation, we have obtained extremely low contaminant levels and a high concentration of EPA and DHA
Read More
By utilizing technology, such as molecular distillation, we have obtained extremely low contaminant levels and a high concentration of EPA and DHA.
Pharmaceutical Quality
Each capsule contains min. 74 % Omega-3 fatty acids in a 5:2 EPA/DHA ratio.
Ultra Pure
Puori Omega-3 is made from small fish and is molecularly distilled to reduce mercury, PCB and dioxin levels.
5 Stars
Puori Omega-3 is certified and tested for purity and freshness by the independent laboratory IFOSn (International Fish Oil Standards) and is awarded 5 out of 5 stars.
Consistent Quality
Each batch undergoes individual examinations and must live up to strict quality requirements.
Great Lemon Taste
Flavoured with natural lemon oil. Black Capsules The black capsules protect the fish oil from sunlight and ensures freshness. Each bottle contains 120 capsules and the recommended daily serving is 3 capsules.
Shipping
Rogue Fast Shipping
The Rogue Shipping System allows you to track your order from the time you place it to the time it hits your door. Order today, track today.
Frequently Bought Together
Puori O3
Rogue BlenderBottle Radian Insulated Stainless Steel
Reviews
Great quality!!
I tried it for the first time and its a great product!!
Yes, I recommend this product
Originally posted on rogueeurope.eu
Fish Oils
One the best fish oils on the market!!! This stuff keeps me young an my joints lubricated!!! Great for powerlifters an bodybuilders an athletes!
Yes, I recommend this product
Originally posted on roguefitness.com
High quality product
I've been using this product since 2013 and love it! High amount of O3 in the daily dose, and high Quality fish oil that don't give you the fishy burps that other products do. Thumbs up!
Yes, I recommend this product
Originally posted on rogueeurope.eu
#RYOUROGUE
Tag your photos on Instagram and Twitter with #RYOUROGUE for a chance to be featured in our gallery
View Full Gallery