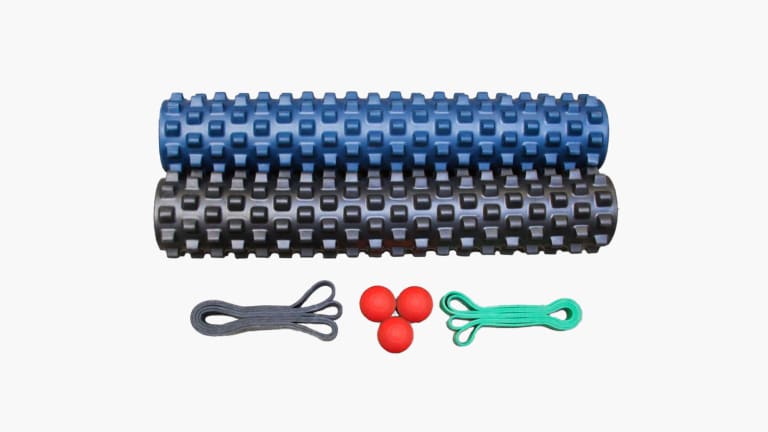 Kit includes: (1) #3 Band, (1) Lacrosse Ball
Kit includes: (1) #4 Band, (1) Lacrosse Ball
Kit includes: (1) #3 Band, (1) #4 Band, (1) Lacrosse Ball
Kit includes: (1) #3 Band, (1) #4 Band
Product Description
You can choose from three combinations each containing a Lacrosse Ball and one or two Rogue Fitness Monster Bands. Kitted out to help you do some of the intense stretching and flexibility exercises from MobilityWod
Read More
Rogue Mobility Packs
You can choose from three combinations each containing a Lacrosse Ball and one or two Rogue Fitness Monster Bands. Kitted out to help you do some of the intense stretching and flexibility exercises from MobilityWod
If you would like to order additional Rumble Rollers Click Here
Inspired by mobilitywod.com
"Every human being should be able to perform basic maintenance on themselves. You know what to eat, how to train, and what to do if you have a cut; you should also know how to fix your tight hips, painful knees, and stiff shoulders, and how to make yourself faster and more powerful. It's too much to mobilize everything, all the time, everyday. Start somewhere"
- Kelly Starrett
Reviews
Great Package!
I bought this last month to add to my garage gym. I am so happy with this package! Mobility is a huge part of fitness and rouge makes amazing products! Massage roller is great for post workout. Lacrosse ball is great to pin point pressure points and I use it as well to get my traps and chest loosen before lifting.
Originally posted on roguefitness.com
Great tools
I bought this a few weeks ago and they have been great for my mobility and recovery. There is nothing like taking lacrosse ball and digging it into those super tight areas and relieving the pressure. The bands are great for mobility work and preworkout warmups. I would definitely recommend anyone who is serious about their mobility and recovery to start building their mobility toolset with this.
Yes, I recommend this product
Originally posted on roguefitness.com
#RYOUROGUE
Tag your photos on Instagram and Twitter with #RYOUROGUE for a chance to be featured in our gallery
View Full Gallery