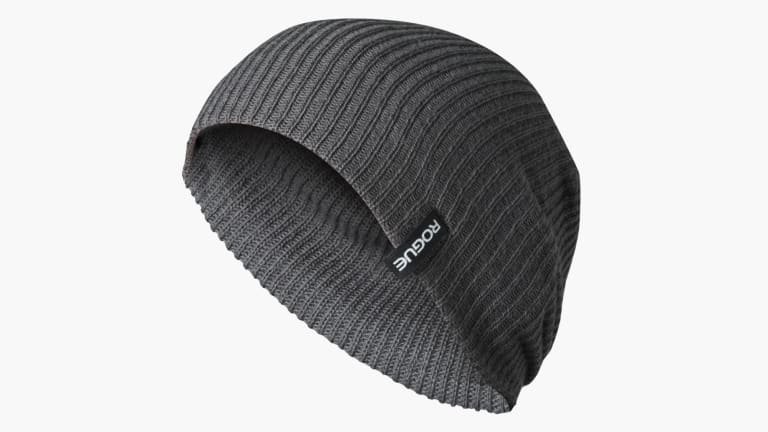 Gear Specs

Brand
Rogue Fitness
Color
Charcoal
Made In USA
No
Material Type
100% Soft Acrylic Knit
Product Description
Made from a 100% soft acrylic knit with a half-cardigan stitch, the Pilot Beanie is one-size-fits-all, and includes a Rogue logo tag sewn into the lower front portion.
Read More
Gear Specs
Specifications:
Knit from 100% soft acrylic yarn
One Size Fits All
Color: Charcoal
Rogue logo tag
Shipping
Rogue Fast Shipping
The Rogue Shipping System allows you to track your order from the time you place it to the time it hits your door. Order today, track today.
Reviews
Great fit!
I bought this a month ago and it has been the best in between beanie. It a lightweight hat that's perfect for cooler mornings!
Yes, I recommend this product
Originally posted on roguefitness.com
Picture doesn't represent length
Disappointed this beanie is so long. The photo on website is misleading in my opinion.
Originally posted on roguefitness.com
Response from Rogue Fitness:
Apr 2022
We are sorry to hear you are disappointed in this item and appreciate you providing this feedback. Our team will be reaching out to you via email shortly.
Longer than in the photo, very light wool
Bought a Rogue beanie years and years ago. Thick wool, a fits perfectly with no turn up required. The new one are much thinner and so long.
Originally posted on rogueeurope.eu
Really disappointed
Honestly surprised Rogue puts their name on something this low quality. Consistent with something you would find in a Dollar store.
Originally posted on roguefitness.com
Fit and feel is excellent
I am a beanie freak, but at the same time I am extremely picky about my beanies in many ways. 1 -wear and tear- I wear beanies out, I wear them and fall asleep in them, I work out in them, I put them on and take them off over and over, I put them in my back pocket, I put them in my backpack, I basically beat the hell out of them. This beanie has gone through a week of that and I am happy to say there have been no fraying, frizzing or visual damage changes. 2 - comfort- This thing is very thin and soft, And does not squeeze my head. The comfort level of this is a 10 out of 10. 3 - look- It clings to my head without bagging out on the sides, It doesn't pop up at the top like a lot of my beanies do. Basically I don't have to soak this in hot water and then cling it to my head to get it to shape to my head the way I like (which is what I do for beanies I like that don't fit to my head correct). I hope these bits of info help people in purchasing this beanie. As I absolutely love it and it's a day-to-day daily beanie for me now. I may order another one for sleeping in in winter. Great product aesthetically pleasing and pretty tough.
Yes, I recommend this product
Originally posted on roguefitness.com
Soft and fitted
Love this soft and fitted beanie. Looks great and isn't thick or bulky. Soft and comfortable
Yes, I recommend this product
Originally posted on roguefitness.com
Love my beanie
I love my beanie but it's more like a regular winter hat because my melon is so big. It's kept me warm during this crazy Texas cold spell.
Yes, I recommend this product
Originally posted on roguefitness.com
Good beanie
I have a pretty normal sized head and it fits really well. If I want it to sit close to the top of my head I need to fold the rim. It's a little long as shown in the pic. Slightly on the thin side (my preference) and is perfect for North Carolina winters.
Yes, I recommend this product
Originally posted on roguefitness.com
#RYOUROGUE
Tag your photos on Instagram and Twitter with #RYOUROGUE for a chance to be featured in our gallery
View Full Gallery