Rogue Adjustable Monolift - Monster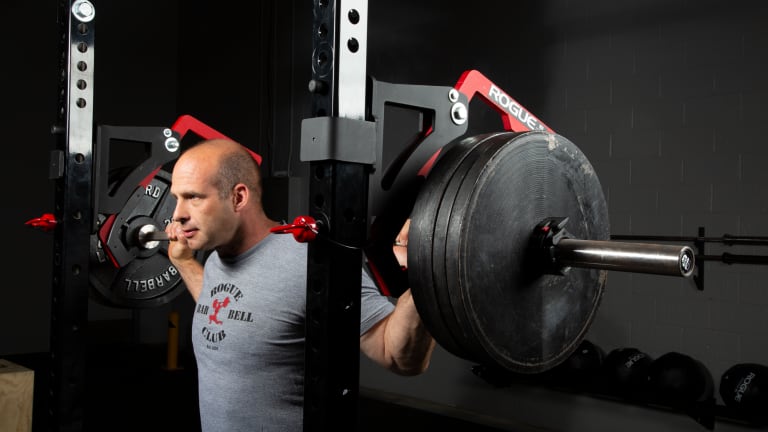 Rogue Adjustable Monolift - Monster
Gear Specs

Brand
Rogue Fitness
Color
Black
Made In USA
Yes
Product Weight
64LB (Pair)
Width
3" , 2.75" Jaw depth
Height
19" , 1.25" Jaw height
Material Type
0.5625" Thick UHMW Protective Plastic
Steel Notes
0.75" thick steel Jaw
Other Product Specs
Tested at 1000+LB
Monster Compatible
Yes
Product Description
The Rogue Adjustable Monolift attachment is a great cost-efficient alternative to expensive, full-scale monolift units, giving athletes a way to perform heavy-weight squats and other lifts without having to walk the bar out from the rack.
Read More
Rogue Adjustable Monolift – Monster
The Rogue Adjustable Monolift attachment is a great cost-efficient alternative to expensive, full-scale monolift units, giving athletes a way to perform heavy-weight squats and other lifts without having to walk the bar out from the rack.
Compatible exclusively with Rogue Monster Series rigs and racks (separate Infinity and Monster Lite versions are also available), the fully redesigned Monolift includes a simpler, J-Cup-style pin system for easier height adjustments and quicker transfers from one athlete to the next. We've also reduced the overall size of the brackets and added new UHMW plastic liners along the hooks, clasps, and back of the unit to better protect both the barbell and your uprights.
Each Adjustable Monolift set includes a pair of rack-mounted brackets with 0.75" thick steel Jaw hooks. These hooks are designed with special counterweight handles at the top, so when you lift a barbell off the Monolift, the hooks will swing several inches back toward the rack and stay there. This clears up enough extra space to go straight into your workout, and also enables safe re-racking, as the slanted angle of the unloaded hooks makes it easy to guide the bar in, swinging the Monolift back into its original position. A pair of 1" hitch pins is also included in every order to lock the unit into place and prevent any unwanted swinging out.
Height adjustments can be made in increments as small as 1", and with Rogue's unique design—featuring a "backstop" bolt above each primary hook bolt—the Monolift cannot move further away from the rack while the user is setting up. This feature is not found on comparable attachments on the market.
Please Note: Please Note: While the Rogue Monolift Attachment can be safe for solo use, it's always recommended to have spotters available for heavier lifts. Rogue also highly recommends mounting the Monolift to a rack or rig that's securely fastened to the floor and/or wall.
*Compatible with nearly all standard barbells, as well as some specialty bars like the Camber Bar and Safety Squat Bar.
See Also:
Rogue Monolift Attachment for Monster Lite & Infinity Series
Rogue Rack-Mounted Monolift for Monster Lite & Infinity Series
Gear Specs
Specifications
Made in the USA
Sold in Pairs
Ships fully assembled
Compatible ONLY with 3x3" Monster rigs and racks
Height: 19" , 1.25" Jaw height
Depth: 3" , 2.75" Jaw depth*
0.75" thick steel Jaw
0.5625" Thick UHMW Protective Plastic lining on hooks, clasps, and back of unit
1" Mounting Pin, J-Cup-style set-up
1" Hitch Pins for locking unit in place
Color: Black and Red
Shipping
Rogue Fast Shipping
The Rogue Shipping System allows you to track your order from the time you place it to the time it hits your door. Order today, track today.
Reviews
Makes working out solo easier
So far, just used these for bench. No need for lift off. Just get set up where you want before lifting and then lift straight up and then down. Re rack by pushing back behind your head. These would be great for squats and shoulder presses too.
Yes, I recommend this product
Originally posted on roguefitness.com
Must have
Have been using these for a few months and is definitely a game changer on heavy squats. Using it for bench is nice too but this thing is worth it's weight in gold for squats. Only issue is I have to hang tighten the bolts on the side of the monolift. Would like to know if that's a common issue or just an issue for mine. Besides that still worth the price!
Yes, I recommend this product
Originally posted on roguefitness.com
Almost perfect
I had the monolifts for a couple of months now and would have given the Rogue monolifts 5 stars but the stickers instead of laser engraving their name is cheap for what these cost (on the higher end priced compared to other companies who laser engrave their versions. Additionally, the powder coating on the inch rod that connects the mono's into the rack was too thick and difficult to get in and out. You can file it down a little with sandpaper or over time they will get filed to the right size after pulling them out and putting them back in the rack eventually. Other than those they're awesome and protect your shoulders on bench lifts and allow heavy stacking on squats without the unrack re-rack fears.
Yes, I recommend this product
Originally posted on roguefitness.com
Awesome for bench, squat depends on preference!
Been using this for a month solid now, and loving it overall. As with most Rogue stuff, it's beefy and overbuilt. Be aware that while being adjustable is great, they aren't exactly "light" like Jcups you can just throw around. For bench, I absolutely love these. Working out alone, at home, having a pseudo-handoff is amazing. I'll never bench without them again unless I'm dropping in at a commercial gym. For squats, it's going to come down to preference. Personally, I'm not a huge fan. It's great to be able to start off in position, but I feel way, way too close to the uprights after years of walking back. And on max effort, if your forms breaks down enough, I've tapped the buckle on my straps with the edge of a deep dish 45. Just barely touches and definitely bad form, but it's not pleasant. Overall, 5/5 stars because the only "downside" is due to my personal training preference. Definitely a "luxury item" that I've immediately loved and do not regret. If you're on the fence, give it a shot. You won't go back.
Yes, I recommend this product
Originally posted on roguefitness.com
Great fit
For anyone who has a power rack with the depth of 24inches this will fit! It may look like it done but it will.
Yes, I recommend this product
Originally posted on roguefitness.com
Love these!
These are amazing! Use them on my Griffin GR3 rack (rep pr5k basically). The bottom pin doesn't go in, but I've never needed it. These are great for bench and squat!
Yes, I recommend this product
Originally posted on roguefitness.com
Great product, shoulder saver!
Great quality, didnt skimp out on anything as far as i can tell. Definately exceeded my expectations. Fantastic for any seated overhead press work, incline and bench. Love the fact its adjustable. For sure a shoulder saver! Definately recommend for anyone
Yes, I recommend this product
Originally posted on roguefitness.com
Solid equipment - works well for its purpose
Finally pulled the trigger and bought the monster adjustable monolift. I've never used equipment like this before, so I'll try to discern between what I think are critiques of ANY monolift in general, versus critiques of these Rogue Monster ML specifically. Also, I use these inside my modified RM-6, which has a reduced-depth main section (30" deep...same as an RM-3); there's plenty of room to use them, unless you intend to have j-hooks on the opposite side too. IN GENERAL FOR BENCH PRESS: These are great for bench press. They allow you to have the bar positioned where you perform the lift, instead of back over your face, which means you can unrack the bar, and press without having to worry about re-positioning. It practically eliminates the need for a spotter lift-off. This is awesome for us old guys who need to minimize risk to the shoulder joint. Then when you go to re-rack, you basically do that in the same way you would with traditional equipment: lock-out, and bring the bar backwards into the catches. IN GENERAL FOR SQUATS, I find these to be unnecessary, and possibly even dangerous. First: I believe the "step back" from the rack to be an important part of training; forces you to control a heavy weight on your back while you position yourself, and unless you're truly going for a 1RM or at a competition, to me this is a good thing. So a monolift removes that benefit. Second: with the bar swaying freely prior to unracking, it is difficult to get the bar positioned correctly, especially with a low-bar back squat. When the bar is resting motionless on a normal set of j-cups, I'm able to squirm and wriggle and get the bar nice and low on my back, which is tough to do as the bar swings. Third: I need to set the bar lower than i might in a traditional set of j-cups, and that has a downside when you go to re-rack because you end up having to stoop/squat the bar back, and that can be dangerous. I guess if you're truly squatting massive weight, and the danger and exertion from the step-back are really a factor, then there is benefit here. But for normal workout loads, I think the difficulty with initial positioning, and the risks with re-racking outweigh this benefit Aside from bench press and squats, I'm not sure I see the other uses. I don't generally do inclines, so they may help there too. For OHP, you're generally not working with a weight where this really provides a benefit, and the counter-weight arms would kind of be in the way. SPECIFICALLY FOR THE ROGUE MONOLIFT. Build quality is fantastic, as usual for all Rogue monster equipment. Really heavy-duty and well-made. Fits my Monster 3x3 posts like a glove, and the detente pins secure it nicely (although I don't even think you need them). The arms swing great and get out of the way once you un-rack. This thing does what it's supposed to do. It mounts and unmounts just like a regular j-cup, other than the fact that it's MUCH heavier (by necessity). Need two hands to mount this thing, but other than that, it's simple and quick. My ONLY critique here is that the "lip" is on the small side compared to a normal j-cup. While this is an advantage on un-racking, it requires a little more focus/precision when re-racking. So if you're straining to lock out a heavy bench press, it's a little extra anxiety to have to worry about that. Also, the thick UHVM plastic liner causes a bit of rebound if you re-rack aggressively, so that exacerbates the risks of the smaller lip. At the end of the day, what I'm saying is: the design/dimensions/materials of this cause you to have to be a little more careful / precise with re-racking your bench or squat -- you can't just slam the bar back against the post and trust that the lip will catch it. It's not the end of the world, but it does require a little more care and focus when re-racking. This thing is fantastic for making the unrack/lift-off better and more convenient, but I think more could be done on the design to make the re-rack easier and safer. I don't know if the need for this smaller lip is a function of the dimensions of the arm (i.e., if the monolift arm were longer, could you then have a deeper lip?), but I'd encourage Rogue to scrutinize this design and improve it for re-racking. So in summary: I think this is extremely useful piece of equipment for bench-press, and for squat if you are working at max weights and worried about the step-back. The build quality is beyond excellent on par with Rogue's Monster line. I think the design/dimensions are great for the lift-off/unracking stage for bench press, but could use some re-thinking to make the re-racking easier and safer. And the set-up for a low bar back squat is more difficult than with traditional j-cups (though I think that's just for monolifts in general and not specific to Rogue's).
Yes, I recommend this product
Originally posted on roguefitness.com
#RYOUROGUE
Tag your photos on Instagram and Twitter with #RYOUROGUE for a chance to be featured in our gallery
View Full Gallery