Rogue R-4 Power Rack
Ships in 3-5 days.

Availability: In stock
Price
Qty
Gear Specs
| | |
| --- | --- |
| Brand | Rogue |
| Color | Black |
| Product Weight | 250 lbs. |
| Height | 90 |
| Foot Print | 53 x 53 |
| Steel Notes | 2 x 3 11 Gauge |
| Power Racks | 2x3" Steel |
| Made In USA | Yes |
| Free Shipping | No |
| 3 Ships Free | No |
FAQs
The Rogue R-4 Power Rack
Big brother to the Westside Barbell inspired Rogue R-3, The R-4 Power Rack offers a larger footprint and more space inside the rack. Whether for a Garage gym, or for college strength and conditioning format, the R Series Power Rack is the foundation for a power athlete's training needs. This configuration is ideal for elite level strength and conditioning facilities and college programs.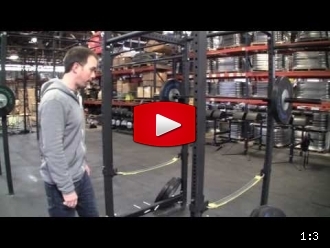 Specifications:
Single Pull-up Bar on Front and Fat/Skinny Pull-up bar on the back
Made with 2" X 3" 11 Gauge Steel
5/8" Bolts and Fasteners
West Side Hole Pattern – 1" through bench and clean pull zone then 2" spacing above and below
(2) Infinity J-Cups, (2) Pin/Pipe safeties, (4) Band Pegs
You can add bars, plates and bench by selecting them on the drop down as well. The shipping is consolidated so you will save a ton!
Reviews
Made well
Review by
Dominic Z
Quality
I love my cage. The black powder coating is nice and doesn't chip or scratch easily. Wipe it down once in a while to bring it back to new condition . Once it's anchored to the ground it is as solid as solid can be. No bend, flex or sqeak.
| Review for:
Rogue R-4 Power Rack
The Best!
Review by
Brandon
Quality
Rouge built me up a custom R-4 with two 12' up rights that I attached there "shrimp trawlers" to that I have a set of rings hanging from. The Rig is awesome to say the least. Top quality all the way around, And staff made it easy for me to get the exact rig I wanted as a custom variation of what they already made. 5 stars!
| Review for:
Rogue R-4 Power Rack
Rogue never ceases to amaze!
Review by
Abe
Quality
I had wanted to get a power rack for about the last two years, but I hadn't because literally everywhere I looked they were ungodly expensive. Then I found Rogue. I opted for the R-4 over the R-3 because I wanted the extra space. This rack is a dream, and I cannot reiterate that enough. I love the versatility and options you get with this rack. Over the last three months I've beaten the crap out of this thing with Crossfit, Powerlifting, and just overall hard training. My R-4 looks like I've just assembled it. If you have the money and the space, definitely add an R-4 to your arsenal!
| Review for:
Rogue R-4 Power Rack
GREAT RACK
Review by
Barry
Quality
Super fast shipping I had the rack in less than a week. Very easy to put together I did it myself. My 300 pound son did chin ups on it it did not move at all. The thing I wish you would offer for it are the Flip Down Safetys for this rack. But it is a very nice Rack Thanks.
| Review for:
Rogue R-4 Power Rack
Awesome Product
Review by
john
Quality
I have had my rack almost four months and it really is a great product.

I workout alone in my garage and the depth of the support bars is helpful to have under me when I am doing lifts like stride squats. The height is nice so I can hang without having to bend my legs. The tighter spacing for the j cups for benching compared to squatting is handy. Finally, having the extra lower cross member so I didn't have to drill into the floor of the garage was an added bonus.

Overall a solid, quality product!
| Review for:
Rogue R-4 Power Rack
The best power rack for your money!
Review by
Marc
Quality
Quality and hardcore looks all in one package.

I was in the market for a power rack that was expandable, had supporting accessories, that was painted painted black and was shipped quickly. This is the only power rack available that can make me check off every want on my list. I purchased my rack with 4 single weight storage pins, an extra set of J-cups and the upgraded top center cross member. All arrived in a little over a week. It assemblied quickly and had a perfectly engineer fit and finish. The rack is solid, heavy and I opted for the R4 over the R3 as its footprint is larger so I don't have to bolt it down.
| Review for:
Rogue R-4 Power Rack
Perfect
Review by
Bob
Quality
The quality on this rack is just fantastic. My office has a monster 3"x4"x7 gauge commercial rack - and I never use it now. I like this one so much more.

I have the strap safeties and while they can be fiddly to set up the first time but it's not a problem once you know the positions. Importantly, you get the perfect depth for the spot height and hook height with no interference on your ROM.
One possible advantage of the R4 over the R3 is that there's enough room for two loaded bars on either end (with extra J-hooks). My wife and I can both squat/bench/press on the same rack, with vastly different weights, just taking turns. We don't even have to move the bench (the Rogue Flat Bench is exactly 40").
| Review for:
Rogue R-4 Power Rack
Outstanding!
Review by
Nate
Quality
Incredible piece of equipment for anyone that loves to workout or train. If you are limited on space consider the R-3. The safeties on the R-3 will be easier to handle as well. However, if you want a nice spacious rack, this is it. Monkey bar coming in soon as well, which should be a nice easy bolt-on while keeping the front and back pull-up positions in place. I was going to wait for the 3x3 series, but the R4 is beastly enough for any gym. Also, I set this up by myself, so it was easy enough for me to handle the pieces putting it together. I tend to really over tighten bolts, as I'm not very technically inclined when it comes to craftsmanship. One way you can tell if a product is quality, especially in workout equipment, is if the metal doesn't cave in, which Rogue equipment doesn't. I bought with the stabilizer, so I didn't have to bolt-in, and everything is stable and really solid. Another excellent product from Rogue!
| Review for:
Rogue R-4 Power Rack
Awesome power rack, Sub-optimal safeties
Review by
David
Quality
My gym just got one of these and it's an awesome rack, but I'm not a fan of the chain safeties. Because of the slack, it sags in the middle which makes benching awkward. It's hard to explain, but because you are going to be benching closer to the uprights (and not in the center) it makes it tough to set up the chains so that they will suspend the bar if you get stapled but won't get in the way otherwise. In order to get them to work, I had to set them up at an angle (to eliminate the slack) and still allow them to be at the proper height. Additionally, if you get stuck and have to set the bar on the safeties, it would be difficult to slide the bar on the safeties (so you can get out from under the bar) because of the links. The nylon safeties might be a better option, but I've never used them. Everything else about the rack is great, but the safeties were a little disappointing.
| Review for:
Rogue R-4 Power Rack
Other Customers Also Viewed