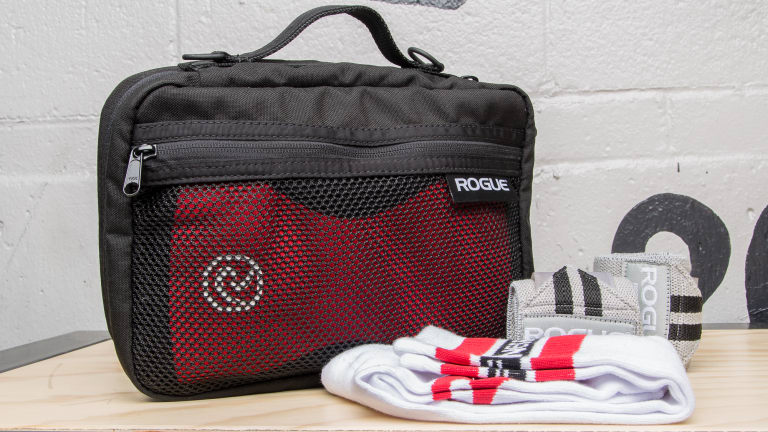 3 Ships Free Item
Buy 3 or More Items Marked "3 Ships Free" And They All Ship for Free
Gear Specs

Brand
Rogue Fitness
Color
Black
Made In USA
Yes
Product Weight
1LB
Length
12"
Width
10"
Height
3" (Depth)
Other Product Specs
Kordura & Mesh Exterior,Black Powder Coat D-Rings, YKK Zippers
Product Description
More compact than a duffel and better equipped for the gym than a standard carryall or satchel, the Rogue Kit Bag is the all-purpose solution for getting your essentials from point A to point B.
Read More
Rogue Kit Bag
More compact than a duffel and better equipped for the gym than a standard carryall or satchel, the Rogue Kit Bag is the all-purpose solution for getting your essentials from point A to point B.
We worked with CrossFit legend and longtime Rogue athlete Matt Chan to design a small carrier that could address some of the basic, everyday concerns of the high-performance athlete. This started with an ultra-durable 1000D Kordura construction and flexible, polypropylene interior paneling, then moved on to practical features like two exterior, ventilated zipper pockets on either side of the bag—perfect for storing and drying out a pair of knee sleeves after a workout.
The main compartment of the Kit Bag can be zipped open from either end, and reveals another internal mesh zipper pocket, as well as a closed Kordura pocket. On top of the Kordura pocket, we've stitched on a 2" wide strip of loop Velcro for the easy attachment of any wrist wraps, gymnastics grips, and other accessories with Velcro components. The handle is made from 2-ply nylon webbing and includes a pair of black powder coated D-rings for more custom attachment options.
Each Kit Bag is individually constructed and tested in the USA by the Rogue Sewing Department, and guaranteed to safely transport not only your gym accessories, but everyday basics—from toiletries to small tech, phone, keys, glasses, etc.
Gear Specs
Specifications:
Made in the USA
1000D Kordura construction
Dimensions: 12" x 10" x 3"
Exterior mesh pockets for drying out two knee sleeves, separately
Main internal compartment with (1) mesh pocket and (1) closed Kordura pocket—good for keeping gloves or any item with chalk isolated from the rest of your stuff
Velcro loop for attaching wrist wraps, gymnastic grips, etc.
Nylon webbing handle with D-rings
Color: Black
Rogue labels sewn on to each side of bag
See More: Packs and Bags Available from Rogue
Shipping
Rogue Fast Shipping
The Rogue Shipping System allows you to track your order from the time you place it to the time it hits your door. Order today, track today.
Frequently Bought Together
Rogue Kit Bag
Rogue Gym Towel
Rogue Gym Towel
Reviews
Great bag - perfect
Perfect for keeping essentials in one easy to find and keep in one place
Yes, I recommend this product
Very nice bag, for my personal things
Great quality, strong, rogue design and right size for what I need to keep in it.
Yes, I recommend this product
Small and Funtional
Overall, this is a quality bag. As another review mentioned, it is small, but it was designed specifically for small accessories. The Kit Bag works well for: a jump rope; Vodoo Floss; lacrosse ball; athletic tape; a pair of gloves; wrist wraps; knee sleeves; gymnastic straps; or any other items similar in size to those previously mentioned that you may use in a workout. Honestly, you can fit all those items I mentioned sufficiently (That is what I have in mine). Really, the only negative aspect is the price. Yes, it is a nice bag and very well made. But, it's not worth $75; maybe like $50 or less. Regardless, it is a quality product that was thoughtfully designed to store "small" accessories that can be easily organized into a larger gym bag. It certainly met my organizational needs and I'm happy with the purchase.
Yes, I recommend this product
Not as practical as expected
I bought one of these after seeing the video to try and end the what seems impossible mission of organizing my bag. Unfortunately it falls pretty short of expectations and doesn't meet my needs at all. The mesh knee sleeve pockets are a nice touch but the inner storage area simply doesn't expand enough to really hold anything unless it's pretty flat. The Velcro strip is a good idea but in practice becomes a bit annoying as they get in the way whenever you open it up. You basically end up with something to hold a jump rope and your knee sleeves. I ended up buying some Reebok kit bags for 1/4 of the price and they are much more practical with deeper pockets and much more capacity. I've got a lot of Rogue gear, love the brand and will keep using it but this item really didn't hit the mark - particularly for the price.
#RYOUROGUE
Tag your photos on Instagram and Twitter with #RYOUROGUE for a chance to be featured in our gallery
View Full Gallery