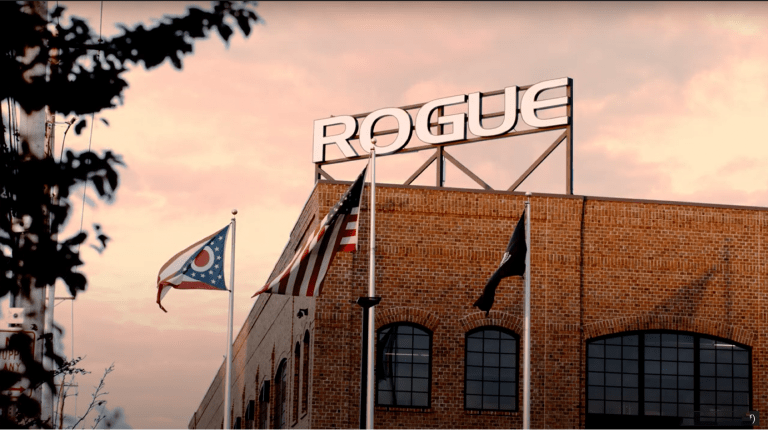 About US
Rogue Fitness is the leading manufacturer of strength and conditioning equipment, including barbells, power racks, sleds, and accessories. Founded in a garage in 2006, the company has grown to over 1400 team members globally.
Rogue is the official equipment supplier of the CrossFit Games, USA Weightlifting, the Arnold Strongman Classic, and the World's Strongest Man competition. The company remains dedicated to serving the needs of serious athletes at every level, from the garage to the arena.
INDUSTRIAL REVOLUTION 2.0
The Industrial Revolution 2.0 is something we take a tremendous amount of pride in at Rogue. Our mission early on was as much philosophical as it was anything else. Since day one, we have worked to source locally whenever possible. Over the past few decades, many of our local communities have lost their factories and places where men and women took pride in what they made every day. Many of these communities have been left with empty Main streets and crisis of various sorts. With every product we have worked to source parts and materials in the following order of priority:
When reading about any product on the Rogue site, we encourage you to look for the "Made in the USA" logo and "Made in the USA" references in the Gear Specs to determine if it's an American-made item.
We strongly believe that manufacturing creates an ecosystem that is unlike simply a service economy. Workers that earn a fair wage, in turn, have the ability to purchase more goods within that same ecosystem, bringing orders back into factories and sustaining the cycle. When we started Rogue in a garage, we really had no idea just how far we could go. The investment has always been in great people and new equipment.
These basic principles are what we're talking about when we use the words, "Industrial Revolution 2.0." It's not some grand, abstract concept. It's an understanding of the power of a self-sustaining community and the risks of breaking any one link in the chain. Without a factory, workers wind up unemployed or in service industry jobs for minimum wage. With less money to spend, they are more likely to purchase cheap, imported goods from large retail box stores. This leads to more orders going overseas, local businesses suffering, and fewer jobs. It's a common reverse cycle with dire consequences.
This is why the Industrial Revolution 2.0 is something we believe in and maybe more importantly, something we feel a responsibility to help advance in our own community. To prove it, we built a campus right in the middle of downtown Columbus, Ohio—showing our loyalty to the city in which we started.
The Rogue mission really is pretty simple when it comes to principles, but it's also not the "easy" way—otherwise, everyone would be doing it. What good thing ever came easy, though? One step in front of the other, we will take the mountain. See you on the other side.
Our values
ROGUE HISTORY
2006
Bill Henniger started Rogue in his garage
2007
Rogue leased its first warehouse facility in Columbus, OH
Rogue began manufacturing metal gymnastic rings
2010
Set a goal to have a 500 person team
2015
Hit goal of having a 500 person team
2017
Rogue purchased 30 acres and built a $50 million headquarters and campus
2018
Rogue consumed 26 million pounds of steel, 14 million feet of welding wire & 130 thousand pounds of powder coat at our Columbus, Ohio manufacturing factory
Rogue purchases US-based manufacturers OSO Barbell Collars and Reflex Fitness
2019
Rogue hits 600 team members
Rogue owns 43 acres of land and buildings in Columbus, Ohio
Reviews
Customer service is next level!!
Had a problem with some damage that occured during the shipping process. Rogue was swift, thorough, and empathetic in resolving the issue. All service and retail based companies around the world TAKE NOTE. Breath of fresh air here, thank you! I will be making every fitness equipment related purchase from Rogue moving forward...easy decision.
Yes, I recommend this product
Great upgrade, 'Murica!
Made in USA, this bar will last me forever! I'm replacing a York curlbar which I've been using for over 40 years. I have a Ohio Bar also, both pieces are built to last a lifetime!
Yes, I recommend this product
No Complaints
I've had my garage gym now for just over a year. The rack, bench, rower and other accessories I purchased from Rogue are so freaking stout. They'll outlast me for sure.
Yes, I recommend this product
Pretty Unacceptable Customer Service
Was excited to purchase a power rack, several rack accessories, and a couple barbells to start a home gym from Rogue. I noticed there was a promotion to buy a bar with the rack and get some free OSO collars thrown in, but the bar options in the list was a different finish than the one I wanted (same price though). So I thought I would just reach out to Customer Service asking if I could still get some collars thrown in even if I got different bars, thinking that was a pretty straightforward, reasonable request. I talked to two different people, one on chat, and one on the phone, just a flat "no" from both of them, which was really surprising. One of the reasons was because of how certain things were bundled for shipping, so I asked if I just ordered the collars like normal, could I have the cost waived, but a flat "no" to that as well. Again, I don't believe my request was unreasonable, I was excited to purchase some quality, U.S.A. equipment, but now I'm not sure I will.
Horrible customer service
Ordered 10 days ago. They lost the order have zero initiative or urgency to locate or re process the order. All they can say is we haven't heard back from supplier. What a joke this company is. Order elsewhere or pray nothing goes wrong.
Response from Rogue Fitness:
June 12
We sincerely apologize for the delay in getting your SMRTFT Nuobells shipped. We can confirm your order is not lost, and we are actively working with them to get these orders fulfilled.
Great Product - Poor Customer Service
Recently bought several pieces of equipment from Rogue. Obviously the products are incredibly well made. However the squat stand came with (and is specified on the website) with "5/8" hardware. In the world of hardware, 5/8" means that you would use a 5/8" socket wrench. Instead, this is an inaccurate description. The head of the bolts and the nuts are 15/16". This is NOT a socket that any normal socket set has, nor a size that a typical homeowner would have. I had to go to 3 different hardware stores to find one and NONE of them come on a 3/8" drive so you have to buy a 1/2" drive adapter. So $26 and 90 minutes later I was able to finally put the stand together. When I called Rogue, they could not have been less interested. Disappointing. But be aware that you are going to have to go buy these things to assemble your product.
Yes, I recommend this product
Europe
I reside in Belgium and am a huge fan of Rogue equipment and what you stand for as a company. Your gear is rock solid and fun to work with. You have an awesome EU distribution center and showroom in Belgium!! Congratulations and keep on rocking folks.
Yes, I recommend this product
Highly upset
Received a defective Echo Bike . The left pedal crank arm is stripped. Received a new crank arm but it's impossible to remove by hand. A high impact drill and hex tool is needed. Been waiting for the return process for 2 days now. I'm disable and have no idea how I'm going to return a 200lb bike.
Response from Rogue Fitness:
March 14
We sincerely apologize for the issue you had with your Echo Bike. Our team has worked to make this right and get the bike returned.