MWod Supernova Rig Mount - Case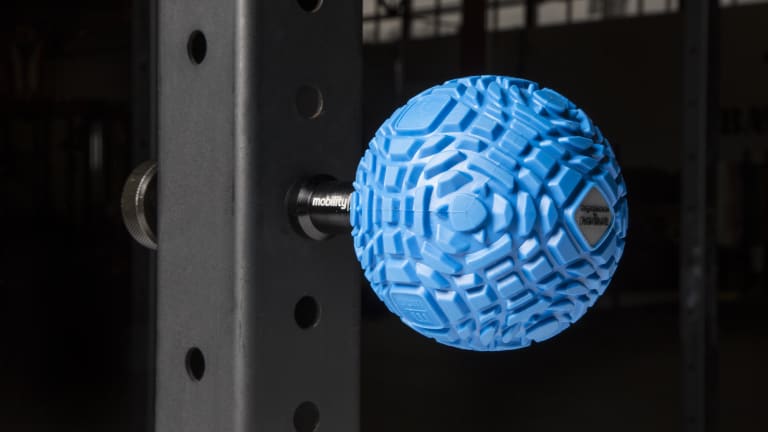 MWod Supernova Rig Mount - Case
Gear Specs

Brand
Healthcare Professionals
Made In USA
Yes
Product Description
The MobilityWOD Supernova Rig Mount is an all-in-one unit that enables athletes to better utilize the Supernova 2.0 massage tool on hard to reach areas of the back. Case of 15.
Read More
MobilityWOD Supernova Rig Mount - Case of 15
The MobilityWOD Supernova Rig Mount is an all-in-one unit that enables athletes to better utilize the Supernova 2.0 massage tool on hard to reach areas of the back.
With this design—developed with renowned strength coach and MobilityWOD founder Kelly Starrett—the standard Supernova mobility ball is fused with a chrome steel mounting adapter that connects to the 3" face of any Rogue Infinity or Monster Lite upright. Users can quickly remove and securely re-mount the Supernova at different heights using the unit's simple pin system and screw-on knob. Once set up, the ball will rotate on an axis perpendicular to the mount, allowing the user to move up and down while the Supernova rolls with them. The result is hands-free mobility training with far greater stability.
Please Note: This unit includes the rig adapter and Supernova ball as one unit. Customers cannot order the adapter separately for use with an existing Supernova. Supernova does NOT detach from mount.
Gear Specs
Specifications
Compatible with 3" face of Rogue Infinity or Monster Lite uprights (0.625" holes)
Includes Supernova + steel rig adapter with screw-on knob
Supernova Diameter: (4.72")
Scientifically developed grooves for higher global shear pressures
Latex Free
Color: Blue
Case of 15
Shipping
Rogue Fast Shipping
The Rogue Shipping System allows you to track your order from the time you place it to the time it hits your door. Order today, track today.
Mobility Training Moves Upright
As with any LAX or massage ball, there are some limitations on how the standard hand-held Supernova can be used to treat the back, shoulders, and other hard to reach areas. Athletes either had to contort their bodies or use the ball on the floor, where there was the potential of rolling out or not maintaining ideal leverage. The Rig Mount solves this problem, allowing the ball to stay in a secure, elevated position, rotating on an axis over difficult treatment zones as you move against it.
Developed with Dr. Kelly Starrett
The Supernova Rig Mount was co-designed by MobilityWOD founder and accomplished trainer and physiotherapist Dr. Kelly Starrett. Author of the New York Times bestselling book Becoming a Supple Leopard, Starrett has long been at the forefront of new innovations in mobility and recovery tools. With the original Supernova, nearly two years of scientific study and testing went into the finished product. "We needed a device that would allow us to create higher global shear pressures so that when we rolled, it actually made us better," Starrett says. "So we made one."
Same Supernova, New Set-Up
The Supernova included as part of this rig mount is exactly the same as the stand-alone Supernova 2.0—one of the most popular recovery products Rogue offers. A dynamic alternative to traditional foam rollers and massage balls, the Supernova 2.0 includes an improved nylon frame construction, grip-strong TPE tread, and a precision groove pattern for deep tissue therapy.
Part of the MobilityWOD Series
Regarded as game changers in the world of recovery tools, Kelly Starrett's MobilityWOD Series includes not only the hand-held Supernova, but the T-spine targeting Gemini roller, the MobilityWOD Stick, and BattleStar kits.
The Supernova Rig Mount can be mounted to any 3" face of a Rogue Infinity or Rogue Monster Lite upright. Set-up and take-down are quick and simple thanks to the pin design and tightening screw-knob, so you can adjust the Supernova up and down to varying heights depending on the region of the body you want to target.
#RYOUROGUE
Tag your photos on Instagram and Twitter with #RYOUROGUE for a chance to be featured in our gallery
View Full Gallery