Reebok Nano X1 Adventure - Women's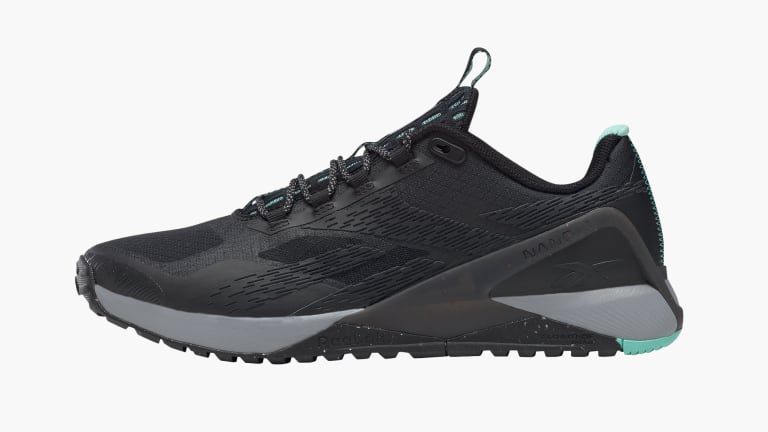 Reebok Nano X1 Adventure - Women's
Gear Specs

Brand
Reebok
SKU
H67962
Made In USA
No
Shoe Color
Core Black / Pixel Mint / Cold Gray 4
Shoe Type
Men's
Product Description
The Women's TR Adventure edition of the Reebok Nano X1 is optimized for everything from a boot camp in the park to bodyweight exercises at the campground. Available here in Gable Gray / Bright Cobalt / Pursuit Pink, this all-purpose training shoe includes a soft Flexweave knit construction with a comfort collar, delivering all-day breathability and locked-in wearability with no break-in time required out of the box.
Read More
REEBOK NANO X1 ADVENTURE - WOMEN'S

The "Adventure" edition of the Women's Nano X1 training shoe features a rugged outsole with raised lugs, designed to help you stick your box jumps and push through extreme workouts on any terrain. The use of Reebok's Floatride Energy Foam in the forefoot also offers flexible cushioning with a lightweight feel and responsive ride.
As "the Official Shoe of Fitness," the Nano series continues a tradition of pushing boundaries and redefining what an all-purpose cross-training shoe can do for and say about an athlete. Built for any type of movement, all X1 models come with an updated toe shape for freer multi-directional movement, an improved heel clip for max stability, and a comfort collar for an all-day, locked-in feel. These new developments, combined with classic Nano features and style, put the X1 at the forefront of both durability and versatility, equally suited for sprints, squats, climbs, plyo, and everything in-between.
Gear Specs
Specifications
Women's Cross-training / Weightlifting / CrossFit shoe
Textile Upper
Floatride Energy Foam cushioning
Raised Lugs for extra traction
Rubber Outsole
EVA Midsole
Strong Foundation with wide, anatomical toe box
Lace Closure
Comfort Collar for all-day locked-in feel
Color: Core Black / Pixel Mint / Cold Gray 4
Design: "Adventure"
Fit Guide
Nano X1 - Women's
| Heel-Toe Measurement (Inch) | 8.5" | 8.7" | 9.8" | 9.0" | 9.2" | 9.3" | 9.5" | 9.7" | 9.8" | 10.0" | 10.2" | 10.3" | 10.5" | 10.8" |
| --- | --- | --- | --- | --- | --- | --- | --- | --- | --- | --- | --- | --- | --- | --- |
| US Women's | 5 | 5.5 | 6 | 6.5 | 7 | 7.5 | 8 | 8.5 | 9 | 9.5 | 10 | 10.5 | 11 | 12 |
Shipping
Rogue Fast Shipping
The Rogue Shipping System allows you to track your order from the time you place it to the time it hits your door. Order today, track today.
Reviews
Purchased 10 Pairs, Here is what to know…
Over the last year I bought 10 pairs in 3 Colors. So far my 2nd favorite in the Nano series. 7 Pros: 8 out of 10 for Running 8 out of 10 for Lifting 9 out of 10 for Metcons 8.5 of of 10 for Comfort 8.5 out of 10 for CrossFit Also price is reasonable Machine Washable/ Air Dry 2 Cons 1. Heel rides up on ankle- Wear longer socks or build up the callouses. 2. The rubber on the bottom has peeled away in some spots on 3 of my pairs but I wear they roughly.
Yes, I recommend this product
Meh....
I wanted to love these because I have worn Nanos for years, but this shoe doesn't even feel like a Nano. The heel goes up too high on my ankle and causes blisters. The body of the shoe is much more flimsy than needed.
Another great Reebok Nano
I have stuck with Reebok Nanos from the beginning as they fit so well. When I saw the color combo for these I had to get them. The mesh is super flexible & comfy as always & the shoes fit perfectly! So glad I found these here since the selection on the Reebok site were all pretty ugly & overpriced. These are beyond perfect
Yes, I recommend this product
Very Disappointed: Product Worn and Dirty
I bought this product as a Christmas gift for a family member. The box was torn and damaged when received, but I assumed the contents would be okay. Once the recipient opened the gift and tried on the sneakers, he noticed they had been worn (which must have been several times) and they were also dirty. I returned them and since there were no more in stock, I had to buy them from another supplier.
Response from Rogue Fitness:
January 23
We're very sorry you received shoes in this condition as it should have never happened. We have issued you a full refund and sincerely apologize for the inconvenience.
Uncomfortable
I have had these for 3 months and they hurt my feet even during brief workouts. It feels like there is no cushioning on the bottom. I last had nano 8's and loved them. I wouldn't recommend these for exercise or even just walking.
Great Feeling Shoe - Poor Sole Quality
The shoes felt great out of the box and was initially very happy with my purchase. After only two months of use, the rear sole has begun peeling up and separating. These are kept in a gym bag out of the elements, only worn when in the gym. I am hoping it is only a bad batch of sole glue and that possibly could be taken care of by some type of quality control warranty. Too expensive to last only two months.
Great product, better customer service
These are my second pair of Nano X1's. They were on sale so I bought them as my "next" pair. Anyway I mistakenly ordered a 6.5. I wear a 10. Long story short, I returned they provided. No questions, no comments. Rogue fitness came through. Oh, the shoes are great too.
Yes, I recommend this product
Hurt my feet
I've had these shoes a couple months now. I workout in them 2-3 times per week. I figured they just needed to get broke in at first but it's not getting better. They continue to hurt my feet. I have super flat feet and they just work well with them.
#RYOUROGUE
Tag your photos on Instagram and Twitter with #RYOUROGUE for a chance to be featured in our gallery
View Full Gallery