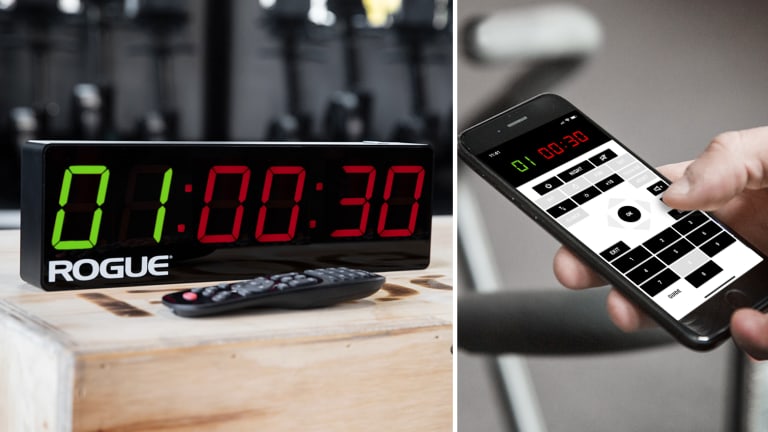 Remote & Batteries Included
Rogue Home Timer v1.1 Li-ON Battery Pack
Current version. Compatible with Rogue Home Timers purchased on or after 1/1/2021
Shipping NOT Included on Batteries
Rogue Home Timer - Replacement Batteries
Compatible with Rogue Home Timers purchased prior to 1/1/2021
Shipping NOT Included on Batteries
Extra Rogue Gym Timer Remote
Batteries Included
Gear Specs

Brand
Rogue Fitness
Color
Black
Made In USA
No
Product Weight
1.57LB
Length
13"
Width
1-5/8" (depth)
Height
4"
Other Product Specs
Cord Length - 58", Remote Control Included
Product Description
The Rogue Home Timer is a new compact, lightweight, Bluetooth-enabled version of our Echo Gym Timer, giving smartphone users the ability to control the unit remotely via the Rogue App.
Read More
Rogue Home Timer
The Rogue Home Timer is a new compact, lightweight, Bluetooth-enabled version of our Echo Gym Timer, giving smartphone users the ability to control the unit remotely via the Rogue App.
At a length of 13", the Home Timer is roughly half the size of the 25.25" Echo Timer, but offers the same superior LED display with far more flexibility in set-up for home gyms and larger facilities, alike. A rechargeable lithium ion battery pack is included standard, delivering unique portability and up to 8 hours of battery life on a full charge—with no electrical outlet required.* We've also strategically tucked the USB-C port into the back of the unit so the timer can either sit flat on a tabletop or mount flush against a gym wall (mounting hardware not included). Both the sound and the brightness of the timer display can be easily customized to suit the relative position of the athletes using it.
*While the timer doesn't require an outlet when its battery is charged, we still include a variety of international plug adapters for customers who prefer to connect the unit, virtually anywhere in the world:
Type A (North & Central America, Japan)
Type C (Europe, with the exception of the UK, Ireland, Cyprus, and Malta)
Type G (UK, Ireland, Cyprus, Malta, Malaysia, Singapore, Hong Kong)
Type I (Australia, New Zealand, China)
Optional Replacement Batteries:
Rogue Home Timer v1.1 Li-ion Battery Pack: Current version. Compatible with Rogue Home Timers purchased on or after 1/1/2021
Rogue Home Timer Replacement Batteries - Pair: Compatible with Rogue Home Timers purchased prior to 1/1/2021
Gear Specs
Specifications
Length: 13"
Width: 1-5/8" (depth)
Height: 4"
Weight: 1.57LB
Cord Length - 58", Remote Control Included
Color: Black
Remote Control Included
Warranty: Timer = 18 months, Battery Pack = 12 months
Shipping
ROGUE FAST SHIPPING
The Rogue Shipping System allows you to track your order from the time you place it to the time it hits your day. Order today, track today.
Connecting To Your Smartphone
When the Rogue App is opened and Bluetooth is enabled, your smartphone will automatically detect any nearby Rogue Home Timer for easy pairing. Better still, the Rogue App can store up to 30 different custom, saved workout intervals for you to easily scroll through and select.
While in Timer Setup Mode, the clean user interface enables only relevant buttons for setting up rounds and times. A dedicated Help section also offers guided walkthroughs for setting up and saving Interval, Count-Up, and Countdown timers, as well as button descriptions for clarification.
The back of the housing for the Home Timer features keyhole-style mounting holes spaced 8" on center. Wall mounting hardware is not included, but the lightweight 1.57 LB unit doesn't pose an engineering challenge. The positioning of the USB-C port also ensures that the timer will sit flush against the wall even when connected, or flat on a desk or tabletop if you prefer that option.
OTHER FEATURES OF THE ROGUE HOME TIMER
Much of the functionality of this timer is carried over from our larger Echo Gym Timer, including:
Crystal Clear LED Display
A Remote Control for convenient pausing/re-programming
Popular Pre-Set Timer Modes like Tabata and FGB
Create and Save Custom Intervals (up to 10 at a time)
1/100 second stopwatch
In-Depth Programming Instructions
Black Frame and Screen with Rogue logo in bottom left corner
Reviews
P-Poor
Dont buy this! Poorly made and I cant believe it was approved for consumer purchase. If I do 3, 15 min workouts the battery is dead..even with the clock turned off. Rogue tried to tell me that "its normal" and sent me another battery. The problem with that is that you have to take the clock off the wall each time to charge it. I'm really p***ed I bought this thing.
Response from Rogue Fitness:
November 3
Thank you for this feedback and we are sorry for the issues with your Home Timer. We would not consider this to be normal, but something we do have a resolution for. Our team will make sure to get you what you need.
Works just fine but not nearly loud enough.
Have had it for 2+ years and it's been reliable but it just isn't loud enough while music is playing. By the way, I have always plugged it in. I've never used it with battery power.
Yes, I recommend this product
Doesn't stay charged
I purchased this timer and fully charged it. I use it for about 30 mins and switch it off. When I come back to use it again, there is no power. I have tried it multiple times and same issue. Clearly the battery is a problem
Yes, I recommend this product
Response from Rogue Fitness:
October 18
We're sorry to hear your battery life is giving you trouble. The team has sent out a replacement.
So far so good, except for the remote.
Timer is great! Highly responsive to remote and app, plenty of features. However, the remote is very sensitive to shock. I dropped the remote once from like 3 feet onto gym mat flooring and it stopped working. Good thing the rogue app is compatible with operating all the available features.
Response from Rogue Fitness:
September 19
We're sorry to hear about the mishap with your remote. We do offer extras for sale on the product page if you would like to purchase one in the future.
Timer Died
I was never really thrilled with this timer to begin with because it needed constant troubleshooting when I first got it, and now it is completely dead. The battery life was so short it consistently died on me mid workout. I tried back up batteries first, but then I resorted pretty quickly to keeping it plugged in, and now after a couple years it won't turn on at all. I haven't found any helpful support on how to troubleshoot it so I am actively looking for a replacement. Definitely not worth the price and doesn't live up to their normal standards for equipment.
Response from Rogue Fitness:
September 14
We're sorry to hear you have not had a positive experience with your Home Timer over the years. Our team is happy to help here and we are reaching out now.
Product Failure
After just over 2 years my Rouge Home Timer lost all functionality and will not power on with either battery or AC adapter. Reached out to Rouge and they would not offer any solutions as its outside the 2 year warranty. Would recommend avoiding this product, certainly not what I've come to expect with my other Rouge products.
Very Poor Battery Life
The timer itself is fine but the unplugged battery life is horrible. I use this timer for 30-60 mins once every other day and leave it off between workouts. I have to recharge it after four days of being unplugged even though it's spending 90/96 hours "off". My guess is that there's not really any battery sleep mode and it's draining at the same rate as it would if left on. It's super inconvenient because every third workout I have to take the timer down to recharge it, rather than being able to use it. For those that will keep this plugged in 100% of the time then it's probably worth it. But there are better options out there that will hold a charge much longer if you intend to go unplugged.
Batteries died agter 1.5 years
Always had the timer plugged in since I bought it. Now it wont even turn on. Customer service says I should try new batteries. 20$ just to ship them to me. Would not recommend.
#RYOUROGUE
Tag your photos on Instagram and Twitter with #RYOUROGUE for a chance to be featured in our gallery
View Full Gallery